Commentary
DJ Gallo's NFL Hangover, Week 13
Originally Published:
December 7, 2009
By
DJ Gallo
| Page 2
What an exciting Sunday of NFL football! Great games, upsets, exciting finishes. If only we had known which games to watch ahead of time. If only our TV listings had been a bit more helpful.
Here are the actual TV Guide write-ups for each game. All of them are failures. The NFL could get much better ratings if it put more effort into these things.
New England at Miami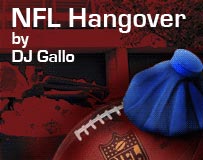 TV Guide: The Patriots are 0-4 in true road games (their only win came in London) entering this key divisional clash with Miami, which lost 27-17 on Nov. 8. Michigan products Tom Brady and Chad Henne line up at QB.
More accurate: Another abysmal episode from the Patriots, formerly one of the best shows on television. The network may consider canceling this Sunday staple when next season's schedule comes out.
Oakland at Pittsburgh
TV Guide: Steel City native Bruce Gradkowski QBs the Raiders, while fellow MAC product Ben Roethlisberger is expected to return to action for Pittsburgh, which has lost three straight games for the first time since 2006.
More accurate: In this sequel to Pitt-Cincinnati, Pittsburghers watch helplessly as the hometown team blows another seemingly easy win at Heinz Field. (Horror)
New Orleans at Washington
TV Guide: The Saints march into FedEx Field looking to clinch the NFC South title. However, Washington has held QB Drew Brees to 1 TD and 6 INTs in three previous meetings, including a 29-24 Redskins win last season.
More accurate: Tune in for another memorable episode from one of the most accomplished comedy franchises in television history, with breakthrough performances by little-known cast members Kareem Moore and Shaun Suisham.
Houston at Jacksonville
TV Guide: Jack Del Rio's Jaguars open a three-game home stand with a rematch of their 31-24 win on Sept. 27, in which Maurice Jones-Drew ran for three of his 13 TDs. Houston has lost three straight games.
More accurate: The critically acclaimed Jacksonville Jaguars continue a strong push toward awards season despite struggling to find an audience. Tune in before this show is canceled!
Dallas at New York Giants
TV Guide: These division rivals have had 10 days to digest Thanksgiving action that saw Dallas rediscover its offense against Oakland and the Giants lay a 26-6 egg in Denver. New York edged the Cowboys 33-31 in Week 2.
More accurate: Gather the family around for this annual holiday classic in which the Cowboys lose a big game in December.
Minnesota at Arizona
TV Guide: Arizona looks to avenge last season's 35-14 home loss to the Vikings, while also aiming for better results against Brett Favre, who tossed 6 TDs against the Cards while with the Jets.
More accurate: From the producer of "Cocoon," "Grumpy Old Men" and "The Bucket List" comes "Favre vs. Warner." Sure to please the child inside even the most grizzled viewer.
This Week's Horrible Fantasy Team That Crushed Your Team
Bruce Gradkowski, QB, Raiders: 20-for-33, 308 yards, 3 TDs
Jerome Harrison, RB, Browns: 97 total yards, 2 TDs
Leonard Weaver, RB, Eagles: 100 total yards, 1 TD
Louis Murphy, WR, Raiders: 4 catches, 128 yards, 2 TDs
Devin Thomas, WR, Redskins: 7 catches, 100 yards, 2 TDs
Bo Scaife, TE, Titans: 5 catches, 56 yards, 1 TD
Quote of the Week
"Our receivers coach gave us a message, and he brought up the 'Miracle on Ice,' Buster Douglas knocking out [Mike] Tyson, and things that are just unbelievable but people that did it believed they could."
-- Todd Watkins, WR, Oakland Raiders
Wow. That is somehow both inspiring and the most depressing thing I've ever heard. Wait, no … that's just the most depressing thing I've ever heard. So the Raiders were playing the Steelers -- a team that has lost to the Chiefs and Bears this season, a team that entered the game on a three-game losing streak, routinely blows fourth-quarter leads and was without Troy Polamalu -- and referenced the "Miracle on Ice" and Buster Douglas-Mike Tyson for inspiration? I think now, for the first time, I truly understand how far the Raiders organization has fallen.
Pictures of the Week
• "Not now, Matt Ryan. I'm giving this girl a hug."
• "No middle finger this time, everybody!"
• "Huh. Didn't even need this to muffle the boos this week."
• "Oh, man -- that forced, unoriginal celebration you did was so HILARIOUS!"
• "You look hurt. I know playing hurt worked against the Browns, but understand that not everyone is the Browns."
• "Yeah, we pass gas in this row. What of it?"
• "Look, I wanted to find one with teeth that was a little scarier, like yours. But all they had was this adorable baby one."
• "Yes, we are Cincinnati's premier escort service. We have overweight and old. Or overweight AND old. Which would you like?"
• "Should I speak? No. I'll save it for the playoffs."
• "That's it. I can't suck it in anymore."
• "Well, at least I'm not on the Patriots."
• "I'm just sayin', one more loss and I'm not trying for anything you throw."
• "Don't be fooled by the rocks that they got, the Patriots stink."
• "Mr. Referee! That man over there wishes me harm. I would like him apprehended straight away."
• "At least I have this to throw up in."
• "Take THAT, playoff chances!"
• "Oh, no. My next job is going to be at a bingo hall."
• "I have this note. I hope it is not intercepted."
• "I hate the holiday season."
• "Maybe we'll see each other in the playoffs." "Yeah, probably not."
• "I'm not asking for a lot, Santa. As you can see, I have very low expectations."
• "It's so great to talk to someone who gets my references about the '70s."
• "Is that a mustache or a frown?"
DJ Gallo is the founder of and sole writer for the sports satire site SportsPickle.com. He also is a regular contributor to ESPN The Magazine and has written for The Onion and Cracked. His first book, "SportsPickle Presents: The View from the Upper Deck," is on sale now.
MOST SENT STORIES ON ESPN.COM