Commentary
DJ Gallo's NFL Hangover, Week 14
Originally Published:
December 14, 2009
By
DJ Gallo
| Page 2
Before this week's Hangover begins, we have a word from a special sponsor with a great holiday offer.
---
Hello, football fans! Still have some holiday shopping left to do? Looking for that perfect gift for the sports nut in your life? Then look no further!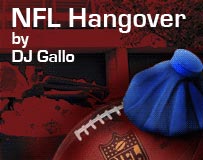 Page 2 Music presents "A Cowboys Holiday." This special two-CD set contains all your Dallas Cowboys holiday favorites, great for every December. Gather 'round your TV and sing:
"There's No Place Like Home (For The Postseason)"
"Blue Christmas"
John Lennon's "Happy Xmas (Season's Over)"
And the classic "I Saw Jerry Firing Coach Phillips"
"I saw Jerry firing Coach Phillips
underneath the video board last night."
But wait! There's more! You get additional favorites, such as:
"Losin' Around The Christmas Tree"
"Garrett The Red-Haired Coordinator"
"Draft Picks Are Comin' To Town"
And, of course, "Let Us Blow, Let Us Blow, Let Us Blow"
"Oh the schedule that's left is frightful
Yet our revenue stream's delightful
And since it's all that we know
Let us blow, let us blow, let us blow."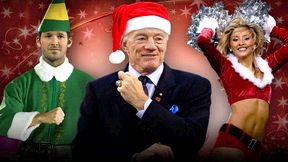 ESPN.com IllustrationBetter place your order quickly, this is going to fly off the shelves!
And don't forget the timeless classic "Loser Bells"
"Loser bells, losing team
Hear them ring, see them lose
It's Christmas time here in Dallas."
Also included:
"Jingle Fail Rock"
"Do You Fear What I Fear?"
"Roy Williams The Slow Man"
And "Wade's #$@% Roasting On An Open Fire"
"Wade's #$@% roasting on an open fire
Jerry shopping for a nose
Playoff chances getting ever more dire
And sad folks dressed up like Romos."
Best of all, this collection is great for football fans of all faiths! You can even enjoy the Hanukkah hit "Romo Romo Romo!"
"Oh, Romo Romo Romo
An All-Pro, so they say
But when it's cold and snowy
My Romo cannot play."
Call now! This offer is good only to the end of the month!
And then not again until next December!
Cowboys fans, add $175 for shipping and handling, because Jerry Jones would like to gouge you any way he can.
This Week's Horrible Fantasy Team That Crushed Your Team
Jason Campbell, QB, Redskins: 16-for-28, 222 yards, 2 TDs
Quinton Ganther, RB, Redskins: 93 total yards, 2 TDs
Jason Snelling, RB, Falcons: 102 total yards, 1 TD
Johnny Knox, WR, Bears: 5 catches, 83 yards, 1 TD
Devin Aromashodu, WR, Bears: 8 catches, 76 yards, 1 TD
Randy McMichael, TE, Rams: 2 catches, 15 yards, 1 TD
Stat Of The Week
21: Congratulations to Brandon Marshall on setting an NFL record for most catches in a single game. Just imagine how many he'll get on a new team once his trade request comes through!
Speaking of malcontent wide receivers, Marshall topped Terrell Owens' mark of 20 catches in a game. Here is what Owens tweeted Sunday night: "CONGRATS 2 BRANDON MARSHALL 4 BREAKING THE RECORD OF 20 RECEPTIONS N A GM W/21 THT WS HELD BY ME!! U'RE A BEAST!! KEEP BALLIN!!"
What a jerk that guy is with his sincerity and his well-wishes! How is the media supposed to get any story out of that? Selfish is what it is.
Quote Of The Week
"There's not anybody going live with this, are there? You might want to have a delay if you're going live."
-- Jim Schwartz, Detroit Lions coach, opening his postgame news conference
Thanks for telling us after the game, Schwartz. I would have appreciated a heads-up not to watch before you lost 48-3 to the Ravens.
Pictures Of The Week
• "OK, thing, they want me to hurl you through the air. Let's see how this goes … "
• "I wish Santa Claus was here right now so I could sit on his lap and tell him I want a defense."
• "I know I put a sandwich in here somewhere."
• "Thank you for creating Shaun Suisham."
• "I'll just keep these here until my roommate brings my top to the stadium."
• "I like the way you slide, boy."
• "Who dat think they going to look more ridiculous than me?"
• "Hey! It's head down, moron. The right way to show disappointment is to put your head down. You can't even do this right."
• "I can't take Cutler anymore. I just want to lie down and die."
• "If you ever want some tips from an old veteran about really wrapping the media around your finger, you give me a call, OK?"
DJ Gallo is the founder of and sole writer for the sports satire site SportsPickle.com. He also is a regular contributor to ESPN The Magazine and has written for The Onion and Cracked. His first book, "SportsPickle Presents: The View from the Upper Deck," is on sale now.