Commentary
NFL Hangover: wild-card weekend
Originally Published:
January 11, 2010
By
DJ Gallo
| Page 2
Thanks for playing, Bengals, Eagles, Patriots and Packers. You all had fine seasons, accomplished much, have things to be proud of, et cetera, et cetera, blah, blah, blah. But you are last weekend's news. (Except for you, Patriots. You are last decade's news.)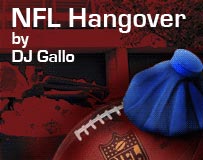 It's time to move on. And although only one of the four NFL playoff rounds is over, we are now through 36 percent of the playoff games. That's more than enough of a sample size. The wild-card round showed that already, several playoff trends are developing. Here they are.
Defense wins championships. Still. The Jets completely shut down the Bengals. Again. The Cowboys controlled the Eagles. Again. And the Ravens destroyed New England's vaunted offense. Then there was the Packers-Cardinals game. Umm ... well, three of four is good enough for a trend, right? I mean, you need only 75 percent of the vote to get into the Baseball Hall of Fame. This is a Hall of Fame-quality observation I just made here. Enjoy it.
Reputation means nothing. Somehow, Carson Palmer is regarded as a top quarterback. Better than Mark Sanchez, at least. But Sanchez outplayed him on the road and won. Donovan McNabb has had plenty of playoff success, while Dallas has not. So much for that. Green Bay had the NFL's No. 2-ranked defense. Shredded. And Tom Brady is supposedly unstoppable in the playoffs. But the only thing that was unstoppable were his turnovers. (Get Citizen Watch on the phone!)
PAGE 2 PODCAST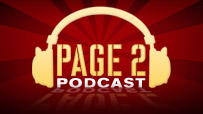 It's time for the Page 2 Podcast, where you'll learn:
• Quien Es Mas Macho?
• Who gets the Page 2 Game Ball
• Who should Stay Classy
• Who made the Final Countdown
Click here to listen up!

• Subscribe to the Page 2 Podcast through iTunes or the RSS feed reader of your choice for automatic updates as soon as the latest show is posted.
Be worried, fellow '00s hero Peyton Manning. The times are changing. Thankfully, Jim Caldwell knows this and has been grooming Curtis Painter for weeks.
Oh, and you're fine, Favre. You were more of a '90s guy.
Wide receivers are replaceable. No Wes Welker? No problem. Julian Edelman scored New England's only two touchdowns. No Anquan Boldin? No problem. Early Doucet caught two touchdowns for Arizona. Pay attention, Jets. Braylon Edwards is replaceable. Have you considered a scarecrow?
Kickers deserve wedgies. Abandon hope, all ye who enter the red zone and have to settle for a field goal try. Shayne Graham, Neil Rackers ... good God, men! It's almost as if you want to be shoved into your lockers. And then there was Jets punter Steve Weatherford, who couldn't play on Saturday. But at least that was because of a legitimate medical issue other than acute shankitis. The NFL had better expand the net behind the goalposts by about 20 yards on each side, else a lot of fans will get hurt.
Stats are pointless. If you had told me before the Ravens-Patriots game that Joe Flacco would go 4-for-10 for 34 yards, an interception and a 10.0 passer rating, and yet the Ravens would win, I wouldn't have believed you. (And then, after the game was over and Flacco had posted those exact stats in a win, I would have burned you for being a witch.)
But Flacco didn't need to pass because Baltimore jumped out to a huge lead behind Ray Rice and Brady managing the game for him.
Also, during the offseason, Flacco sleeps at his parents' house in his old bedroom under a poster of Brady. Really. What does this have to do with my argument that stats are pointless? Absolutely nothing. But the announcers shared this Flacctoid late in Sunday's game, and I think it needs to be shared with the world. Because it's 100 percent hilarious. (Ooh! A stat. Great save there by me!)
Quote of the Week
"It's playoff football. We've got to come in, and we gotta take our game to another level. And that's exactly what we did."
-- Karlos Dansby, Cardinals linebacker
You did? You gave up 45 points. Thirty-five in the second half, blowing a 21-point lead. I think you're holding your levels chart upside down.
Stat of the Week
1978: Until Sunday, the Patriots had not lost a playoff game at home since 1978. Oh, stats, so hilariously misleading. The Patriots, of course, had an outstanding seven-year run in the '00s, but before that? Yeah, not a ton of home playoff games. Ooh! I have a stat even more impressive than that one. Here you go: The Houston Texans have never lost a home playoff game. In fact, they've never lost a playoff game. Houston Texans ... greatest franchise ever?
Pictures of the Week
• "I'm going to throw this one straight up in the air, and we'll just see what happens, OK?"
• "Fellas, I don't need a coat. I've been preparing for this weather my whole life."
• "Dudes, hang loose. I got this."
• "Oh, if only I could fit my heartbreak into 140 characters."
• "What the?! I've been wearing Akili Smith's helmet this whole time?"
• "It's the Bengals. How could I not have expected this?"
• "You are great at football, and we are great at cultural clichés!"
• "Relax. Take it slow. Imagine this is a game-ending drive."
• "A Cowboys playoff victory? Well, now I've seen everything."
• "Yeah. Let's commence the bumpin' of fists."
• "My, that's a beautiful chin. Like looking in the mirror."
• "And they say I don't try. I'm moving faster than him now, aren't I?"
• "I am shunning them. Let's see how they like not hanging out with someone as cool as I am."
• "Looks like the blame's on you, not me, buddy."
• "I'm going to need you to step up and make some tackles today, OK?"
• "I just got this note from Bob. It says: 'Nice pom-pom. It's a fitting cap to your incompetence.' How rude."
• "Uh-oh. I just turned over my breakfast."
• "Worst part of today? By far? My hair looks terrible."
• "You know, I could give you the number of a few salons where they could take care of that for you. Just a few wax strips and it's over with."
• "A bit too early to celebrate, Earl- ... ah, never mind."
• "Let's see. ... Well, what's been working?" "Everything."
• "And most of all, God, we thank you for their graciousness in allowing receivers to run free through the secondary."
DJ Gallo is the founder of and sole writer for the sports satire site SportsPickle.com. He also is a regular contributor to ESPN The Magazine and has written for The Onion and Cracked. His first book, "SportsPickle Presents: The View from the Upper Deck," is on sale now.