Commentary
How to make a splash in the NFL draft
Originally Published:
April 21, 2010
By
DJ Gallo
| Page 2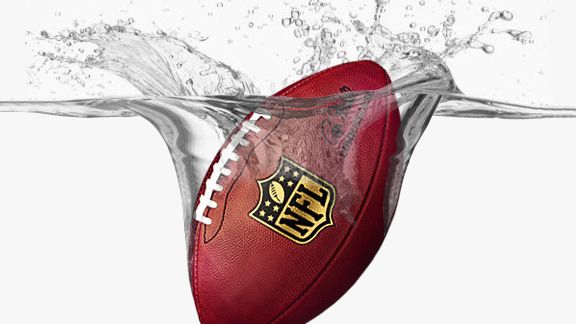 ESPN.com Illustration
There are 32 NFL teams. Only one wins the Super Bowl. Seventy percent of the Super Bowls have been won by just eight franchises.
For most teams, trying to win the Super Bowl is futile.
What if NFL teams embraced this fact and drafted players based not on who the best football players are, but who could get them the most buzz? Because if you're not going to win a championship, and history says you won't, you may as well get some attention.
Here are the Top 10 players teams should consider. It's the future Q-rating draft board.
No. 1 -- Tim Tebow, QB, Florida
He's already an American icon. An easy top pick. Wholesome without being boring, men want to be him, women want to de-flower him. Just be careful actually playing him in games. That could potentially ruin it all.
PAGE 2 PODCAST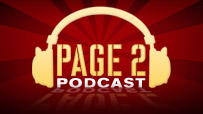 It's time for Friday's Page 2 Podcast with your hosts Mike Philbrick and DJ Gallo. Have a listen and you'll learn why:
• No one is mas macho than Tebow.
• A-Rod doesn't know the rules.
• The 1960 Pirates are back.
• Drew Rosenhaus had a bad night.
Click here to listen up!

• Subscribe to the Page 2 Podcast through iTunes or the RSS feed reader of your choice for automatic updates as soon as the latest show is posted.
No. 2 -- Jimmy Clausen, QB, Notre Dame
Notre Dame players are marketing gold. Notice no one made a movie about a walk-on at NC State or Rutgers. Even casual fans know Notre Dame. And the quarterback for the Fighting Irish stands above. Long before Brady Quinn bounced his first pass off the NFL turf, he was pitching for Subway and EAS and featured in countless magazine spreads. And Jimmy Clausen loves the spotlight even more than Quinn. Don't forget: he announced he would attend Notre Dame at the College Football Hall of Fame, riding up to the venue in a limo. Now that he's a professional? Expect him to take the field by parachuting out of a plane with the cast of "Jersey Shore."
No. 3 -- Myron Rolle, S, Florida State/Oxford
Myron Rolle is a Rhodes Scholar who took a year off from football to get a master's degree in medical anthropology at Oxford. I don't have to have a master's in media coverage from no ascot-wearing, fancy-panted college to know that background will get Rolle a ton of publicity in the NFL, regardless of what he does on the field. Oh, and for bonus points, Rolle does indeed wear ascots and fancy pants.
No. 4 -- Dez Bryant, WR, Oklahoma State
While losing most of his season to suspension hurt Bryant in the regular NFL draft, it only helps him in this one. Why? Because that suspension was due to Bryant lying to the NCAA about spending time with Deion Sanders. The future Hall of Fame self-promoter operates a camp for draft hopefuls called "Prime U." No doubt Sanders drills his students on how to stay in the news and away from any contact. Repeat after me: I'll never be on TV at the bottom of a pile! Yell it! Scream it or you'll have to stay late for extra dancing!
No. 5 -- Anthony McCoy, TE, USC
McCoy tested positive for marijuana at the NFL combine in February. Picking him gets your franchise "cool" points from most everyone in town under 30. Then, if McCoy produces a bit on the field and stays clean, you earn a long cycle of "redemption" stories, and the franchise gets credit for steering this wayward young man along the straight and narrow. All because he apparently smoked a joint sometime this winter. This is a value pick.
No. 6 -- Ndamukong Suh, DT, Nebraska
His name is Ndamukong. While this is not news to most football fans, his name is the sort of thing that gets a city talking. Did you hear we drafted a man named Ndamukong? Why, what a wonderfully unusual name! Consider: Steelers DE Aaron Smith has been one of the most productive defensive linemen of the past decade. But no one knows who he is. Because Aaron Smith is boring. There's no way around it. But Ndamukong Smith? That guy is a Hall of Famer. But NFL teams should know that Suh is more than a name. He even has a personality. Really. You have to have a personality to willingly pose with your pepperoni, pita and olive likeness.
No. 7 -- Toby Gerhart, RB, Stanford
Toby Gerhart just has that certain "something" that will cause a lot of people to pay attention to him throughout his NFL career, however long or short it may be. I don't know what it is. I guess a good comparison might be Larry Bird. He had "it," too. Just a certain ... quality. I just ... I can't seem to put it into words. I'm sorry. For some reason my mind right now is like a big, empty expanse of ... whiteness.
No. 8 -- Everson Griffen, DE, USC
Like Dez Bryant, Griffen is a first-round talent with "character issues" or -- for this draft's purposes -- "high future media coverage probability." Last summer Griffen and a teammate were cited by police for a noise violation. And where did this incident take place? Nantucket. It's hard to pass on a player whose early career can be captured with the line: "There once was a draft pick from Nantucket ... ." Hilarity has no choice but to ensue.
No. 9 -- Zoltan Mesko, P, Michigan
Controversy equals publicity. So controversy therefore must be good. That's why teams can't pass on Mesko, who was one of the leaders of the Hungarian Nazi Party in the 1930s. Oh. Wait. Wrong Zoltan Mesko. Whew! Because I think sometimes publicity can be bad publicity.
No. 10 -- Kyle Bosworth, LB, UCLA
Kyle is Brian Bosworth's nephew. NFL scouts say he might not even get drafted because of speed and strength concerns. As though anyone cares about that stuff. Kyle's true problems are that he doesn't have any lines shaved into the side of his head, nor does he harbor any dreams of being a B-movie action star. But he can still be saved. He has the genes to want those things. He has the genes to be famous. Some savvy NFL team just needs to take a chance on him and then surround him with the wrong people.
DJ Gallo is the founder of SportsPickle.com. His first book, "SportsPickle Presents: The View from the Upper Deck," is available from only the finest bargain book retailers. His next book project will be released soon. You can follow him on Twitter at @DJGalloESPN.