Commentary
Don't save date for these NFL games
Originally Published:
April 22, 2010
By
DJ Gallo
| Page 2
The NFL schedule is out, and everyone has compiled lists of all the "best" and "marquee" games and the matchups you should "circle on your calendar."
But I am a big NFL fan. If I circled every NFL game I want to watch on my calendar, my calendar would be covered in circles.
PAGE 2 PODCAST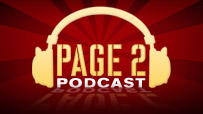 It's time for Friday's Page 2 Podcast with your hosts Mike Philbrick and DJ Gallo. Have a listen and you'll learn why:
• No one is mas macho than Tebow.
• A-Rod doesn't know the rules.
• The 1960 Pirates are back.
• Drew Rosenhaus had a bad night.
Click here to listen up!

• Subscribe to the Page 2 Podcast through iTunes or the RSS feed reader of your choice for automatic updates as soon as the latest show is posted.
So instead I circle the games I don't want to watch. Under any circumstances. Because they will be terrible. It's simpler that way, and it saves me a lot of ink.
Here are those games.
Week 1
Cleveland at Tampa Bay
After weeks of preseason action in which second-rate talent gets most of the playing time, we'll all be ready for the start of games that mean something. And for the few of us who aren't, there is this game.
Week 2
Kansas City at Cleveland
So the Browns open with the Buccaneers and Chiefs. I'm not sure whether this is a blessing or a curse. There's a decent chance they open the season 2-0, leading to a million "Mike Holmgren is a genius!" stories. There's also a decent chance they close the season on a 14-game losing streak, leading to a million "What happened to the Browns?!" stories. (Oooh! I know the answer to that one! They stopped playing the Buccaneers and Chiefs.)
St. Louis at Oakland
Roger Goodell made a change to this year's schedule. Week 17 is full of divisional matchups, a move he hopes will make those games meaningful and force the top teams to play their starters. He also apparently decided that Week 2 will decide who'll get the No. 1 pick in the 2011 draft.
Week 3
Washington at St. Louis
These teams met last year in Washington. The Rams won 9-7. For some unknown reason, the NFL scheduled them to play again. But at least this time it's in a dome, so hopefully no one will see it and the fumes won't escape.
(And yes, I know the reason this game was scheduled again. It's based on how both teams finished last season. You must be a real hoot at parties.)
Week 4
Seattle at St. Louis
I know many Seattle fans are very sensitive about their coverage from the "East Coast" media. As they should be. It's hard to argue that there's not at least some bias there. So I must apologize that it took me until Week 4 to include a Seahawks game as one of 2010's unwatchable sucktastrophes. You deserve better, Seattle. The Seahawks are just as bad as all the other teams I already mentioned. I hope you can forgive me.
Week 5
Jacksonville at Buffalo
Two mediocre teams in tiny media markets. No way this game will be televised anywhere outside of Jacksonville and Buffalo. And if you're at a sports bar and ask to have this on one of the TVs, know that your wings will be served with the chef's special chipotle saliva seasoning.
St. Louis at Detroit
These teams played last season in Detroit, too. Week 8, I believe. The Rams won. If I remember correctly. There are no records. As with the Spygate tapes, Goodell shreds anything that could make the NFL look bad.
Week 6
Oakland at San Francisco
This is a pretty good week of NFL games. Even the Raiders have a rivalry game scheduled, and anything can happen in a rivalry game. That's why the Raiders should start JaMarcus Russell this week. Haunches and fat are about all he has going for him. Whoops! Did I say haunches and fat? I meant hunches and fate.
Week 7
Jacksonville at Kansas City
With a special halftime performance by a tree falling in the forest.
Week 8
Washington at Detroit
This Sunday is Oct 31. Or as the lay-pagans call it: "Halloween." Kids, you know what to do. If someone gives you some crap candy -- that orange peanut thing, for example -- or, even worse, something like an apple or a carrot, come back late at night and leave a tape of this game on their porch. Booooooo-oring!
Buffalo at Kansas City
Or of this game.
Carolina at St. Louis
Or this one.
Seattle at Oakland
And this one probably would work, too. You know what, just see if you can get them a Week 8-only subscription for the NFL Sunday Ticket. Next year, they'll give you all the delicious name-brand milk chocolate candy you could ever want.
Week 9
Kansas City at Oakland
You know what? Just go ahead and circle all the games including the Chiefs and Raiders. It'll save us all time.
Week 10
Detroit at Buffalo
And the Lions and Bills. This is getting obvious.
Carolina at Tampa Bay
Ah, here we go. This game could be interesting. You see, the Panthers used to feature Jake Delhomme, which made all their games potentially unwatchable -- unless, like me, you are a connoisseur of tragicomedies. But Delhomme is no longer with the Panthers; Matt Moore showed a lot of promise last year; and Carolina could actually be good in 2010. Which brings us back to Delhomme. He is with the Browns now (combined 2010 salary: $19.7 million), and this week Cleveland is playing the Jets. You might recall that the Jets feature Darrelle Revis. What you might not recall is that the NFL record for most interceptions thrown in a game is eight, accomplished by Jim Hardy in 1950. And don't bother remembering it because its days as an NFL record are numbered.
Week 11
Tampa Bay at San Francisco
Flex scheduling begins in Week 11. The NFL can move one game to prime time. It should balance that by moving this game to 4 a.m.
Week 12
Cincinnati at New York Jets
This game will be played on Thanksgiving, our traditional holiday to spend time with family. And with a nod to tradition -- and even though the Bengals and Jets both made the playoffs last year -- I felt it was right to include them. It just doesn't seem right to write a column about bad teams without mentioning the Bengals and the Jets.
Week 13
St. Louis at Arizona
And let's not forget about the Cardinals. They've made the playoffs the past two years, but Kurt Warner is gone. It's Matt Leinart's job now. Things are about to change. Let's quote from "The Big Lebowski." Matt Leinart will play the role of The Dude. Ken Whisenhunt will play The Big Lebowski. The scene will be a Cardinals practice.
The Big Lebowski: Are you employed, sir?
The Dude: Employed?
The Big Lebowski: You don't go out looking for a job dressed like that? On a weekday?
The Dude: Is this a … what day is this?
The Big Lebowski: Well, I do work, sir, so if you don't mind …
The Dude: I do mind; the Dude minds. This will not stand, ya know, this aggression will not stand, man.
Week 14
Cleveland at Buffalo
Wait a minute. Cleveland is on Lake Erie. Buffalo is on Lake Erie. The Detroit River flows into Lake Erie. OHMIGOD! It's been staring us in the face all these years! Browns, Bills and Lions: Stop drinking the water! It's poisoning you!
Week 15
Kansas City at St. Louis
Am I reading the schedule wrong? It feels as if this will be the 12th time these teams are scheduled to play each other this year.
Week 16
Seattle at Tampa Bay
And this game, too. How many games did Goodell schedule for the bad teams? Really? SIXTEEN? Now that just seems cruel.
Week 17
Oakland at Kansas City
Having only divisional games in Week 17 is a great idea. The only downside is that there are some awful divisions. The AFC West …
St. Louis at Seattle
… the NFC West, long division with remainders, division with decimals. I mean, have you ever tried to figure out JaMarcus Russell's quarterback rating using the quarterback rating formula? Or Kyle Boller's? There's a lot of math. And I thought you couldn't divide by zero. And the answer I always come up with is: "Surely this person's not a quarterback. Maybe a lineman?" And I'm pretty sure those are letters and words, not numbers.
DJ Gallo is the founder of SportsPickle.com. His first book, "SportsPickle Presents: The View from the Upper Deck," is available from only the finest bargain book retailers. His next book project will be released soon. You can follow him on Twitter at @DJGalloESPN.