Commentary
Brett Favre will definitely be missed
Originally Published:
August 5, 2010
By
DJ Gallo
| Page 2
It's easy to gang up on Brett Favre during Brett Favre Retirement 9.0. But even those of us who have grown the most tired of his act have to admit that there will be certain things we miss about him when he is finally (mercifully) gone.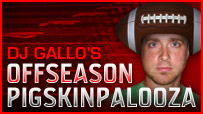 I'll miss the ridiculously soiled hats -- so filthy, so desperate to convey normal-guy, I-check-my-tractor-oil-with-my-ballcap-and-have-done-so-for-20-years--ness. For all of his career achievements, the most impressive is that his consecutive games streak has never been halted due to a hat-related staph infection.
I'll miss Hattiesburg, Mississippi. I know very little about the town of Hattiesburg. I know that it apparently has an airstrip big enough to accept small planes flying from the Upper Midwest. I know that the area must have vast patches of mowable grass. I know that it may be named Hattiesburg due to there being just one hat in town for all of its residents to share. I know ... well, that's it. And if Brett Favre retires, that's all many of us will ever know. So forever it will be "Hattiesburg, Mississippi: Home of Brett Favre", and nothing else. No town deserves that.
I'll miss Brett Favre playing catch with high school kids. There was a certain purity to an NFL quarterback throwing passes to high school kids -- the love of the game bridging generations. But if you remove NFL quarterback from that equation, the purity is replaced by ... well, creepiness. Then it's just a guy in his 40s playing with kids. Like Billy Madison meets Dateline NBC.
I'll miss the texting. For a guy who loves to pile on the aw-shucks, down-home, old-fashioned charm, Mr. Favre sure has seemed to embrace newfangled cell phone technology. Every Favre-related report that includes references to him texting -- which is almost all of them now -- sends the mind reeling over what kind of text message Brett Favre could send:
"u seen my dirt hat? iz lost"
"cant talk nw. mowin"
"Getin r dun"
"Chek out this pic"
"I = retird"
"I = unretird"
I'll miss the excuses. "He's just a gunslinger." "He's playing like a kid out there." "Brett Favre is just trying to make a play." "You can't question his heart." You know how Eskimos supposedly have a thousand words for snow? Well, Brett Favre has given football play-by-play guys almost as many ways to say "what an incredibly stupid turnover." If nothing else, he's been great for the English language. He's the muse for the turnover metaphor.
I'll miss the grizzled beard. When Brett Favre (really) retires, it will be the end of an era. Kurt Warner is gone. With Favre gone, we will lose our last grizzled superstar quarterback. We may never again see a graybeard put up big numbers in the NFL. At least not for a while. Peyton Manning won't ever be grizzled. I don't even think the Manning boys can grow facial hair. And Tom Brady definitely won't let himself go gray. Considering his Justin Bieber hair, he's more likely to elect to permanently remove his facial hair by electrolysis so he can look more pre-pubescent.
Old men playing quarterback makes the rest of us feel young. It inspires us. If Brett Favre can lead a team to the NFC Championship Game when he's 40, who's to say I can't place in the money in my fantasy league when I turn 40?
I'll miss the double standards. Brett Favre is a regular dude! Just one of the guys! Oh, but ... yeah, he's not going to play by the same rules and will just show up to camp whenever he wants to. Cool? This mindset gives cover to the rest of us. "Hey, I've been in this family for 30 years. I don't need to show up for your birthday party anymore. I'll be there for Christmas."
I'll miss the ads. Wrangler, Sears, a tractor ad. That's about it. While Favre dominates programming during the NFL season, he's not nearly as prevalent as Peyton Manning during commercial breaks.
That will change very quickly when he hangs them up. Someone who loves the spotlight as much as Brett Favre will want to be on TV as much as possible. We'll see Brett Favre for cereal. Brett Favre for cars. Brett Favre for cell phones. Brett Favre for cameras. Brett Favre for ... ohmigod ... public office. President Favre. Favre more years!
Although my guess is that he'll struggle a bit to fight the perception that he's a flip-flopper. And that he'd be too risky to hold the nation's highest office. He'd pass some great social legislation in the morning, cut spending in the afternoon, and then blow it all at the end of the day with an ill-advised nuke launch.
I'll miss the free columns. Hey, I'll admit it. According to a media survey that someone should do, Brett Favre's retirement saga provides 79.4 percent of all sports headlines each summer.
In fact, if Favre hadn't happened, my only idea for this week's Pigskinpalooza was "Haynesworth = FAT!"
Brett texted me the idea.
DJ Gallo is the founder of SportsPickle.com. His first book, "The View from the Upper Deck," is available from only the finest bargain book retailers. His next book project will be released soon. You can follow him on Twitter at @DJGalloESPN.