Commentary
Pigskinpalooza Preview: The AFC
Originally Published:
September 8, 2010
By
DJ Gallo
| Page 2
The NFL season is upon us. Let's enjoy it, because there might not be one next year.
In fact, let's set the 2011 NFL season over/under at 0.5. And while we're doing over/unders, let's take a look at the win totals for each team for this season. We did the NFC already, so let's move on to the AFC.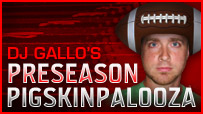 Baltimore Ravens: over/under 10
Over. But this team can't do much in the playoffs. Its cornerback situation is a disaster, and Ed Reed is out for half the season and likely will never be close to 100 percent again.
Something about the current attitude in Baltimore of "Sure, our pass defense might be incredibly awful, but it's no worry -- we've got Joe Flacco running our offense!" seems a little off. I don't know what it is. Oh. Right. The insanity part of it.
Buffalo Bills: over/under 5
Under. In Chan Gailey's first head coaching job, he went 18-16 with a Cowboys team full of future Hall of Famers. Whereas the 2010 Bills don't have any players who seem likely to one day appear in the Hall of Fame. Well, not in the traditional sense. They all probably will make at least brief appearances in the highlight reels of other players.
Cincinnati Bengals: over/under 8
Under. The Bengals' strength is their defense, which is as true as it sounds weird. But that defense can take them only so far. Even if Carson Palmer actually was the elite quarterback his reputation says he is, Chad Ochocinco is 32 and Terrell Owens will be 37. Unfortunately for the Bengals, legs age at the same pace as the physical body, not with their owner's overall mental maturity. Although I suppose most 9-year-olds aren't all that fast, either.
Cleveland Browns: over/under 5.5
Under. One of Mike Holmgren's first tasks after taking over the Browns was signing Jake Delhomme to a two-year contract worth $7 million this year alone. So for future reference, when you think people are referring to Holmgren's "'stache," understand they might actually be talking about his "stash" of drugs.
Denver Broncos: over/under 7.5
Under. The Broncos went 2-8 down the stretch last season. So it's a good thing they have Tim Tebow now. He will be great for team morale, because after every loss, he can recite Matthew 20:16: "The first shall be last and the last shall be first." Ha-HA! Take THAT, Chargers!
Houston Texans: over/under 8.5
Over. The Texans set a franchise record with nine wins last season, but it was barely enough for Gary Kubiak to keep his job. To finally make the playoffs, they'll need to play better in the division; they were 1-5 in the AFC South last season and are 1-15 all time against the Colts. It's obvious the division schedule wears them down. Maybe if they'd stop overtraining so much that wouldn't be a problem!
Indianapolis Colts: over/under 10.5
Over. Peyton Manning says he is as excited about this Colts team as he has been about any Colts team. As you'll recall, he's won a Super Bowl in Indianapolis, so his pronouncement is basically a championship prediction camouflaged by some Manning Family aw-shucks charm. It's like how if Eli Manning says he saw "Inception," he's really just bragging that he's allowed to see PG-13 movies now.
Jacksonville Jaguars: over/under 7
Under. If the Jaguars really want to punish Jack Del Rio after this season, they shouldn't finally fire him; they should reassign him to the team's ticket sales department and make his salary entirely commission-based.
Kansas City Chiefs: over/under 6.5
Under. Charlie Weis is running Kansas City's offense now. You remember Charlie Weis, right? He's the guy who led an average offense in New England that became one of the NFL's best immediately after he left (even though the Patriots were then playing without the benefit of Spygate). Then he went to Notre Dame and took it to unprecedented lows and got fired. So, obviously, the Chiefs scooped him right up! And now he's in Kansas City riding around in one of these. If only he could coordinate an offense as beautifully as the opening scene of that Hoveround commercial.
Miami Dolphins: over/under 8.5
Over. The Dolphins are an up-and-coming team, but they open the season with a brutal schedule: at Buffalo, at Minnesota, Jets at home, Patriots at home, bye, at Green Bay, Pittsburgh at home, at Cincinnati, at Baltimore. Ouch. I guess we can't blame them for going the SEC route and scheduling a Football Championship Series team to open the schedule.
New England Patriots: over/under 9.5
Over. They say ACL injuries take two years to heal completely. But Tom Brady doesn't just look healed, his feet look quicker than ever.
New York Jets: over/under 9.5
Over. The nice thing about the Jets is they'll be entertaining if they win a lot this season and just as entertaining if they lose a lot this season. But I think we all should root for them to win a lot, because Rex Ryan at the Super Bowl would be a fun time.
"Rex Ryan, you've just won the Super Bowl. Where are you going to go?"
"I'm going to #@%*ing Adult World!"
Oakland Raiders: over/under 6
Over. Al Davis says Jason Campbell is the next Jim Plunkett. By that, I assume he means Campbell can overcome a poor start to his career by leading the Raiders to glory. You know what? If Campbell doesn't work, the Raiders should use that same Davis logic and sign JaMarcus Russell. It's foolproof!
Pittsburgh Steelers: over/under 8.5
Over. The Steelers open with the Falcons, Titans, Buccaneers and Ravens. If they can go 2-2 or better, which they should, they will be in position to roll into the playoffs when Ben Roethlisberger returns. And Roethlisberger will be plenty motivated to make people focus on football. In fact, each time he drops back, I expect him to scan the opposing defense and yell: "Take my shots!" before rifling a pass down the field.
San Diego Chargers: over/under 10.5
Over. The Chargers have some issues at wide receiver, but they should coast to a 6-0 start thanks to opening with the Chiefs, Jaguars, Seahawks, Cardinals, Raiders and Rams. So, yes, as you can imagine, the Chargers will be dressing up this Halloween as overrated.
Tennessee Titans: over/under 8.5
Over. Chris Johnson gives the Titans a chance every week. But defense and leadership are question marks, and Tennessee has the NFL's toughest schedule. Huh. Maybe that tough schedule can be named team captain and start at linebacker. It's the Keith Bulluck of schedules.
DJ Gallo is the founder of SportsPickle.com. His first book, "The View from the Upper Deck," is available from only the finest bargain book retailers. His next book project will be released soon. You can follow him on Twitter at @DJGalloESPN.