Commentary
DJ Gallo's NFL Hangover, Week 3
Originally Published:
September 27, 2010
By
DJ Gallo
| Page 2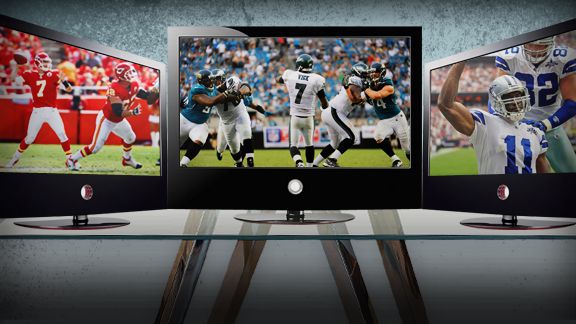 ESPN.com IllustrationThe fall TV season in the NFL hasn't been delivering as promised.
Week 3 was a good, but not great Sunday of NFL action. You have to wonder if many people cared more about the second episode of "Boardwalk Empire" or the season debuts of "Dexter" and "Eastbound & Down" than any football that was on.
So let's try to please everyone by looking at some of this season's football teams as weekly TV shows. Because that's pretty much what they are anyway.
Kansas City Chiefs (3-0) -- The success of this show has caught many by surprise. But you get the sense that the writers and actors didn't expect it to last this long and that soon it will get absurd and unwatchable as they struggle to come up with new ideas. In fact, isn't this a Chiefs cheerleader outfit?
New York Jets (2-1) -- One of the most heavily promoted shows of the new season got off to a rough start. But things now seem to be moving in the right direction even as the storylines -- like sexual harassment allegations and DUI -- seem a bit too explosive, unrelenting and dramatic to be realistic. It just goes to show that you can't go wrong casting John Goodman in the lead role.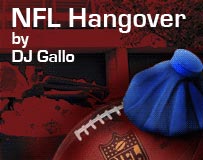 Pittsburgh Steelers (3-0) -- Many thought this show's best days were behind it, but it's not one of the most successful and longest-running franchises for nothing. Its tried-and-true formula works year after year. And the ratings are only expected to go up in the coming weeks with the scheduled return of one of TV's most divisive characters.
Carolina Panthers (0-3) -- A cast shake-up that moved the young, brash Jimmy Clausen into the lead role made very little improvement. This is why you don't rest your hopes on an actor who languished for three years at The CW of college football.
San Diego Chargers (1-2) -- This franchise has so much potential year after year, yet it always disappoints. The show simply isn't tough or gritty enough for the genre and it's time they can director M. Norv Shyamalan.
Cleveland Browns (0-3) -- I'm not sure how this public access show ever got on the air. It was probably just an error in the control room. Hopefully we won't have to see it again.
Minnesota Vikings (1-2) -- It's hard to watch a once-great actor struggle to make it through an episode without embarrassing himself. If the Vikings want an elderly character who can still get it done, they should consider replacing Brett Favre with Betty White. It's the only show she's not on anyway.
Philadelphia Eagles (2-1) -- After dabbling in crime dramas, Michael Vick has returned to the character that made him a star and is drawing in a new generation of fans. Still, even as the show gains momentum, you worry director Andy Reid will blow the finale again like he did in Super Bowl XXXIX, which famously inspired the final episode of "The Sopranos."
Dallas Cowboys (1-2) -- It has its moments, but like many star-studded shows, it seems to rely on those stars to bring in viewers and never bothers to develop a good plot with any substance. Wade Phillips seems miscast as head coach.
New England Patriots (2-1) -- It's not the critically acclaimed success it once was, but this show still brings in viewers. Consider: while "Glee" is touting a guest appearance by past-her-prime Britney Spears, the Patriots have pop sensation Justin Bieber as a full-time cast member.
This Week's Horrible Fantasy Team That Crushed Your Fantasy Team
Charlie Batch, QB, Steelers -- 12-for-17, 186 yards, 3 TD, 2 INT, 26 rushing yards
Peyton Hillis, RB, Browns -- 180 total yards, TD
BenJarvus Green-Ellis, RB, Patriots -- 16 carries, 98 yards, TD
Roy Williams, WR, Cowboys -- 5 catches, 117 yards, 2 TD
Brandon Lloyd, WR, 49ers -- 6 catches, 169 yards, TD
Tony Moeaki, TE, Chiefs -- 4 catches, 44 yards, TD
Stat of the Week
3 and 75 -- Teams that start the season 0-3 historically make the playoffs only 3 percent of the time, while teams that open 3-0 make the playoffs 75 percent of the time. And while I haven't yet confirmed this next stat with the stat people, I'm pretty sure it's accurate: Teams that start 3-0 in the AFC West or NFC West have clinched the division at that point 99.3 percent of the time. Congratulations Chiefs!
Quote of the Week
"It's good!"
-- New Orleans Saints public address announcer Jerry Romig on Garrett Hartley's overtime field goal attempt.
But it was not good. In fact, it was very bad. With reports now that the Saints will audition new kickers in hopes of replacing Hartley, he should probably take Romig's future pronouncements with a grain of salt.
"Garrett! Great news! You still have a job!"
"Do I really? Take a look again."
"No! You do not!"
Photos of the Week
• "You keep it. It might be the last one you ever throw."
• "Great. Now I have to hear Mercury Morris gloat about us losing."
• "Give us an N! Give us an A! Give us a P! Let's go NAP!"
• "What the- ? I have forehead flab? OK, it's officially time for a diet."
• "I don't know what they taught you with your fancy Ivy League degree, but here in Real America we don't like throwing it to the wrong team."
• "Oh, crap. I completely forgot that I'm supposed to be a defensive genius."
• "This is the last time I'm asking you: GIVE ME YOUR HELMET! I get in trouble when I throw mine!"
• "Oh, umm ... I don't know about this. This is like the haunted house I wet my pants in when I was in 11th grade."
• "Wait. Where's Kerry Collins right now? Still on the bench? Cool."
• "I can't believe I haven't gotten one compliment about my cool shades. I guess everyone's just jealous."
• "I like the old stadium better because it didn't have so many mean scoreboards."
• "Time to get some franchise savior up in this piece!"
• "Hey, pretty lady. Once you go Ravens quarterback, you never go ... well, that's probably not true. Umm ... want to get some pizza?"
• "Ouch. I think I sprained my cheese-dipping wrist."
• "You can have this touchdown ball, kid. I might get another one sometime."
• "Accckkk. Why ... am ... I ... choking? It's not ... even ... December."
• "Hey, what are you doing? Did you not see the UCLA game?"
• "People said that playing for the Rams would be like hell, but I thought they were joking."
• "Now I just feel like we look stupid."
• "Nice win. But I have a Heisman. God bless."
• "Yes. This week they added affection to my emotional software."
• "Do you get it? We can explain it if need be."
• "Just catch the middle ball, okay?"
• "So how would you punch him? Like this with a right cross?"
• "Oh, crap. I forgot to look where the uprights are."
DJ Gallo is the founder of SportsPickle.com. His first book, "The View from the Upper Deck," is available from only the finest bargain book retailers. His next book project will be released soon. You can follow him on Twitter at @DJGalloESPN.