Commentary
Weeding out those nasty agents
Originally Published:
October 14, 2010
By
DJ Gallo
| Page 2
The influence of agents in the college game is a serious problem that must be addressed. We're probably even heading toward a Congressional panel where uninformed politicians will hold up before-and-after pictures of athletes and say: "Well, your Escalade doesn't look noticeably larger from your freshman to senior year, so I think you've been wrongfully accused."
But all that will take time. Policy and laws don't change overnight.
Until then, we can take immediate measures to cut down on the number of agents hanging around college athletes:
No. 1 -- Update fire codes at stadiums and practice facilities. Hair spray and hair gel can be highly flammable. Those who are covered in it, as most sports agents are, can explode if they get too near a heat source. By strengthening fire codes, we can increase public safety and arrest agents on sight at college venues.
No. 2 -- Stop playing games at night. Sports agents can't go out during the day. Sunlight kills them.
No. 3 -- Put agent alert lights throughout campuses. Most campuses already have blue-light security stations. Only now students would be encouraged to alert authorities if they see an agent on campus, too. Agent alert stations would have green and orange lights. (In honor of the '80s and '90s Miami Hurricanes, of course.)
No. 4 -- Make wearing Bluetooth earpieces a felony. I'm not really even directing this at one at agents. I just think anyone who wears a Bluetooth earpiece outside of the office or their car should be in prison. I think we can all agree on this.
No. 5 -- Pay Division-I football and basketball players. Athletes would less likely to take cash from agents if they weren't struggling to pay for pizza. Right now schools can sell player jerseys, but the players get no money from the sales. Why not give players a percentage of the money made on apparel? Sure, this would hurt players at schools with ugly uniforms, but no system is perfect. We would greatly appreciate your sacrifice, Oregon.


Game of the Week
No. 1 Ohio State at No. 18 Wisconsin -- 7 p.m. ET on ESPN
Ohio State is No. 1 in the country but has no shortage of critics. It's mid-October and this is only the Buckeyes' second road game. Plus, they haven't beaten a team ranked in this week's Top 25.
A win at Camp Randall Stadium would silence doubters. Ohio State could also help its case by going back in time to convince Week 2 opponent Miami, then ranked No. 10, to not get crushed by Florida State and fall out of the Top 25.


Another Game of the Week
No. 12 Arkansas at No. 7 Auburn -- 3:30 p.m. ET on CBS
Auburn has had narrow victories over Mississippi State, Clemson, South Carolina and Kentucky this season, causing some to call the team the ... "Cardiac Tigers." Yikes. That doesn't rhyme, there's no alliteration, it's a terrible nickname. I propose they be called the "Acute Myocardial Infarction Tigers." It's still a terrible nickname, but then we at least learn the medical term for a heart attack, which is fitting because, as we know, knowledge is the goal of all student-athletes.

Cupcake of the Week
McNeese State: Clinically insane person Les Miles and his somehow undefeated and No. 9 LSU Tigers welcome the 2-3 McNeese State Cowboys of the FCS Southland Conference to Baton Rouge this week (7 p.m. ET on ESPN3.com). You could easily make the case that the biggest underdog is always the team coached by Les Miles, but that said, the Cowboys are going to get crushed.
However, they plan to go down in appropriately adorable cupcake fashion. Check it out: a McNeese State vs. LSU cornfield maze. According to McNeese State's website: "It takes an average of one hour for a visitor to find the puzzle's exit although those making the correct decisions can exit in 15 to 30 minutes." There is no estimate given for how long it would take Les Miles to get through it.


Rivalry Game of the Week
Texas at No. 5 Nebraska -- 3:30 p.m. ET on ABC
Nebraska fans want this one badly after Texas won last season on a "last second" field goal that came only after the clocked showed all zeroes, giving Texas the Big 12 championship. Texas' best shot this year might be if the officials, instead of adding time, take most of the seconds off the clock. Like, maybe three quarters worth.

Heisman Candidate in the Crosshairs
Taylor Martinez, QB, Nebraska:
Denard Robinson's poor showing against Michigan State threw the Heisman race back open. The new hot candidate, following his big five-touchdown game last Thursday against Kansas State, is Nebraska's Martinez. He is an especially popular pick right now for people who never heard of him before last week.
Can he keep it up this week against Texas (3:30 p.m. ET on ABC)? I say yes. Tied shoes are the new untied shoes.

Mascot Fact of the Week
Uga VIII will be introduced to Georgia fans before the Bulldogs' game this week against Vanderbilt (noon ET on ESPN3.com). Georgia had been using an interim mascot since Uga VII died last year; he didn't survive even two full seasons on the job, the shortest tenured Uga since Uga I started the line in 1956.
So that's eight dogs in 54 years -- a staggeringly poor mortality rate. Granted, English Bulldogs live only eight years on average, but I think we should just go ahead and blame this on Mark Richt. It feels right.
Tailgate Tip of the Week
Diversify your drink selection: We're about halfway through the regular season. It might be time to change things up at your tailgate so people don't get bored. Why not offer frozen mixed drinks?
Take a look at the Tailgator Blender. You don't need an electric hookup because it's gas-powered. And it makes a delicious frozen margarita. The secret ingredient? Gas fumes.

Tailgate Recipe of the Week:
Rich Rodriguez's Famous Chili: This chili is unique because it has just one ingredient. Take your favorite chili ingredient and prepare it. Now add absolutely nothing else to it, nothing at all. Not a single thing. We're going to see how far this one ingredient can take us. Now serve!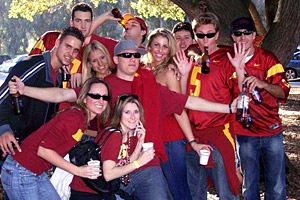 DJ GalloJust think, only a couple more years until your season is allowed to matter again.
Tailgate Photo of the Week
This week's tailgate photo was submitted by Eric, a USC fan. The picture was taken before this season, so you'll note the joy and innocence in everyone's face. Now it might look more like a group shot or a nursing home.
(Have a tailgate photo to share? Send it to VarsityTailgate@gmail.com or @DJGalloESPN on Twitter.)

Quote of the Week
"We lost to Michigan State, what, you wanna take me and hang me off the building now? I mean, there might be a few people who want to do that, but it's the same people that probably wanted to do that after the first five games, too, they just weren't saying it publicly."
-- Rich Rodriguez
Whoa, Rich, whoa. What are you saying? I look at this the same way I do when I see investigative reports on all the holes in our nation's air security, or how our nuclear power plants or food supply could be hit. Let's not give anyone any ideas.

Stat of the Week
5.6 Florida receiver Chris Rainey has averaged 5.6 yards per reception in the two games he played this season. He's missed time of late due to an aggravated stalking charge brought on by threats he texted to his girlfriend. But now Rainey is back, so long as he stays under the behavioral contract Urban Meyer drew up for him. I just hope Rainey had an agent look over that contract before he signed it. That's pretty much what they're for.

Coach on the Hot Seat
Joe Paterno: Penn State is 3-3 with wins over Kent State, Temple and FCS school Youngstown State; the Lions have been dominated by Alabama, Iowa and Illinois. Many Penn State fans who were happy to let Paterno go out on his own terms have, in the past two weeks, decided he is too old to compete with his coaching rivals and want the legend forced out Bobby Bowden-style.
But being placed on the hot seat won't faze Paterno. It's just what he wants. He's been counted out before. Plus, a nice, warm seat is perfect for napping.

Name of the Week
Woody Parramore, CB, Auburn: Very unique name. And also interesting because I hear that's what Brett Favre's nickname was at Southern Miss.

Stone Cold Lock of the Week
When Boise State is revealed as the No. 1 team in the first BCS standings Sunday on ESPN, computer sales will skyrocket throughout Idaho. Then, a few weeks later when the Broncos' weak schedule knocks them down the rankings, this will happen.
DJ Gallo is the founder of SportsPickle.com. His first book, "The View from the Upper Deck," is available from only the finest bargain book retailers. His next book project will be released soon. You can follow him on Twitter at @DJGalloESPN.