Commentary
DJ Gallo's NFL Hangover, Week 6
Originally Published:
October 18, 2010
By
DJ Gallo
| Page 2
Football season is in full swing, yet there is still this little relic of the summer sticking around called the Major League Baseball playoffs.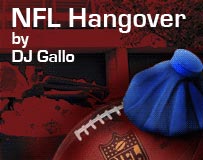 So let's take a look at some NFL stars and their MLB playoff equivalents.
Peyton Manning is Derek Jeter -- They were deemed legends way back in the mid-'90s and they've maintained those reputations ever since by being consummate professionals and portraying a positive image for their league.
How they are different: Their off-the-field image is very different. For example, if Peyton Manning had a signature cologne like Jeter does, it would probably be called Film Room & Gym Shorts.
Eli Manning is Alex Rodriguez -- No matter what they do, they'll always be second to their "big brother" -- Eli to Peyton, A-Rod to Jeter.
How they are different: Alex Rodriguez is a Hall of Famer. Eli Manning might not even make into the Manning Hall of Fame through the veteran's committee.
Ricky Williams is Tim Lincecum -- Both have a history with marijuana. Yet both continue to excel and are remarkably durable.
How they are different: Lincecum has many more years of puberty to go before he can even try to grow anything like this.
Brett Favre is Ryan Howard -- You're either going to get a strikeout or a home run. There's not much in between.
How they are different: Howard is becoming a popular commercial pitchman, including a national campaign with Subway. It's unlikely Favre will be getting endorsements any time soon, especially not with a company that sells foot-long and 6-inch products.
Donovan McNabb is Pat Burrell -- Both are former Philadelphia stars who have hurt their former teams in recent weeks.
How they are different: McNabb is mobile. Pat Burrell is the Drew Bledsoe of left fielders.
LaDainian Tomlinson is Vladimir Guerrero -- Everyone thought they were washed up. It turns out they're not.
How they are different: Vladimir Guerrero didn't get a Rangers tattoo on his leg. Bonus points for him.
Norv Turner is Ron Washington -- You have to wonder if these guys are on something.
How they are different: Everyone deserves a second chance. Everyone deserves to learn from their mistakes. Ron Washington is doing that right now. Norv Turner is on about chance 13 and mistake 9,000.
Tom Brady is Brian Wilson -- No matter what they do on the field, the only thing most people will talk about is their ridiculous hair.
How they are different: I'm pretty sure Wilson doesn't look like that because a supermodel told him to. Which means he has no excuse.
Andy Reid is Charlie Manuel -- Both are flush with good arms.
How they are different: Andy Reid's best lines from 12 years of press conferences wouldn't be half as entertaining as one Manuel press conference. Plus, Manuel has won something.
Jim Caldwell is Joe Girardi -- Both of them could stop showing up to their job tomorrow, and it's hard to make the case that their teams would be hurt in any way.
How they are different: If a robot eats Taco Bell, it will blow out its circuitry.
Ben Roethlisberger is Josh Hamilton -- Roethlisberger and Hamilton have each had very public failings, yet they are among the best in their sport.
How they are different: While Hamilton's teammates gave him a ginger ale shower, Roethlisberger would probably prefer to be showered in mayonnaise and gravy.
An offensive lineman is CC Sabathia -- And I don't mean this as an analogy. I'm pretty sure he's an offensive lineman. I just can't tell which one because linemen wear helmets.
How they are different: If they are different ... umm ... Sabathia is fatter?
Horrible Fantasy Team That Crushed Your Fantasy Team This Week
Matt Cassel, QB, Chiefs -- 20-for-29, 201 yards, 3 TD
Ryan Torain, RB, Redskins -- 20 carries, 100 yards, 2 TD
Chris Ivory, RB, Saints -- 15 carries, 158 yards
Dwayne Bowe, WR, Chiefs -- 6 catches, 108 yards, 2 TD
Deion Branch, WR, Patriots -- 9 catches, 98 yards, TD
Anthony Fasano, TE, Dolphins -- 1 catch, 22 yards, TD
Stat of the Week
7,985 -- That's Joe Flacco's career passing yardage through 38 games -- an average of 210 yards per game. What's significant about that? You'd think nothing. Those are rather pedestrian numbers. But on Sunday, Flacco became the Ravens' franchise leader for career passing yards. No, I'm not kidding. And the man he passed? Wait for it ... wait for it ... wait for it ... Kyle Boller! Again: not kidding.
The rest of the team's Top 10 all-time is as follows: Vinny Testaverde, Steve McNair, Tony Banks, Elvis Grbac, Anthony Wright, Eric Zeier, Jeff Blake, Jim Harbaugh. It's a veritable who's who of "no wonder Ravens fans think Flacco is a star when this is what they've been subjected to."
Quotes of the Week
Eagles coach Andy Reid on the Eagles having two capable starting quarterbacks: "This is a beautiful thing. When you're sitting here as a chubby head coach in the National Football League, and you have two good quarterbacks, you're a happy guy."
And if you are way more than chubby, are you even happier?
Chiefs coach Todd Haley on Kansas City losing a late lead to the Texans: "We have a lot of guys in deep, deep pain and that's why I'm encouraged."
It's political ad season and if Haley were a politician, this would be a perfect quote for his opponent to take way out of context in an ad: "Todd Haley has gone on the record saying he enjoys seeing people in pain. Do you want this sadist setting policy for you and your family? Vote Charlie Weis."
Steelers linebacker James Harrison, after leveling two Browns players with vicious hits: "You don't want to injure people. I don't want to injure anybody. But I'm not opposed to hurting anybody."
"James Harrison says he is not opposed to hurting people. Do you want this sadist representing you in Washington? Yes, actually, you do. No one will dare mess with him. And it would be kind of cool watching him lay people out on the floor of the Senate. Vote James Harrison."
Completely Random Factoid of the Week
Steelers receiver Mike Wallace welcomed Ben Roethlisberger back by cutting his Mohawk because Roethlisberger doesn't like it. I'm not sure this guy should be setting Steelers hair policy: In fact, if Roethlisberger dislikes your hair, that's a sign you should keep it.
Pictures of the Week
• "So did you hear about Favre? That's pretty awesome, huh?"
• "Heisman-style stiff arm, brahs! Deal."
• "I wish the guys upstairs would shut off their mike when they talk about me getting fired."
• "You're not very mature, Cutler!" "
• "In case my hair didn't make it obvious."
• "Who's to say I'm not the greatest quarterback in franchise history?"
• "I don't care if it will never stop being funny!"
• "Whoa! Come on. I'm happy you're back, but not that happy."
• "I made it to remind him of what an appropriate touch is."
• "What are you doing?" "I'm scaring the defense with my scary rabbit! Arrrrggghhh!"
• "Tower, this is Maverick requesting a flyby."
• "I hope I don't get Over-Oxygenated Athlete syndrome."
• "No, thanks. I'm not looking to get a new quarterback at the moment. But I'll keep your résumé on file."
• "GOD BLESSSSSSSSSSSSSSSSSSSSS!"
• "I don't think they recognize me from E.T."
How They Spent Their Bye Week
Cincinnati Bengals: Trying to get Carson Palmer his own reality show, too. Specifically, one in which he is sent away to a deserted island from September through December.
Arizona Cardinals: Begging "Dancing With The Stars" producers to stop calling Max Hall about being part of the show next season.
Carolina Panthers: Getting Ice'd by Jimmy Clausen.
Buffalo Bills: Realizing the NFL gave the same bye week to four teams it could probably contract without anyone noticing.
DJ Gallo is the founder of SportsPickle.com. His first book, "The View from the Upper Deck," is available from only the finest bargain book retailers. His next book project will be released soon. You can follow him on Twitter at @DJGalloESPN.