Commentary
Top 10 current college football rivalries
Originally Published:
November 24, 2010
By
DJ Gallo
| Page 2
It's Rivalry Weekend in college football. Here is my ranking of the top 10 current football rivalries (limited to those being played this weekend). If you disagree, feel free to leave your opinion in the comments. After all, most modern-day rivalries are started by angry message board posts. Maybe you and I can be the new Ohio State versus Michigan! (I call dibs on not being Michigan.)


1.
No. 2 Auburn at No. 11 Alabama -- Friday: 2:30 p.m. ET on CBS
Yeah, these two fan bases are rather intense. I'm not even going to risk trying to make a joke about either school, because I'd prefer not to beaten to death the next time I go to Alabama. Although now that I think about it, what reason would I ever have to go to Alabama? (Oh, crap. I'm dead.)


2.
Michigan at No. 8 Ohio State -- Saturday: noon ET on ABC
Historically, this might be the best rivalry in college football. But Michigan's run of stink has knocked it down a peg or two. Remember that ESPN ad from a few years ago with the couple making out while wearing Michigan and Ohio State gear? If that were filmed today, the girl in the Michigan shirt would get pregnant and be left to raise the child on her own, sacrificing many of her dreams, while the Ohio State guy would move on to a live of freedom and constant partying.


3.
Florida at No. 22 Florida State -- Saturday: 3:30 p.m. ET on ABC/ESPN
This rivalry doesn't seem the same without Bobby Bowden on the sideline. Ooh! I know! Maybe Bowden can join Urban Meyer's staff next year. There should be some openings.


4.
No. 13 Oklahoma at No. 9 Oklahoma State -- Saturday: 8 p.m. ET on ABC
Oklahoma has dominated this rivalry, but the best rivalries -- and by "best" I mean the most irrationally hateful -- come from states with smaller populations. Plus, there's a good chance Oklahoma State will spice this rivalry up with either a win or T. Boone Pickens unleashing a wind-powered laser death ray on Norman.


5.
No. 18 South Carolina at Clemson -- Saturday: 7 p.m. ET on ESPN2
There's not a lot of love lost between these two teams. There is a lot of blood lost, though. Especially out of the head.


6.
No. 25 Mississippi State at Mississippi -- Saturday: 7 p.m. ET on ESPNU
Mississippi State head coach Dan Mullen after beating Ole Miss last year: "There's certainly one program in this state that's definitely on the rise and going in the right direction." Ouch. When a grown man with a child's haircut who also rocks a visor feels free to talk trash, you know you've got a rivalry.


7.
West Virginia at Pitt -- Friday: noon ET on ABC
How remote is West Virginia? Pittsburgh is thought of as "the big city" by its residents. Quick. Someone tell the Pirates. They can use their big-market cash to sign Cliff Lee.


8.
BYU at No. 20 Utah -- Saturday: 3:30 p.m. ET on CBS College Sports
This is how rivalries should be: intense but respectful. This is the only rivalry game in which you might see a sign that reads: "WE ARE PRAYING FOR YOU! (PRAYING FOR YOU TO LOSE, THAT IS!)" And then maybe an accompanying sign: "REALLY, MAY THE BEST TEAM WIN. AND LET THERE BE NO INJURIES."


9.
Notre Dame at USC -- Saturday: 8 p.m. ET on ABC
Similar to the Ohio State-Michigan rivalry, this one was better in olden times. But Notre Dame still is operating under the delusion of greatness and relevance, so good for Irish. Reach for the stars. Speaking of delusions of greatness and relevance: Mitch Mustain is starting at quarterback for USC on Saturday! (Sorry. That was rude. Let's say a Notre Dame fan sent that to me.)


10.
Kansas vs. No. 14 Missouri -- Saturday: 12:30 p.m. ET on FSN
This game would be a lot better if Kansas weren't so bad this year under Turner Gill. Maybe we can do something to fire it up. "Hey, Kansas! Missouri insulted your mother! Oh, wait. No. Sorry. They got your mother confused with Mark Mangino. My mistake." Annnnnnd done.
(If this list went all the way up to 11, I would have included Texas A&M and Texas. But Texas is lousy this season, so there's no room for the Longhorns. This is similar to this year's bowls.)


Game of the Week
No. 5 LSU at No. 12 Arkansas -- Saturday: 3:30 p.m. ET on CBS
Really? You want me to pick a Game of the Week other than the ones listed above? Fine. Tigers center T-Bob Hebert had this to say about LSU's season so far: "We've been showing up in fourth quarters this year; we seem to buckle down and throw it into overdrive." Granted, that's not a very interesting quote. I just like writing, saying and hearing the name T-Bob Hebert. In fact, the thing I'm most thankful for this Thanksgiving is that I live in a country that has actual people with names like T-Bob Hebert.
Rivalry Game of the Week
OK, having to give you the Game of the Week was bad enough, but I already DID rivalry games! You're getting annoying, existing column template.

Cupcake of the Week
North Texas: It's Rivalry Week. And Kansas State is playing ... North Texas. Is there some rivalry between the state of Kansas and north Texas I don't know about? Are you guys battling over the Oklahoma panhandle or something? That seems like kind of a waste.
Heisman Candidate in the Crosshairs
All of them: Cam Newton, LaMichael James, Kellen Moore, Andrew Luck et al. The whole country will be watching this weekend, and a bad game will doom a Heisman candidate. Especially you, Kellen Moore. Boise State plays a real opponent this week in No. 19 Nevada (Friday, 10:15 p.m. ET on ESPN), and the elderly, East Coast Heisman voters who are usually in bed long before your games start might happen to see a few of your plays when they sneak downstairs late Friday for some leftover turkey. So make those plays good ones.
Mascot Fact of the Week
The Capital One Mascot of the Year voting is down to the final eight. Currently in first place is Big Blue from Old Dominion. Yes, a cheap, costume-store lion suit with a crown on its head has more votes than UTEP's Paydirt Pete -- a mustachioed man with a pickax. I know the country is very divided politically, but this is one election we should all be able to agree on. We must not let a symbol of monarchy regain control. Also, don't let this thing win, either. Alien overlords are no better than royal rulers, even if the alien overlords look like delicious gumdrops.
Tailgate Tip of the Week
Get a drill blender: For just $29.95, you can blend up frozen margaritas, daiquiris or piņa coladas with ... your cordless power drill! Oh, what's that? You want to laugh at me for drinking a frozen margarita at a football tailgate? Really? You're really going to laugh at me? I have a power drill, guy. And I've had 10 frozen margaritas. This could end badly for you.
Tailgate Recipe of the Week
Pelini Brothers paninis: Get two slices of bread, put your favorite meat and cheeses inside, then press them together. Don't worry if you don't have a panini press. Just scream at the sandwich until it smashes together under the heat of your irrational rage.
[+] Enlarge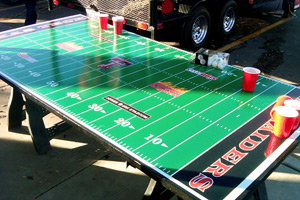 Courtesy of DJ GalloThis is a great table over which to debate the skills of Bam Morris compared to Byron Hanspard. Or drink.
Tailgate Photo of the Week
Reader Brian says this Texas Tech beer pong table is "Hands down the nicest beer pong table ever." Oh, yeah?! You think so, Brian?! Well ... well ... yeah, that is actually a pretty nice table. It has corporate sponsors and everything. I bet they can afford palatable beer for their red cups.
(Have a tailgate photo to share? Send it to VarsityTailgate@gmail.com or @DJGalloESPN on Twitter.)

Quote of the Week
"Bo has a lot of passion for his football team, and there is a strong upside to that. But again, overall, the conduct was unfortunate. ... There is a part of the culture of intercollegiate athletics that involves coaches talking strongly to players. That's unfortunate it had to happen on national television."
-- Harvey Perlman, University of Nebraska chancellor, on Bo Pelini verbally berating quarterback Taylor Martinez during the Cornhuskers' loss to Texas A&M
Yes, it's unfortunate it happened on national television. Maybe Nebraska should play fewer games on television so that Pelini can shove his Cornhuskers players into actual cornhuskers without all the annoying scrutiny of a viewing audience.
Stat of the Week
12,000: That's 12,000 seats that are still available for the ACC championship game next weekend in Charlotte, N.C. You know, I find this incredibly refreshing. Most college football fans will argue the strength of their conference to the death, even when they're terribly wrong. (And I mean you specifically. I'm sorry, but your favorite team's conference is overrated.) But it seems ACC fans are completely aware that ACC football is not very good. Congratulations, ACC!

Coach on the Hot Seat
Rich Rodriguez, Michigan: The joy in Michigan over becoming bowl-eligible is quickly fading away. Last week's 20-point loss to Wisconsin will now be followed by the Wolverines' annual beatdown at the hands of Ohio State. But Rodriguez remains positive: "It's going to take some time. Our growing pains we're having now are tough to deal with." Well said, Rich. As soon as Michigan fans get a life, their pain won't be nearly as bad.

Name of the Week
Sampson Genus, C, South Florida: That's a cool name. It would be even better if his name were Sampson Genius. But I'm not going to complain about his name. He's a 315-pound lineman named Sampson. He can call himself whatever he likes.

Stone Cold Lock of the Week
Nick Saban will ask Cam Newton's dad before the Auburn-Alabama game whether he knows of anyone who will pay more than $4 million a season for a coach.
DJ Gallo is the founder of SportsPickle.com. His first book, "The View from the Upper Deck," is available from only the finest bargain book retailers. His next book project will be released soon. You can follow him on Twitter at @DJGalloESPN.