Commentary
DJ Gallo's NFL Hangover, Week 12
Originally Published:
November 29, 2010
By
DJ Gallo
| Page 2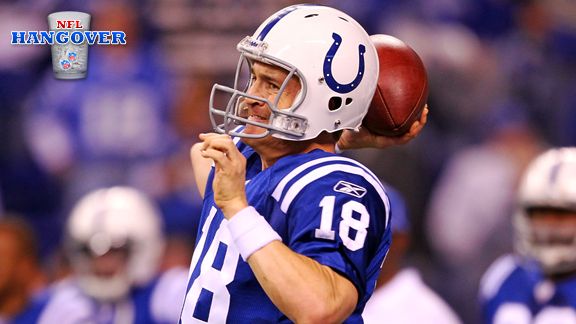 Getty ImagesPeyton Manning's recent performances have knocked him down a few spots in our undisputed rankings.
Peyton Manning is struggling. The Colts have lost three of four, and in those three losses he has nine interceptions and was badly outplayed in each game by his counterpart on the other sideline. Manning is still a top quarterback, of course, but he's no longer playing like the best in the game.
Here are my rankings of the quarterbacks playing the best in the NFL right now, of which there can be no debate so don't even try to pretend to disagree.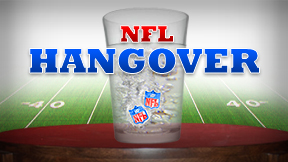 ESPN.com illustration
#10 -- Sam Bradford
Pros: He has all the tools and he seems to get better every week.
Cons: He's a quarterback who was picked No. 1 overall in the draft. Those guys usually stink. He'll have to play above his head to convince people he's not the next JaDavidcarson Palmstaffsmithcouch.
#9 -- Matt Cassel
Pros: Over the past three weeks he's put up better numbers than any quarterback in football with 10 touchdowns and no interceptions.
Cons: Hmm. Where did this improvement in play come from all of a sudden? He might be cheating. These Bill Belichick protégés seem to be prone to that.
#8 -- Aaron Rodgers
Pros: Has all the talent in the world and is surrounded by a talented cast.
Cons: He's never won anything. To be considered an elite quarterback, he needs to start showing more results on the field. Simply not being Brett Favre -- while great and appreciated -- probably isn't enough to carry him anymore.
#7 -- Peyton Manning
Pros: He's Peyton Manning. His praises have been sung a few times before.
Cons: He's seven years younger than Brett Favre, but trails him by only 142 interceptions for the all-time record and is closing fast.
#6 -- Michael Vick
Pros: He has shown glimpses this year of the quarterback everyone thought he had the potential to be.
Cons: You fear that no matter how well Vick plays, no matter how much personal growth he shows, that he'll be done in at the end by coach Andy Reid's clock management. In fact, if Reid was the warden at Leavenworth, Vick would probably still be sitting there long after he was supposed to have been released.
#5 -- Matt Ryan
Pros: He stays calm and rarely makes mistakes, but can still go up top for a big play.
Cons: His complete lack of rhythm suggests he could struggle if forced out of the pocket. All pass rushes against Ryan should probably be designed by a dance choreographer to make him feel uncomfortable.
#4 -- Drew Brees
Pros: Despite getting little fanfare the year after winning Super Bowl MVP, Brees has led the Saints to the second-best record in the NFC and is tied for the league lead in touchdown passes.
Cons: That's sort of the concerning part. When is the Madden jinx going to kick in? The longer it takes, the more it could destroy New Orleans' season. Maybe he should just get it over with and cut his arm off like that climber in "127 Hours." I'm sure it could be reattached and healed by the playoffs.
#3 -- Philip Rivers
Pros: He is remarkably accurate and has put up big numbers despite playing with a group of no-name receivers and backs all season.
Cons: The Chargers' schedule and division always makes their offense -- and Rivers -- look far more potent than they really are. The AFC West is like the WAC of the NFL. And no matter how well Rivers plays, he might get Brotzman'd when it really matters. It's happened before.
#2 -- Ben Roethlisberger
Pros: He is a proven winner and playmaker and he can put up gaudy stats like all the other top passers when the game requires.
Cons: It costs only $25,000 to punch Ben Roethlisberger in the face 10 seconds after the play is over? Pittsburgh's first-round playoff opponent shouldn't let one series go by without giving this a try.
#1 -- Tom Brady
Pros: As long as he has time in the pocket, Brady can pick any defense apart.
Cons: The Super Bowl is on Feb. 6 in Dallas this year. Fashion Week in New York starts on Feb. 10. If the Patriots make it to the Super Bowl, it's doubtful Brady's mind will be on the game.
This Week's Horrible Fantasy Team That Crushed Your Fantasy Team
Jay Cutler, QB, Bears -- 14-for-21, 247 yards, 4 TD
Maurice Morris, RB, Lions -- 75 total yards, 2 TD
Chris Ivory, RB, Saints -- 7 carries, 38 yards, 2 TD
Ben Obomanu, WR, Seahawks -- 5 catches, 159 yards, TD
Brad Smith, WR, Jets -- 78 total yards, 2 TD
Billy Bajema, TE, Rams -- 3 catches, 32 yards, 2 TD
Stat of the Week
11 -- With three more rushing touchdowns on Sunday against the Panthers, Browns running back Peyton Hillis has 11 on the season -- just six short of the Browns' franchise record held by Jim Brown. That's right: Peyton Hillis could break one of Jim Brown's record. I look forward to Hillis one day starring in a remake of "The Dirty Dozen," in which a ragtag group of Cleveland football players commit a drive-killing too-many-men-on-the-field penalty.
Quotes of the Week
"Believe it or not, we were discussing what play and Brett said, 'Hey, let's just run naked,' and I wanted to do something he felt comfortable with."
-- Leslie Frazier, Vikings interim head coach, on Brett Favre picking up a game-clinching first down with his legs
Frazier has been a head coach for only one game, but he's showing a total lack of awareness of the world away from the football field, befitting a coaching veteran. Give him the job, Vikings. He's a keeper.
"I PRAISE YOU 24/7!!!!!! AND THIS HOW YOU DO ME!!!!! YOU EXPECT ME TO LEARN FROM THIS??? HOW???!!! ILL NEVER FORGET THIS!! EVER!!! THX THO ..."
-- Stevie Johnson, Bills wide receiver, on Twitter after dropping a game-winning touchdown pass against the Steelers
Yes, that's right. Johnson is displeased with God for his big drop, which was one of five for him on the day. And while many are laughing at Johnson's comment, I think it's actually quite refreshing. Athletes credit God for wins and good performances all the time. Maybe it's time God takes the blame for some bad plays, too. Or maybe Stevie Johnson can't catch. I'd ask God myself, but we're not really on speaking terms right now.
Pictures of the Week
• "Nooooooooo! Stop! You're stretching my shirt! It's vintage!"
MORE GALLO PHOTO CAPTIONS!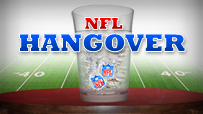 They're an important part of easing your Monday pain. These bonus NFL photos make you feel good and help you laugh at your friends.
DJ Gallo's NFL Hangover photo gallery

• "I'm too scrappy for a helmet!"
• "Seems fitting that I'm getting crapped on."
• "Really, Tom? You didn't eat before the game? Or at halftime? Or during breaks in play?"
• "You're right. My wife does kind of look like you, Mr. Jones."
• "I would cry if my tear ducts weren't clogged with Botox."
• "You know you only have this job because I left, right?"
• "You can't handle me. I train on Nintendo Wii."
• "Does anyone want this ball? It doesn't matter what team you play for. I don't discriminate."
• "Does USC still invite you to games and stuff? They do? Huh. Because they don't seem to call me anymore."
• "I'm sorry, but I'm the best young quarterback in the NFL. It's been decided. This topic will never be debated again."
• "Pssst. Ponytail guy! Is that the real Clay Matthews and A.J. Hawk behind me?"
• "You know, if you guys are in the market for other terrible players, we have a wide selection that may interest you."
• "Are you kidding me? How are we losing to him?"
• "I hate when people stick their crotch right in my face."
• "How could anybody quit on someone this cool?"
• "I'm serious! My name is really Rusty Smith!"
• "No fair. I feel like my name should be Rusty."
• "Let's do one celebratory jump for every fan in the stands!"
• "Do you think you have any openings on your staff? Maybe videographer?"
• "Are you sure interceptions are still legal? Don't make me call Goodell!"
• Gallo's Week 12 bonus photos!

DJ Gallo is the founder of SportsPickle.com. His first book, "The View from the Upper Deck," is available from only the finest bargain-book retailers. His next book project will be released soon. You can follow him on Twitter at @DJGalloESPN.