Commentary
DJ Gallo's NFL Hangover, Week 14
Originally Published:
December 13, 2010
By
DJ Gallo
| Page 2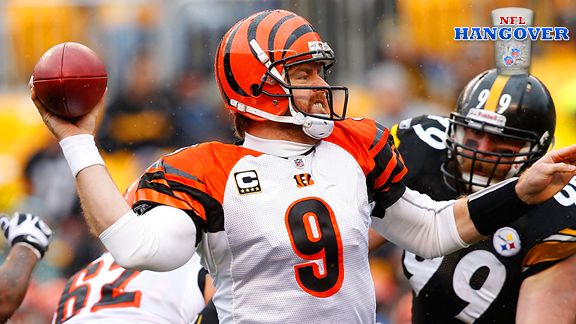 Getty ImagesCarson Palmer's INTs will be a major player on the new NFL LOLzone.
By now, most of the country is aware of the majesty that is the NFL RedZone channel. You have it at home or you've seen it at a sports bar -- the magical channel that runs nonstop NFL action from 1 p.m. until the 4 o'clock games are over, switching from game to game to show all the scoring and every great play.
The channel is so successful and popular that it's time for a spin-off. It's time for a channel that shows live footage of the other kinds of plays football fans love to see: the hilariously disastrous ones. Do I love seeing an amazing touchdown catch? Of course! I'm a football fan. But I also love seeing the Redskins do … well, pretty much everything they do. It's not mean-spirited any more than YouTube, "Tosh.0" or "America's Funniest Home Videos" is mean-spirited. Those of us watching at home can relate more to terrible plays. It's why we are watching at home.
Bad plays get football fans talking just as much as good plays, and it's time for a channel to deliver that. Call it NFL FailZone. Or NFL LOLzone. I don't care. Just give me a channel that delivers: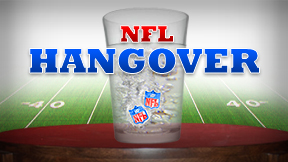 ESPN.com illustration
• Every Jake Delhomme pass. And every Carson Palmer pass. And every pass by whoever is playing quarterback for the Carolina Panthers that week.
• Frequent live look-ins on NFC West games. Actually, this should probably be a constant picture-in-picture box. Or maybe even an entirely separate channel called NFL LOLzone 2: NFC West.
• All game-ending drives led by Brett Favre.
• Regular shots of Peyton Manning's face. And Eli Manning's face. And Mike Shanahan's face. And Joe Flacco's face. And Jerry Jones' … face?
• Regular shots of the crowds at Panthers and Jaguars games.
• Special attention on the Seahawks whenever they wear an especially ugly uniform.
• Special attention on teams whenever they wear especially unfortunate throwback uniforms.
• Uninterrupted footage of Andy Reid every time the Eagles are running a two-minute drill. Or updates when Reid uses all of his timeouts four minutes into the third quarter.
• Tom Brady yelling at his teammates as his hair falls around his face.
• Peyton Manning yelling at his receivers as his passes fall to the ground.
• Jim Caldwell standing there.
• Jeff Reed's doughy body in a 49ers uniform.
• Ed Hochuli purposely flexing his arms while making a call.
• Braylon Edwards attempting to catch a pass. Randy Moss ignoring a pass thrown his way.
• Al Davis' lady glasses.
• Jeff Fisher's lady glasses and mullet.
• Danny Woodhead standing beside anyone else in the NFL.
• Mark Sanchez eating hot dogs. Rex Ryan eating Mark Sanchez.
• Matt Ryan and Arthur Blank dancing.
• The Broncos playing defense.
I submit to you that this channel would be wildly successful. I would pay money for it as a premium channel. And millions more would, too.
Or just make the NFL LOLzone a free channel and run advertising on it. For accident insurance. The MedicAlert bracelet. Previews of upcoming comedy movies. Benny Hill box sets. The possibilities are endless. Just like the laughs.
Call your cable or satellite provider today and demand The NFL LOLzone Channel.
This Week's Horrible Fantasy Team That Crushed Your Fantasy Team
Alex Smith, QB, 49ers -- 17-for-27, 255 yards, 3 TDs
Tim Hightower, RB, Cardinals -- 18 carries, 148 yards, 2 TDs
Rashad Jennings, RB, Jaguars -- 5 carries, 109 yards, TD
Pierre Garcon, WR, Colts -- 6 catches, 93 yards, 2 TDs
Deion Branch, WR, Patriots -- 8 catches, 151 yards, TD
Bo Scaife, TE, Titans -- 4 catches, 20 yards, 2 TDs
Quotes of the Week
Channing Crowder, Dolphins linebacker, on a teammate getting tripped by a member of the Jets' staff: "They're cheaters. They do what they do. They cheat. They talk junk. But we beat the hell out of them today. I wish they'd tripped me. I'd have broken that old man's leg. I didn't see anything. He stuck his leg out and tripped him? He should be ashamed of himself. A grown man from the coaching staff? That's high character."
What do you mean you "didn't see anything"? How did you not see anything? What are you, blind? Are you like famous blind girl Anne Frank?
Steve Smith, Panthers wide receiver, on Jimmy Clausen apologizing for his play to Carolina linebacker Jon Beason: "If you're going to apologize, you know, you should apologize to the people in the huddle with you. He has a lot to learn. He ain't at Notre Dame anymore, that's for sure."
Jimmy, this is how you apologize to Steve Smith. He'll then tell you that you're ugly and that you're a terrible quarterback, but you'll earn his respect.
Stat of the Week
17.1 -- Thanks a lot, Mother Nature. Minneapolis received 17.1 inches of snow Friday into Saturday, an accumulation that brought down the Metrodome roof. Because of that, we're being subjected to another 30 hours of Brett Favre will-he-or-won't-he drama. I hate you, Mother Nature. You're not my mother. You think you're so great with your spring and your flowers, but you're nothing but a mean, cold witch. And I have to say, you're getting a little thick in the oceans. Maybe lay off the carbon dioxide, fatty. And don't think we don't know that you're in cahoots with Favre and have been for years. You grow the grass, he cuts it; you grow it again, he cuts it. Quit enabling him!
Picture of the Week
• "I wanted to reflect his commitment to mediocrity by putting no effort into my hat."
MORE GALLO PHOTO CAPTIONS!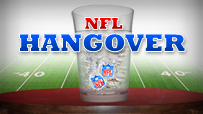 They're an important part of easing your Monday pain. These bonus NFL photos make you feel good and help you laugh at your friends.
DJ Gallo's NFL Hangover photo gallery

• "I'm glad my coat finally has an access panel so my programmers can get to my circuitry."
• "Yes, this is my regular diet. How do you think I got so fat?"
• "Look at me! I'm a reindeer! Oh, no. I'm concussed, aren't I?"
• "Please! Please just let me hide back here. I am completely unprepared."
• "Come on. Get up. We want to shove you in your locker."
• "We can't hear you! No, really. We can't hear you. There's no one here."
• "I'm trying to make up my mind. I am. It's just against these guys all the plays look good."
• "Remember how you guys said on your reality show that I'm soft? That was pretty stupid." "Don't worry, man. No one watches it."
• "Your team looks like my face."
• "Brodie. Brodie Croyle." "Oh, right. I'm sorry. I had no idea."
• "Not really. But it fit 'CBS.'"
• "Oh no. That doesn't look like a spiral."
• "I really need to work on recruiting this offseason. Our talent is terrible."
• "I'm telling you, pick your roles wisely or you'll end up doing this one day. Really. I'm Ralph Macchio."
• "I thought wearing a real Darth Vader helmet would make me look too evil."
• "Don't worry. We do this to pretty much everyone."
• "Yeah, if it weren't for the hair plugs, I'd look just like you."
• Gallo's Week 14 bonus photos!

DJ Gallo is the founder of SportsPickle.com. His first book, "The View from the Upper Deck," is available from only the finest bargain-book retailers. His next book project will be released soon. You can follow him on Twitter at @DJGalloESPN.