Commentary
Plenty of seats still available for bowls!
Originally Published:
December 23, 2010
By
DJ Gallo
| Page 2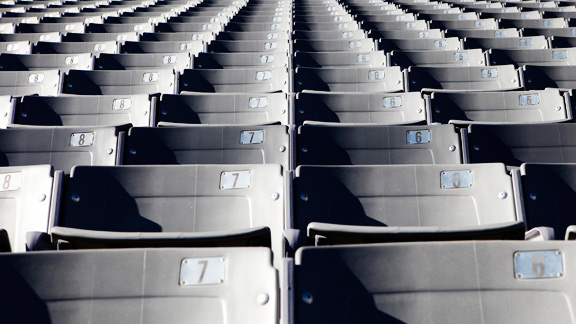 Aaron M. Sprecher/Getty ImagesSome bowl games have struggled to sell tickets, despite the powerful allure of 7-5 vs. 6-6 matchups.
Bowl teams are struggling to sell tickets. Programs big and small all across the country -- even some playing in prestigious bowls -- are still stuck with thousands of tickets and will likely take major financial hits.
Nebraska has nearly 4,000 unsold tickets for the Holiday Bowl. And Nebraska has one of the most devoted fan bases in the nation.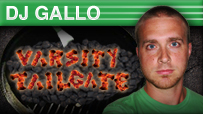 Fresno State sold only 250 tickets for the Humanitarian Bowl. There should be 1,000 times that many people willing to pay just to leave Fresno.
There are many more schools in the same boat. It's obvious something needs to be done or the entire bowl structure as we know it may fold. So I commissioned a distinguished panel of sports marketers, tourism and entertainment executives, booster club presidents, athletic directors and coaches to come up with specific measures that bowls, the NCAA, schools and host cities can take to boost ticket sales. Some of the best minds in the industry presented truly creative ways to jump-start the bowl system.
Then, after having everyone involved sign a confidentiality agreement stating they would never share the ideas presented in the meeting, I destroyed all the tapes.
Because profitable bowls make it less likely we'll ever get a playoff system. You're welcome, America!
Friday, Dec. 24


Sheraton Hawaii Bowl: No. 24 Hawaii vs. Tulsa,
8 p.m. ET on ESPN
Why this bowl is not worth watching: It's Christmas Eve. If you ignore your family on Christmas Eve because Hawaii and Tulsa are playing football, you're kind of a terrible human being.
Why this bowl is worth watching: Hawaii and Tulsa are two of the highest-scoring teams in the country. Inform your family that if they can offer you something more exciting than constant scoring, then, by all means, you'll give them some attention during commercial breaks.
Bowl sponsor fun fact: Sheraton is headquartered in White Plains, N.Y. There's a good chance the company decided to sponsor the Hawaii Bowl simply as an excuse for executives to leave White Plains and go someplace tropical "for business."
Player to watch: Actually, let's do players -- plural: Hawaii's explosive quarterback-receiver combo of Bryant Moniz and Greg Salas makes the Rainbows the favorite in this game. That's right, double Rainbows, all the way. But don't forget running back Alex Green, either. Whoa-ho-ho! Triple Rainbows. WHAT DOES IT MEAN?
(It means there is no possible way I was going to miss the opportunity to reference double rainbow one more time before it becomes completely old in 2011.)
Sunday, Dec. 26


Little Caesars Bowl: Florida International vs. Toledo,
8 p.m. ET on ESPN
Why this bowl is not worth watching: These teams chose to play in a bowl game in Detroit on the day after Christmas. If they're not going to respect themselves, there's no reason we should show them any respect either.
Why this bowl is worth watching: Here's Toledo coach Tim Beckman: "Playing in the Little Caesars Pizza Bowl is a great reward for our players, especially the seniors, who have worked very hard this season and are deserving of a bowl of this stature and reputation." So unless Mr. Beckman is being sarcastic and he actually hates his seniors, it turns out the Little Caesars Bowl is much better than you might think.
Bowl sponsor fun fact: This is Mike Ilitch, the owner of Little Caesars. Yet hair piece is not one of the toppings offered at Little Caesars. Weird.
Player to watch: Eric Page, WR, Toledo. Only a sophomore, Page had 94 receptions for 1,081 yards this year, as well as three touchdowns on kick returns. He's also probably a player to watch go to the NFL early after next season.
Monday, Dec. 27


AdvoCare V100 Independence Bowl: Air Force vs. Georgia Tech, 5 p.m. ET on ESPN2
Why this bowl is not worth watching: There won't be a lot of passing. If you like video game-style football, the Falcons and Yellow Jackets won't provide it. They combined for only 299 pass attempts this season. You might get that in the first quarter of Hawaii-Tulsa.
Why this bowl is worth watching: There will be a lot of rushing yards. Georgia Tech and Air Force rank No. 1 and No. 2, respectively, in the nation in rushing. If you're looking for a bowl game you can watch quickly in-between some holiday obligations, this is a great option because the clock won't stop much. It might take longer to play a game of Madden than watch this game.
Bowl sponsor fun fact: AdvoCare V100 is a multivitamin and mineral supplement. You should consider taking a multivitamin to counteract the negative health impact of spending the last four months on your couch watching college football.
Player to watch: Joshua Nesbitt, QB, Georgia Tech. Georgia Tech rarely throws the ball. And Nesbitt is coming back from a broken forearm on his throwing arm. Air Force may want to consider just giving its cornerbacks the day off and letting them take in the sights of Shreveport.
Tuesday, Dec. 28


Champs Sports Bowl: No. 22 West Virginia vs. NC State,
6:30 p.m. ET on ESPN
Why this bowl is not worth watching: It's the Big East vs. the ACC. We made fun of them all year. There's really nothing I need to add here.
Why this bowl is worth watching: West Virginia essentially fired coach Bill Stewart after the season. Stewart will be the coach in 2011, but the school hired Oklahoma State offensive coordinator Dana Holgorsen and he will take over the program after that. And if West Virginia gets off to a slow start in this game, there's a decent chance the school's AD just pushes Stewart in front of a trainer's cart.
Bowl sponsor fun fact: Champs Sports is allowing fans to suggest pregame music via Facebook. The first two suggestions were "Teach Me How To Dougie" and "Country Roads." I implore you to suggest songs other than those to spare the people who will attend this game.
Player to watch: Russell Wilson, QB, NC State. Wilson led the ACC in passing touchdowns this year with 26. And again, I implore you -- please -- to suggest better songs for this game on Facebook, because we are risking Wilson doing The Dougie after throwing a touchdown pass. And while I can stand a few more double rainbow jokes in 2010, I can't suffer through one more Dougie.


Insight Bowl: No. 12 Missouri vs. Iowa,
10 p.m. ET on ESPN
Why this bowl is not worth watching: Iowa ended the season by losing three in a row and then seemingly had half the team get arrested or suspended. There's a pretty good chance this game will be a blowout.
Why this bowl is worth watching: Iowa is still a very talented team, and with everyone counting them out the Hawkeyes could come out with something to prove and play great. Plus, they probably want to get the bad taste out of their mouths from the last time they played Missouri, which was a 5-0 loss in 1910.
Bowl sponsor fun fact: When Insight Enterprises Inc. first took over the sponsorship of this bowl in 1997, it was called the Insight.com Bowl. So what we have here is a tech company of the '90s that even had its own dotcom bowl ... and didn't go out of business. It's an amazing American success story. RIP, Webvan.com Bowl brought to you by Pets.com.
Player to watch: Adrian Clayborn, DE, Iowa. Clayborn is a dominant lineman who's up for the Lombardi Award. By watching him closely in this game, come NFL draft season, you can pretend you know all about him and can act really smug to all your friends who just talk about skill position players. "Cam Newton? Oh, please. Football games are won in the trenches. And whatever team takes Iowa defensive lineman Adrian Clayborn is going to get real value." And then you can excuse yourself to go give yourself a pat on the back.
Wednesday, Dec. 29


Military Bowl Presented by Northrop Grumman: East Carolina vs. Maryland, 2:30 p.m. ET on ESPN
Why this bowl is not worth watching: No way I'm saying there is anything not worth watching about this bowl. I don't want a predator drone visiting me for Christmas.
Why this bowl is worth watching: It's Ralph Friedgen's last game as Maryland coach, despite being named ACC Coach of the Year. Mike Leach is rumored to be Friedgen's replacement, and I'm watching just to see if Leach swings down from the stands and takes the sidelines in a pirate attack. "Arrrrrr! These sidelines be mine now. Hand over yarrrgh playbook!"
Bowl sponsor fun fact: Northrop Grumman is the world's largest builder of naval vessels. Also, Ralph Friedgen has one of the world's largest navels.
Player to watch: Let's make it a coach: East Carolina's Ruffin McNeill. Believe it or not, Ruffin McNeill is a man and not an animatronic bear who is a spin-off of Teddy Ruxpin.


Texas Bowl: Illinois vs. Baylor,
6 p.m. ET on ESPN
Why this bowl is not worth watching: Illinois and Baylor are a combined 13-11 this season. It's quite fitting the game is being played in Houston's Reliant Stadium. Texans fans will identify with the crushing mediocrity.
Why this bowl is worth watching: The bowl system may be flawed, but it still can be very exciting for programs such as Baylor, which hasn't been to a bowl since 1994. That was pre-BCS when Nebraska won the national title without having to play undefeated Penn State. So remember: the BCS isn't all bad. It's just mostly bad.
Bowl sponsor fun fact: I don't need to give you a fact about Texas. Just talk to someone from Texas. They'll be sure to tell you how great it is.
Player to watch: Mikel Leshoure, RB, Illinois. Leshoure led Big Ten rushers with 1,513 yards and 14 touchdowns and will likely leave after the season to go pro. In fact, if he breaks a big run to put this game away, he might just run right out of the stadium Forrest Gump-style.


Valero Alamo Bowl: No. 14 Oklahoma State vs. Arizona,
9:15 p.m ET on ESPN
Why this bowl is not worth watching: Oklahoma State is ranked and 10-2. Arizona is unranked and 7-5 with a losing record in its conference. It's a bad matchup. This is more like a first-round game if there was a 32-team college football playoff.
Why this bowl is worth watching: In addition to being a mismatch, Oklahoma State wants to kill Arizona because Arizona is coached by former Oklahoma defensive coordinator Mike Stoops. And because his name is Stoops. And sometimes blowouts are entertaining.
Bowl sponsor fun fact: Valero began sponsoring the Alamo Bowl in 2007. But the 2006 edition had no official sponsor and set a ratings record for the game. That's a complete coincidence, but let's pretend it's proof that sports fans will overwhelmingly support things that aren't tied to corporate sponsors.
Player to watch: Justin Blackmon, WR, Oklahoma State. Blackmon was outstanding this year, catching 102 passes and 18 touchdowns. Best of all: He didn't hang out with Deion Sanders.
Thursday, Dec. 30


Bell Helicopter Armed Forces Bowl: Army vs. SMU,
Noon ET on ESPN
Why this bowl is not worth watching: Combined team records: 13-11. There's a reason this game is on TV on a Thursday morning throughout most of the country.
Why this bowl is worth watching: Army and SMU are a great contrast in styles. Army runs the ball on almost every play, while SMU is coached by June Jones. Visually, the contrast is kind of like an Army uniform vs. this.
Bowl sponsor fun fact: Bell Helicopter primarily makes military helicopters, not commercial helicopters. So the helicopters SMU players used to fly to class in the '80s? Not made by Bell.
Player to watch: Josh McNary, DE, Army. McNary is Army's all-time sacks leader. He's also on my short list of 2044 presidential candidates.


New Era Pinstripe Bowl: Kansas State vs. Syracuse,
3:20 p.m. ET on ESPN
Why this bowl is not worth watching: It's being played at Yankee Stadium. I only like watching bowls that are played in venues with some sort of history.
Why this bowl is worth watching: This bowl is going to bring a lot of Kansans to New York City for the first time. I'm hoping for a crowd that is full of people who look kind of like this.
Bowl sponsor fun fact: New Era Cap Company was founded in 1920 by Ehrhardt Koch, pictured at middle here. He likely foresaw the future demand for hats that could be worn sideways on the head with a flat brim.
Player to watch: Ryan Nassib, QB, Syracuse. Nassib threw for 2,095 yards and 16 touchdowns this year -- solid numbers for a sophomore. And if he has a good game here, there's a pretty good chance Brian Cashman will offer him a contract. "Umm ... do you know how to pitch at all? I noticed you have a pretty good arm. And we're kind of desperate."


Franklin American Mortgage Music City Bowl: North Carolina vs. Tennessee, 6:40 p.m. ET on ESPN
Why this bowl is not worth watching: Combined records again: 13-11. Only the Jan. 8 BBVA Compass Bowl between Pitt and Kentucky trumps this bowl game for matchup that would be way better as a basketball game.
Why this bowl is worth watching: The game is sold out, so if you like orange and baby blue, this is the game for you. If not, maybe the colors can get your daughter or little sister interested in football.
Bowl sponsor fun fact: Franklin American Mortgage is sponsoring the Music City Bowl for the first time this year. The previous sponsor was Gaylord Hotels. Goodbye, Gaylord.
Player to watch: T.J. Yates, QB, North Carolina. Yates is a talented and accurate quarterback. If Tennessee can shut him down and finish with a winning record, you really have to think it helps Derek Dooley's chances of getting a job elsewhere.


Bridgepoint Education Holiday Bowl: No. 18 Nebraska vs. Washington, 10 p.m. ET on ESPN
Why this bowl is not worth watching: Nebraska is 10-3. Washington is 6-6. The Cornhuskers beat the Huskies 56-21 earlier this season. Nebraska should win this game easily, which means it's unlikely we'll get to see either Pelini brother freak out on anyone. Bummer.
Why this bowl is worth watching: Yeah, they could still freak out.
Bowl sponsor fun fact: Bridgepoint Education is a for-profit company that provides online and off-line higher education. Ahhh, but is their football team any good?
Player to watch: Jake Locker, QB, Washington. It's his last college game. Is he any good? No one seems to have any idea. If you are attending this game, you might be the only person there who isn't an NFL scout.
Be sure to check back next Thursday for Part 3 of Varsity Tailgate's bowl preview.
DJ Gallo is the founder of SportsPickle.com. His first book, "The View from the Upper Deck," is available from only the finest bargain book retailers. His next book project will be released soon. You can follow him on Twitter at @DJGalloESPN.