Commentary
DJ Gallo's NFL Hangover, Week 16
Originally Published:
December 27, 2010
By
DJ Gallo
| Page 2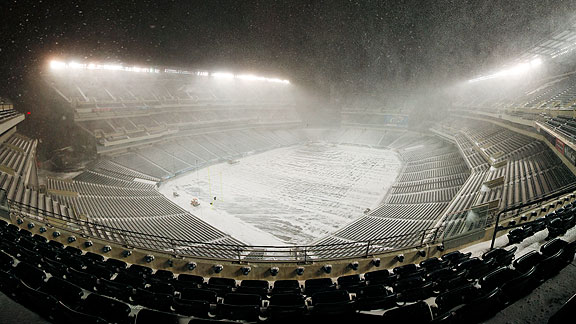 AP Photo/Brian GarfinkelSnow falls on Lincoln Financial Field in Philadelphia on Sunday.
The NFL playoff picture became much clearer on Sunday with teams clinching playoff spots and division titles. But Week 16 NFL action always has far greater impact off the field because it's the championship round in fantasy football.
With the fantasy season at a close -- not counting all Saints, Falcons, Eagles and Vikings players left to play Monday and Tuesday -- there is much you can determine about your football based on how you finished.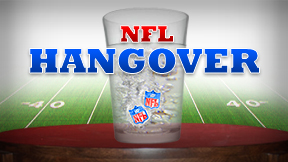 ESPN.com illustration
First place -- You know more about football than anyone you know. A fantasy football championship proves it. Never again can your football expertise be challenged, and it's all thanks to the magical fall of 2010. It's almost unfair to the other players in the league that they have to go up against you.
Second place -- You might not have a title to prove it, but you know you know more than anyone else about football. You just got screwed in the final week with some bad matchups and an injury. And everyone who isn't a moron knows you had the best team. The best team didn't win. It happens sometimes. Now you know how the 2007 Patriots felt.
Third place -- The consolation prize of third place is nice, but you know you had the best team. And everyone else knows it, too. You just got screwed in the semifinal round with some bad matchups and an injury. Your win in the third-place game in Week 16 proves that. The best team didn't win the championship.
Fourth to sixth place -- You made it into the playoffs, and it's impressive you even did that. From the first week of the season you had no luck. Guys getting hurt, moron coaches not running the offense through the players you drafted. Yet you still fought and clawed and scoured the fantasy wire and made it into the playoffs despite all the adversity. Most other teams would have folded under all that you faced. But you endured and made the playoffs. You might not have won the league, but you definitely know more about football than anyone else.
Missed the playoffs -- Sure, if you had the time to spend all your time online looking for waiver-wire pickups and scouting random backup tight ends to play in bye weeks, you could have won the league, too. But here's the thing: You actually have a life. And a job. You are a productive member of society. Let the other guys spend their time worrying about fantasy football. It's not real football. And everyone knows: When it comes to real football, you know way more than anyone else.
Last place -- You are a total moron and know nothing about football, fantasy or otherwise.
This Week's Horrible Fantasy Team That Crushed Your Fantasy Team
Josh Freeman, QB, Buccaneers -- 21-for-26, 237 yards, 5 TDs, 23 rushing yards
Correll Buckhalter, RB, Broncos -- 92 total yards, 2 TDs
Danny Woodhead, RB, Patriots -- 125 total yards, TD
Jerome Simpson, WR, Bengals -- 6 catches, 124 yards, 2 TDs
Jordy Nelson, WR, Packers -- 4 catches, 124 yards, TD
Rob Gronkowski, TE, Patriots -- 4 catches, 54 yards, 2 TDs
Stat of the Week
4 or 5-ish -- That's not really a stat, I suppose. But it's about the amount of snow in inches Philadelphia had during the scheduled Vikings-Eagles game Sunday night. That's nothing. Said Pennsylvania governor and former Philadelphia mayor Ed Rendell: "It's an absolute joke. I was looking forward to this. It would have been a real experience. This is what football is all about. We've become a nation of wussies."
Agreed, Ed. And here's the truly terrible part: It's the holidays. Which means many of us are stuck indoors with our relatives ... our older relatives -- people who already like to regale us with stories of how much tougher everyone was back in their day. And then we have a football game postponed for TWO DAYS by little more than a dusting. So now I have to hear Pappy complain about my generation for the next week, and I can't even try to argue. I hate you, Philadelphia.
Quote of the Week
From Mike Singletary's statement after getting fired: "I am thankful to the York family for having given me the opportunity to be a head coach in the NFL. I am indebted to them for that. I am also thankful for the Faithful fans, I am just sorry I couldn't give them more."
Ouch. Who wants to be the one to tell Singletary that he never coached in the NFL, only the NFC West? Not me. I don't want to be yelled at in front of everyone.
"We just have a tendency to not play well enough." -- Barry Cofield, DT, Giants
That is a really good point. Sounds as though the Giants have finally discovered their problem. It should be smooth sailing from here on out.
MORE GALLO PHOTO CAPTIONS!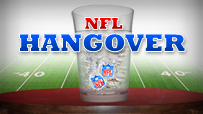 They're an important part of easing your Monday pain. These bonus NFL photos make you feel good and help you laugh at your friends.
DJ Gallo's NFL Hangover photo gallery

Pictures of the Week
"I am having a great time. So glad I came."
"I also wouldn't have returned a Jake Plummer."
"It's a foot. I think we should go for it."
"We are the greatest! No one can beat us! Except maybe a brisk wind. My, it's chilly."
"I hope this isn't my last game. There are so many more players I want to yell at on the sideline."
"Touchdown passes to my own team ... it's a Christmas miracle."
"Defense? No, I don't have anything on here about that."
"You know, standing like me isn't going to help you. If we don't make the playoffs, I'm still going to fire you."
"It's time you learn the secret handshake for the immobile club."
DJ Gallo is the founder of SportsPickle.com. His first book, "The View from the Upper Deck," is available from only the finest bargain-book retailers. His next book project will be released soon. You can follow him on Twitter at @DJGalloESPN.