Commentary
NFL draft preview: DJ Gallo's A-Z primer
Originally Published:
April 28, 2011
By
DJ Gallo
| Page 2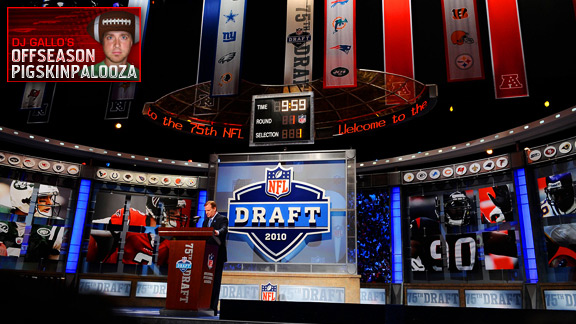 Jeff Zelevansky/Getty Images
The 2011 NFL draft is finally upon us. Here is your A-to-Z guide of the whole thing:
A -- Attendees
A record 25 prospects are scheduled to attend this year's draft. That means we will also have a record for NFL draft awkwardness as several of those players undoubtedly drop into the second round. Each of the 25 better have their cell phones charged up so they can pass all the time on camera pretending to take important calls and send text messages. I would also suggest downloading Angry Birds, but that could backfire.
"Hey, go up on stage. You finally got drafted."
"Not right now. I'm trying to get through Level 4-13. Tell them I'll get drafted later."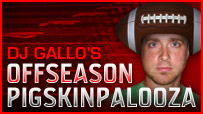 B -- Booing
It's an annual draft tradition. A young man works his entire life to achieve his goal of making the NFL. He is taken in the first round with all of his friends and family watching in person and on national television. Dream achieved! But then some fat, drunk guys in the crowd start booing him.
"We're not booing the kid, per se," says drunk, booing guy. "We're booing our team for drafting someone we don't think is a good fit for our team."
Maybe that's a fair excuse. Maybe. But I didn't hear what you said because while you were saying that I was booing you for booing.
C -- Cam Newton
He is the presumed No. 1 overall pick. But there is a lot of uncertainty around him. Will he be a superstar? Will he be a huge bust? It's 50-50. And it's a tough position for the Carolina Panthers. Most years they would have the chance at the top of the draft to take a "sure thing" at quarterback who has a 51-49 chance of being good.
D -- Dareus
Alabama defensive lineman Marcell Dareus is the top-rated player available, according to many scouts. The only drawback to his game that all analysts agree on is that he is, to use the football terminology, "not a quarterback."
E -- Early entry
A total of 56 players declared early for the draft, topping the 2009 record of 53. To paraphrase the NCAA ad: "There are more than 380,000 NCAA student-athletes, and at least 56 of them have no intention of going pro in anything other than sports."
F -- Fairley
Nick Fairley, the talented defensive tackle from Auburn, is predicted to go the Tennessee Titans at No. 7. There are concerns about his character, however. To recap: The Tennessee Titans may get themselves a talented defensive tackle with character issues. So perhaps the biggest issue is this: Will the Titans be willing to match Daniel Snyder's $200 million contract offer to Fairley in four years?
G -- Gabbert
Blaine Gabbert, the Missouri quarterback, may not have been a household name like Cam Newton this past season. But he put up eye-popping stats of his own with … 16 touchdowns and nine interceptions. Really? Those were his numbers? Hmm. He seems like a huge risk. There's almost no way the Bengals can pass on him at No. 4.
H -- Handshakes
The NFLPA canned its original -- and terrible -- idea of asking top prospects to skip the draft. But the union still plans a show of solidarity and strength at the draft. We don't know what that will be yet, but the drafted players all have access to Roger Goodell for a handshake after they are selected. This is where they need to strike! Instead of giving him firm handshakes, the players should give limp handshakes right after moisturizing their hands. And then lean in for an awkward hug/kiss-on-the-cheek attempt. A few of those and Goodell would give in to all of the NFLPA's demands just to end the awkwardness.
I -- Irrelevant
Mr. Irrelevant, as everyone knows, is the name given to the player taken with the final pick in the NFL draft. This year, barring a trade, Mr. Irrelevant will be a player selected by the Houston Texans. Kind of redundant.
J -- J.J. Watt
There were other, more glamorous options for this entry. But the solid Wisconsin defensive end, with double J's as his first name, is a value pick here.
K -- Kickers
As many as four kickers could be taken in this year's draft. We may be witnessing a resurgence in the popularity of kickers. I think it's time to re-record "We Are Kickers."
L -- Locker
After a fourth year at Washington, still no one seems to have any idea if Jake Locker is good. Returning for your senior year rarely seems to work out. This is less true for non-student-athletes, however. While that job at a cell phone kiosk at the mall seems good when you're a junior -- what with 10 percent off all phone accessories and having to work only three Saturdays a month! -- it's probably better to get your degree and roll the dice from there. Probably.
M -- Madden
Peyton Hillis was ranked by ESPN as the second-best fullback in the 2008 draft with a 52 overall grade (out of 100). This year, UConn's Anthony Sherman is the No. 2-rated fullback with a 55 rating. So, without further ado, I'd like to announce your Madden 2016 cover boy and future NFL superstar … THIS GUY!
N -- New York
The NFL draft has always been held in New York, but there are rumblings of a push to have it rotate to other league cities. It would be a huge event for a smaller city such as Jacksonville or Pittsburgh. And just imagine what Jerry Jones could do with the draft at Cowboys Stadium. Since tickets to the draft are free, no one could get too upset when they show up and find out their seats haven't been finished.
O -- Orange hair
Peter King recently wrote in his Sports Illustrated column that an NFL scout expressed concern to him about TCU quarterback Andy Dalton because there apparently has never been a good red-haired quarterback in the NFL. That's an interesting point. Similarly, I have also noticed that there has never been a good NFL scout who is also really dumb.
P -- Patriots
Be prepared: Every move they make, or do not make, will be hailed as genius. What? They traded their entire draft to move up into the first round to take a punter? ONLY BILL BELICHICK UNDERSTANDS THE TRUE VALUE OF SPECIAL TEAMS! What? They keep trading down and have now secured every pick in the fifth round of the 2017 draft? YOU HAVE NO IDEA THE AMOUNT OF DEPTH THE PATRIOTS WILL BE ABLE TO ACQUIRE SIX YEARS FROM NOW! What? They did nothing at all? NO ONE SITS STILL IN THEIR PREDETERMINED DRAFT SLOT AND THEN SUBMITS A NAME FROM A LIST BETTER THAN THE PATRIOTS!
Q -- Quarterback legends
Peyton Manning is 35. Tom Brady will be 34 this season. Some believe the Colts and Patriots will look to draft their eventual replacements in this draft. But to do that successfully, they'll need to either take a quarterback No. 1 overall or in the sixth round. History has shown that everything in between is a total crapshoot.
R -- Roethlisberger
Even if Cam Newton doesn't pan out in the pros, he has already been a part of NFL history, because the player he has been compared to the most in the run-up to the draft is Steelers quarterback Ben Roethlisberger. If I am not mistaken, this is the first time in sports history that a prospect has been compared to someone of a different skin tone. In years past, Newton likely would have been described as "like Michael Vick, but bigger and stronger and not as fast." Or: "He reminds me of President Obama, except instead of being president, he plays football." I think this is progress.
S -- Shutdown corner
LSU's Patrick Peterson is the premier cornerback in the draft. Many projections have him going to the Arizona Cardinals with the fifth pick. That would be a solid pick by Arizona, but it seems to me that Peterson would be a waste in the NFC West. Considering the passing offenses in the division, almost every cornerback there is a shutdown corner.
T -- Tackle
Defensive tackle and offensive tackle are strengths in this draft. And as any football fan knows, strength along the lines is very important in winning games. Unfortunately, tackles don't sell tickets. Riskier skill position players sell tickets. But considering there may be no tickets to sell this year in light of the lockout, this might be the year for teams to load up on linemen.
U -- "Uh"
If anyone out there is playing a drinking game surrounding this year's draft, do not -- under any circumstances -- make it a rule that you have to take a drink every time Roger Goodell says "uh" when announcing a pick. You'll be dead by the time he says: "With the, uh, 11th pick in the 2011 NFL draft, the Houston Texans select …"
V -- Virginia
Virginia's Daniel Aiken is rated the top long snapper in the draft by ESPN Scouts Inc. I really hope he gets drafted, because in this economy there really aren't a lot of other job options for someone skilled in bending over and launching stuff backward through their legs with force and accuracy. Or really in any economy.
W -- Wonderlic
Georgia receiver A.J. Green and LSU cornerback Patrick Peterson reportedly had the lowest scores among top prospects with a 10 and 9 on the exam, respectively. I also heard that some of the top guys at NASA run 6.5-second 40s and can't bench 225 pounds even once. Pathetic.
X -- signing at the X
The NFL's last offer to the NFLPA in March proposed taking $300 million away from first-round picks and moving it to veterans and player benefits. So it's very likely that this year's top picks will get much less money than their predecessors. Clearly the Rev. Cecil Newton understood the intricacies of the upcoming CBA and was just trying to make up for his son's lost earnings.
Y -- youth
Each spring, the NFL draft provides young blood to the league. So at the same time that nature is in bloom all around us, the draft is a solemn reminder that we're all replaceable and, ultimately, will one day die. Way to be a downer, draft.
Z -- Ziemba
Auburn offensive tackle Lee Ziemba probably won't go in the first or second round, but I am rooting for him to be a successful pro, because his last name starts with Z and he gave me something to put in the always-difficult Z spot in these A-to-Z columns. Thanks, Lee!
DJ Gallo is the founder of SportsPickle.com. His first book, "The View from the Upper Deck," is available from only the finest bargain-book retailers. His next book project will be released soon. You can follow him on Twitter at @DJGalloESPN.