Commentary
Who wins with the NFL lockout?
Originally Published:
May 19, 2011
By
DJ Gallo
| Page 2
The prospects of a 2011 NFL season aren't looking so great right now. Sure, Jeff Pash, the NFL's lead negotiator, said that Tuesday's talks between the owners and players were a "good discussion." But that's a relative term. All that could mean is that Panthers owner Jerry Richardson didn't openly disrespect the players in the room and that no NFL players called Roger Goodell a "blatant liar."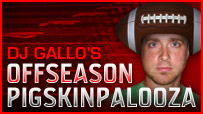 We're still no closer to having NFL football in September, and the two sides aren't even scheduled to talk again until early June. We very well could miss part or all of the 2011 season. That would -- obviously -- be bad for the NFL. But it would be quite good for other organizations.
Here is who would benefit the most if the NFL lockout extends into the regular season.
Major League Baseball -- Once the NBA and NHL playoffs wrap up, baseball owns the sporting landscape. In July and August, the interest and momentum build as teams fight for the playoffs. America's pastime is back! Yay!
Then, with one month left in the season, with the pennant chase at its peak, the NFL regular season starts and -- right or wrong -- baseball quickly drops back in the pack. By the time the MLB playoffs begin, the NFL is playing meaningful games, and many sports fans, if they even still care about baseball, are just using World Series broadcasts as background noise as they adjust their fantasy football rosters.
There's no way to project the windfall of attention that Major League Baseball and its partners might get from an extended NFL lockout. Baseball could be restored to its place atop the sports world. American society might become slower-paced and less violent. Many sports fans probably even would be driven to find out -- or remember -- where TBS is in their channel lineup. Then it's the beginning of George Lopez's reign as the king of American comedy! No? Well, at least some of this could happen.
College football -- NCAA football is the obvious winner in an extended NFL lockout. Saturdays would rule the fall, and the entire nation would get a taste of what it's like to live in the South. (And trees in college towns in the North would get a taste of poison.)
But the best part -- or at least the funniest part -- would be that as the "greedy" NFL owners and players were on the sidelines, college football would be held up as a beacon of all that is right and pure in sports. So instead of watching NFL football, you could spend your Sundays cleaning the bull crap off your shoes.
UFL -- The UFL already has said it will move some of its games to Sundays if the NFL lockout drags on. And although the UFL is no NFL, pro football is pro football. The UFL would be like your rebound girlfriend after an ugly breakup from a long relationship. Your friends will tell you that it will never last, that it's not right for you, but -- hey, at least you're still getting some. (Pro football, I mean. I think.)
"Madden" football and video games -- You can make the case that "Madden" sales will drop if there's no NFL season to peg the game to. But here's the thing: People watch football to escape from the rest of their lives. If there's no season, they're not suddenly going to get things accomplished and start building meaningful relationships with friends and family. That's absurd. People will still want an escape. And there's no better escape than manipulating fake people for hours on a TV screen. It's the main reason Donald Trump chose his TV show over running for president.
PGA Tour -- Golf is still going strong in the early fall, and every tournament wraps up on Sundays. PGA ratings definitely will go up. Unless Tiger Woods is still a nonfactor. Then they might as well have a lockout, too. At least a lockout is a good excuse for irrelevance.
Hollywood -- No NFL football on Sundays would free up millions of people each week to go see a movie. Of course, movie executives probably wouldn't understand the reason for the uptick in box-office receipts and just assume it's a validation of their film choices.
Executive A: "The box office is up 15 percent over this time last year!"
Executive B: "So America loves all the crap sequels we're putting out!"
Executive A: "I guess so. It's the only explanation."
Executive B: "Then it's time to green-light 'Really Really Fast and Furious to the 6th Degree.' Think we can shoot it in a week?"
Executive A: "A week? We're not filming an epic period piece. I think four days will be more than enough."
Executive B: "Yay!"
Gyms -- If you're not spending one of your two off days each week watching football, you can go to the gym and get back in shape. Or maybe not. Yeah, probably not. But gyms will get at least some extra traffic from NFL players looking for weight rooms they're not barred from entering.
Sunday night television -- Sorry, Faith Hill. But without the NFL, Sunday nights aren't appointment viewing for NBC. Ratings for shows like "The Walking Dead" and "Dexter" will skyrocket. Wow. The NFL ... "The Walking Dead" ... "Dexter." Americans really enjoy watching people get bludgeoned the night before heading back to work for the week. Understandable.
Reggie Bush -- That guy's life is awesome without the NFL.
National Hockey League -- Perhaps nothing stands to benefit as greatly as the NHL. Hockey is the first major sport to begin after the NFL season opens. If there's still no NFL in early October, hockey will get more of a spotlight. And if there's no NBA season because of a lockout? Hockey could own the entire winter.
For the first time, all American sports fans would sit down and watch hockey -- and without fail, they would be won over by the speed, beauty and violence of the game. Viewers would learn the names of the players and be taken in by the game's rich history. Before long, it wouldn't even matter if and when the NFL comes back: Just like in Canada, hockey would be king here.
Which is why the NFL lockout is guaranteed to end by Week 4, the first week of October. Because that's when the NHL regular season starts. And the NHL has absolutely no luck.
So make sure you have your fantasy football rosters set by then.
DJ Gallo is the founder of SportsPickle.com. His first book, "The View from the Upper Deck," is available from only the finest bargain-book retailers. His next book project will be released soon. You can follow him on Twitter at @DJGalloESPN.