Commentary
Super Bowl XLIV tale of the tape
Originally Published:
February 3, 2010
By
Matt Glenesk
| Special to Page 2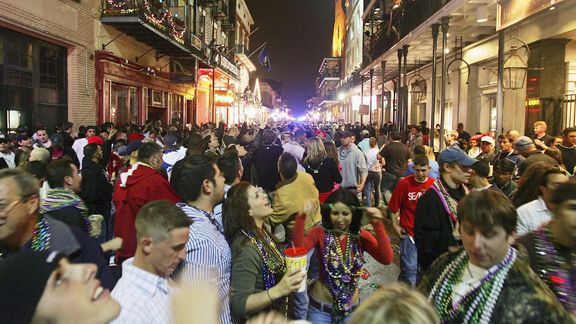 Mario Tama/Getty ImagesWhen you compare Indianapolis and New Orleans, does the discussion begin and end with Mardi Gras?
You can simulate all the video games you want, throw hundreds of darts at a board or even drop a few dollars on a fortune teller. There's really only one way to accurately predict who will win Super Bowl XLIV -- a tale of the tape comparing and contrasting Indianapolis and New Orleans.
Reasons to visit
Indianapolis: Convention/conference
[+] Enlarge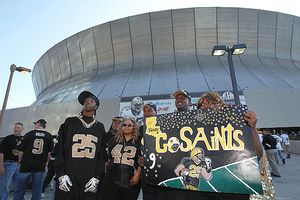 Ronald Martinez/Getty ImagesSaints fans take an early lead in our tale of the tape based on the numerous reasons to visit the Big Easy.
New Orleans: Bachelor party
Breakdown: Next time you're on a flight to Indianapolis, ask 10 people why they're traveling there. Chances are at least three have a connecting flight and four are in town for a conference or convention. Centrally located, Indianapolis is home to more than 600 annual conventions. They range from your typical corporate event to Gen Con, the largest gathering of Dungeons and Dragons gamers in North America. Top that, New Orleans! Conversely, the Big Easy is a legendary destination for debauchery. Case closed.
Advantage: New Orleans
Fitness "guru"
Indianapolis: Jared Fogle
New Orleans: Richard Simmons
Breakdown: Jared "The Subway Guy" Fogle invaded our TV sets with his story of how he went from 425 pounds to 180 by exercising and adopting a two-sandwich-a-day Subway diet while he was a student at Indiana University. Since Fogle first appeared in a Subway commercial in 2000, the chain's sales have doubled to $8.2 billion. But let's not give the Indy native too much credit. You know what's upstairs from the Subway that Fogle frequented in Bloomington? His old apartment. Not exactly a diet of inconvenience.
What needs to be said about Richard Simmons? Raised in the French Quarter, Simmons has helped men and women shed more than three million pounds "Sweatin' To The Oldies." However, he forever ruined candy-striped Dolfin shorts.
Advantage: Push.
Annual reason to drink outdoors
Indianapolis: Indianapolis 500
New Orleans: Mardi Gras
Breakdown: Witness a car crash or a train wreck. Your choice.
Advantage: New Orleans
Lost franchises
Indianapolis: "Good Morning, Miss Bliss" becomes "Saved By the Bell"
[+] Enlarge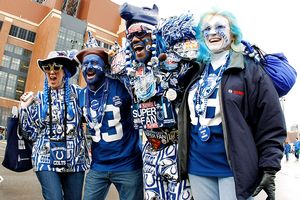 Scott Boehm/Getty ImagesColts fans rally to capture the lost-franchises category. Could we be witnessing a comeback?
New Orleans: NBA's Jazz move to Utah
Breakdown: Set in fictional John F. Kennedy Junior High in Indianapolis, "Good Morning, Miss Bliss," lasted 13 episodes in the heartland before moving to Bayside High in Palisades, Calif., and being repackaged as "Saved By The Bell." Zack, Screech, Lisa and Mr. Belding all made the move west but were introduced to new pals Kelly, Jessie and A.C. Slater. Syndication launched "Saved By The Bell" into the pop culture stratosphere and necessitated the need for two spinoffs and a Las Vegas wedding movie.
The Jazz spent just five seasons in New Orleans before relocating to Salt Lake City in 1979. While they were in the Big Easy, finding a consistent venue proved to be a problem, and not even LSU great Pete Maravich could save the franchise. Since moving to Utah, the Jazz have posted just five losing seasons. Behind legends Karl Malone and John Stockton, the Jazz reached the NBA Finals in 1997 and 1998 but couldn't get past some guy named Jordan. Don't feel too bad for New Orleans, though. It poached the Hornets from Charlotte in 2003.
Advantage: Indianapolis
Talk show hosts
Indianapolis: David Letterman
New Orleans: Ellen DeGeneres
Breakdown: No stranger to late-night battles himself, Letterman has been flying under the radar during the Conan O'Brien-Jay Leno tiff. Born and raised in Indy, Letterman has been a network fixture since 1982. However, his CBS show has been second fiddle in the late night ratings race for much of the decade. On the other hand, DeGeneres has been a rousing success. A four-time Emmy winner for Outstanding Talk Show Host (2005-08), she has found an unexpected niche on daytime TV. Her humor and charm have endeared her to a wide and diverse audience, and starting next week, she'll debut as an "American Idol" judge. Both hosted the Oscars. Letterman flopped. Remember "Oprah, Uma. Uma, Oprah"? Ellen got an Emmy nomination for her hosting duties.
Advantage: New Orleans
Famous WAG (wives and girlfriends)
Indianapolis: Kendra Wilkinson
New Orleans: Kim Kardashian
Breakdown: Unlike the prior television-themed category, you won't find the phrase "Emmy winner" here. Both Kardashian and Kendra are famous for no good reason. Kendra went to the Hugh Hefner School for Career Advancement, and Kardashian had a famous dad and has a famous stepdad. Sounds like great television. We care as sports fans because Kardashian dates Saints tailback Reggie Bush, and Kendra is married to Colts backup, backup wide receiver Hank Baskett.
Advantage: New Orleans
Musicians you listen to but don't admit it
Indianapolis: Babyface
New Orleans: Harry Connick Jr.
Breakdown: You listen to Babyface with your girlfriend and Harry Connick Jr. with your grandma.
Advantage: Indianapolis
Quickest way to heartburn
Indianapolis: Indiana State Fair
New Orleans: Po'boy
Breakdown: One of the main attractions at the Indiana State Fair is the acclaimed world's largest boar. With an overemphasis on fried everything, patrons could leave the fairgrounds in similar standing. Fried peanut butter cups, fried Twinkies and chocolate-covered bacon can bring fairgoers three steps closer to a massive coronary.
New Orleans is famous for its spicy Cajun food and Creole delicacies. But you can't go wrong with po'boys, sandwiches that can be loaded with fried shrimp; softshell crab; roast beef; Louisiana hot sausage; or, for the brave, gator.
Advantage: New Orleans
Contributions to jazz
New Orleans: Louis Armstrong, Preservation Hall and Grandpa Elliott
Indianapolis: Wes Montgomery, David Baker and Pookie Johnson
Breakdown: Believe it or not, Indianapolis has a decent jazz tradition. Wes Montgomery, considered by some to have the greatest impact on modern jazz guitarists, was from Indy. The Indy Jazz Fest is usually one of the largest music festivals the city has to offer, and David Baker, one of the premier jazz educators, hails from Indianapolis and teaches at Indiana University. That's all nice and good, Indy, but …
Advantage: New Orleans
Verdict
New Orleans wins 6-2-1.
Wow, and there you have it. N'awlins in a rout. Who dat thought? (Please don't sue me, NFL.) But hey, Indianapolis, don't feel too down. Remember, you got Peyton Manning. New Orleans got Archie.
Matthew Glenesk is a freelance writer based in Indianapolis.