Commentary
Is Indiana becoming a football state?
Originally Published:
February 3, 2010
By
Matt Glenesk
| Special to Page 2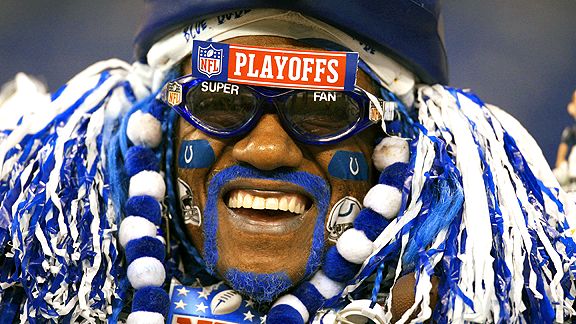 AP Photo/Rob CarrIndiana is seeing blue over its beloved Colts. Could football ultimately rival hoops in the Hoosier state?
It's the state that produced John Wooden, Larry Bird, Oscar Robertson and inspired arguably the greatest sports film of all-time, "Hoosiers."
Indiana is synonymous with basketball.
But the blue dye in the beer and the city fountains tell a different story. Indiana has caught football fever.
On Monday, Indianapolis public schools will be in a two-hour delay. For football? In Indiana?
Following the Colts' Super Bowl win three years ago, so many bus drivers called in sick the school district had to cancel classes.
"It's crazy here. It's Colts all day everywhere you go. Work, the grocery store, gas station; you can't really escape it," said Marcus Wilkins, 29. "And it's great."
With each passing year and every Colts victory, football's popularity continues to swell in a state where basketball once seemingly rivaled religion.
There are a lot of reasons for Indiana's shift in fan allegiances. First and foremost, the Colts win -- a lot. The Pacers haven't made the playoffs in four years, and Purdue's and Indiana's college basketball teams both have struggled this decade. Also, the Colts have been in Indianapolis for 26 years now, allowing a new generation of fans to grow up with the team.
"This used to be a Pacers city, but Peyton Manning has changed football in Indianapolis and Indiana," said Darren Haring, 24. "It took some time, but this state has fallen in love with the Colts. I've seen more blue this week than I did during the last Super Bowl run, and I didn't think that was possible."
It's no surprise then that the most popular store this week in downtown Indianapolis' Circle Centre Mall is the Colts Pro Shop.
"Anything and everything with the new Super Bowl logo is selling," said Ted Inskeep, who works at the store.
That includes jerseys, martini glasses and placemats for the grandkids.
Linda and Jack Jones refrained from buying too much Super Bowl gear this week.
"Next time we come back we're hoping they've got all the victory Colts outfits," said Jack , 71.
The Joneses have been Colts season-ticket holders since the team moved to Indianapolis in 1984 and Indiana University hoops season-ticket holders since the 1960s. They moved to Knoxville, Tenn., two years ago, but said they still make the six-hour drive for nearly every Colts home game. They get to about 60 percent of the Hoosiers' games.
"Right now, the Colts take priority," Jack Jones said.
The couple, who were in Indianapolis visiting family, will return to Knoxville for a friend's Super Bowl party. They'll be bringing plenty of Colts baked goods back with them to share.
On Wednesday, Dan Stroup took his eighth grade photography class from Heritage Christian School on a field trip to downtown Indianapolis. One of his students, Dacota Woods, suggested everyone wear Colts gear. They did, forming a Colts-clad train through downtown.
"Since we're going to be in public downtown, and we're in the Super Bowl, I just thought everyone should wear Colts gear to show our spirit," Woods said.
For 40 years, Garry Donna has published the Hoosier Basketball Magazine, a 280-page survey of every boys and girls high school, college and professional basketball team in the state of Indiana. He says the state's interest in basketball peaked long ago, and that football is creeping up on its heels. It's a sacrilegious thought in Indiana.
"There are a lot of factors for basketball not being the dominant king anymore. It's a prince, just not a king," Donna said.
"I don't think [football] will ever replace basketball or be head and shoulders above basketball, because basketball just has such a history here," he said, "But I'll admit, I think it's much closer than it has ever been."
Matthew Glenesk is a freelance writer based in Indianapolis.