Al Horford's headed to playoffs ... and rookie of the year?
Kevin Durant is the leading scorer among all NBA rookies. He is also the leading scorer for the worst Seattle team in franchise history. That's not hating, that's fact. No Sonics team has lost more games than this 2007-08 squad.
So I don't understand why Durant is still considered the top rookie of the year candidate. Teams are supposed to get better when they add the top kid in the class, not (historically) worse.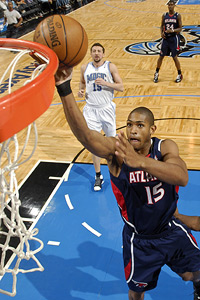 Fernando Medina/NBAE via Getty Images
Overshadowed by Joakim Noah at Florida, Al Horford has had a much better rookie season in the NBA.
Which is why, back in February,
I tried to draw people's attention to Atlanta's Al Horford
, and it's why I'm making one last-ditch effort to get Horford
the attention and credit he deserves
. Better yet, I'm going to let the 21-year-old do the talking.
I caught up with Horford shortly after he helped his team end the longest-running playoff drought in the NBA. Oh, and one more thing. For those critics who say Horford played in the cakewalk Eastern Conference, keep in mind, against the eight playoff-bound teams in the West, my choice for rookie of the year averaged 10 points and 10 boards per game, shooting 48 percent from the field, while guarding Duncan, Yao, Shaq … well, you get the idea. So, without further delay, I bring you Al Horford:
Granderson: You should be rookie of the year because …
Horford: I've been consistent all year; I never really hit a wall. And I felt like I was a big part as to why my team made the playoffs. I know people say the East is weak or whatever, but I'll tell them that's the way it works. They take the top teams in the conference, and there are a lot of good players in the East who are not in the playoffs.
Kevin Durant should be rookie of the year because …
He has taken over in Seattle and really stepped up and lived up to his hype. He had a lot expectations coming in, and he's been able to come in and have a good year even though he has lost a lot.
The person who will win rookie of the year is …
Al Horford.
Kevin Durant can do what better than you?
Shoot the 3.
What can you do better than Kevin Durant?
I can post better than Kevin, and I can rebound better. It's my strength; I'm so used to playing down in the post. I just have a better feel.
You knew you could play in the NBA when …
I was in my freshman year in college. I was playing in the SEC tournament and I was going against guys who people were talking about going into the league, like Chuck Hayes. I played really well and afterwards knew I would succeed at the next level.
The toughest player you've defended is …
Yao Ming. It was like [there was] nothing I could do to affect his shot or anything, and that was a really tough spot for me because I know I'm a good defensive player. I'd have to say the only thing I could do was keep him far away from the rim. But I have to say I was dominated.
Your best game as a pro came …
February 6, when we played the Lakers at home. That was a big game for me and a big win for our team. I think it was one of those games when you feel like you can get every rebound out there. I was being really aggressive and going after it. I just felt like I could get any rebound that came off the rim.
When you play your primary focus is …
To take care of the paint. Whether it's rebounding, blocking shots or scoring, I want to do whatever I can do help the team win. There are some games that require me to step up and be a post presence inside, and I try to do that. We have players like Joe Johnson and Mike Bibby, so they are the ones we want shooting the ball, but that doesn't mean I can't. I'm an unselfish player, and if that's the best chance to get us to win, that's the way I want to play. I don't take bad shots. If I don't feel like it's a good shot, I'll pass it. That was something coach [Billy] Donovan really harped on at Florida -- taking the best shots available. That just stayed in me.
When you learned you were in the playoffs, you …
Screamed. I was at my mom's house eating dinner. She lives a five-minute drive from me and she takes care of me. I rarely go out to eat. The other night I had some rice with beans, chicken with avocado, and sweet plaintains and salad -- I gained about five pounds. Anyway, my aunt Magda was the first person to tell me. She texted me from the Domincan Republic: "Felicidades clasificaron perdio Indiana." Which basically means, "Congratulations, [you qualified], Indiana lost."
LZ Granderson is a Page 2 columnist and a senior writer with ESPN The Magazine, as well as a regular on ESPN's "First Take." He's also host of the Page 2 video series, "LZ's Cafe." He can be reached at l_granderson@yahoo.com.