I was having breakfast last week, thumbing through the Detroit Free Press, when I stumbled across a story that almost made me snort decaf through my nose: "No sellout? No TV" read the headline.
Apparently Sunday's game between my beloved -- and winless -- Lions and Redskins was going to be blacked out in Detroit since the game didn't sell out. This was the first time a Lions game hadn't sold out since Dec. 30, 2001. That's right, in the seven years in which Matt Millen was the team's president, every home game was officially a sellout.
That little piece of information led me to ask one simple question: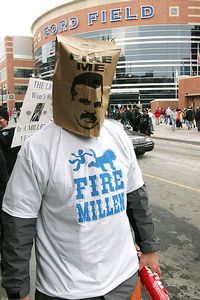 AP Photo/Paul Sancya
With Matt Millen now gone, there is no reason to attend Ford Field until the Lions start winning.
Who are these people?
Sure, the team leadership was wretched, but who are these masochists still buying tickets?
Seriously, after the 3-13 season in 2006, after the 1-7 finish to the 2007 season, to the 0-6 start to the 2008 season (and now 0-7 after losing 25-17 on Sunday), who thought purchasing tickets to a Lions game was a good investment? You know, besides fans of the opponent.
The real kicker? Analysts believe it's the economy -- as opposed to the team's performance -- that ended the streak. So you're telling me that if corporations still had the free money or if fans had the extra dough in their pockets they would use it to support a team that has lost 14 of its past 15 games?
Now listen, I'm from Detroit, so I know we tend do things a little differently. We wear red suits with pink gators. We re-elected Kwame Kilpatrick as mayor. We have a small monorail system that stops at empty sections of downtown.
It's our train to nowhere.
But to know that the city was screaming for Millen's head and yet ownership was still able to benefit from soldout home games for nearly seven years, it's no wonder Barry Sanders just up and quit. He must've felt like he was taking crazy pills.
Professional sports franchises like the Lions, Raiders, Knicks, Royals, et al may be iconic entities in the eyes of the fans, but to the owners they're as much a business as anything. If you want to influence the decisions they make, hit them in the wallet. Showing up with paper bags on your head or booing with signs may be embarrassing for the team, but if you're buying tickets, brats and beer, owners will get over it. However, if they can't sell seats and suites because no one wants to be there or if they can't move merchandise because no one wants to be seen in the team colors, then you're talking power.
Owners and coaches like to say "the fans deserve better" and some of them do mean that. But not all. Sometimes it's really about the money. That has long been the case with the Los Angeles Clippers and certainly is that way in Detroit for the Lions. If it wasn't true then William Clay Ford Sr. would have sold the team decades ago. After all, since he took over in 1964 the Detroit Lions have won exactly one playoff game. Can't blame Millen or Sanders or Wayne Fontes or Andre Ware or any of the other scapegoats of the past 43 years for that. The team stinks because ownership doesn't know what it's doing. Or maybe it does and it's just that the priorities for Ford are different from mine. I, like many fans, want a Super Bowl at all costs. But then again, it's not "costing" us anything.
We don't pay any player's salary. We just show up and complain, and complaining don't mean a thing if the register still goes cha-ching.
But perhaps the blackout is a sign that things are changing in Detroit and it's not the economy that precipitated the drop in ticket sales. Maybe, after all these years, Lions fans are disgusted to the point that they would rather rake the leaves than spend another three hours watching this painful and humorless comedy of errors. After all, Kilpatrick was finally forced out of office and I haven't seen a pair of pink gators on Woodward in years.
Maybe, just maybe, Lions fans are finally putting their undying love aside and getting off this horrendous train to nowhere.
LZ Granderson is a senior writer for ESPN The Magazine and a regular contributor to Page 2. He can be reached at l_granderson@yahoo.com.