Last year the University of Michigan football team generated nearly $38 million in revenue, third in the nation behind Georgia and Texas.
Come rain, snow, sleet and shine, Michigan Stadium has not had fewer than 100,000 butts in its seats for a game since 1975. This in a state with eight straight years of job loss, the longest such streak since the Great Depression. Yet despite economic woes, the stadium is under renovations for expansion, and by its completion in 2010 will once again be the largest football stadium in the country.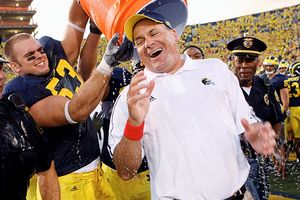 AP Photo/Tony Ding
We know a few Michigan fans who would like to dump a tub of Gatorade on Rodriguez.
This is Michigan football: proud, dedicated and, yes, fanatical.
The occasional or sensible fan sees football games as one of many options one can engage in to enjoy one's life.
For fanatics, college football is life, and it's that perspective that prompts city officials to name streets after coaches and administrators to turn as many cheeks as necessary to allow outstanding athletes with questionable academic aspirations to be called students.
It is because of this that Rich Rodriguez is lying down on an operating table somewhere, preparing to have his foot surgically removed from his mouth.
I don't care what the context is, "Get a life" is really not the way to endear yourself to the people who essentially make it possible for you to earn more than $2 million a year. Especially since all you've brought to the university thus far is bad press from a messy legal battle with your former employer and one of the worst records in school history.
But this, no doubt, is all too clear to Rodriguez -- especially now.
Low Points

In Rich Rodriguez's first season, the Wolverines are 3-8 and will miss a bowl for the first time since 1974. Some other rough seasons:

2005: 7-5
First five-loss season since going 6-6 in 1984.

1996: 8-4
After winning five straight Big Ten titles from 1988-92, Lloyd Carr's second team serves up a fourth straight season of four losses.

1984: 6-6
A 24-17 loss to BYU in the Holiday Bowl gives Michigan its only non-winning season between 1968 and 2007.

1974: 10-1
A 12-10 loss to Ohio State was the only blemish, and the Buckeyes went to the Rose Bowl.

1967: 4-6
The last losing season before 2008.

1962: 2-7
Finished last in the Big Ten.

1936: 1-7
Went 0-5 in conference play, with only win coming against Columbia.

The thing that's really baking his noodle is that we all know he's right.
There is a line of civility that fans cross all the time. They say things about players and their families that no rational human being should say. They make signs that say things about coaches and their families that no rational person should say. But the conundrum is, if these people were rational, Rodriguez and a whole lot of other folks wouldn't have a job -- me included. Or, at the very least, we all would be making significantly less than we currently make. It's the fanatics that propel the 24-hour, multibillion dollar machine that is the sports industry. Without irrational people filling in the gaps left by rational people whose interests turn to other things, who would call in to sports talk radio? Show up for Raiders games? Bring the madness to March? If life were based on what is rational, elementary school teachers would be signing fat contracts and the Red Cross would have boosters.
Rodriguez's sin isn't thinking that some of the Michigan fans need to get a life. His sin was being stupid enough to say it. That's the equivalent of doing the worst job performance anyone in the history of the company has ever done, and then flipping the boss the finger for being overly critical. Especially when you and everyone else in the world knows you were not the company's first or even second choice for the job. And by the way, where was Rodriguez's "greater perspective" when Grant Town, W.V., put up two signs that read "Home of WVU Head Football Coach Rich Rodriguez"?
Sorry, dude, when you work in the sports industry -- be it as an athlete, coach, or even a lowly sports columnist -- criticism comes with the paycheck. I've got a guy right now who e-mails me just to call me a "homo" every time I write a piece. I don't mind, because I know that means he's checking our Web site regularly. In this -- as is the case with most big-money fields -- the higher you climb, the more intense the scrutiny, and either you get a thicker skin or you get out. In Rodriguez's case, if he keeps losing and insulting the fans, that decision will be made for him.
I've been to Michigan Stadium this year. I've seen the ridiculous penalties, the porous defense and the anemic offense. I also know it's going to take a while to get the players Rodriguez wants to execute the system he's trying to implement. What I don't know is whether he's going to be granted enough time to do it. This isn't the first misstep by Rodriguez, just the latest, and keep in mind that there are two kinds of fanatics. There are the loudmouths that post crude messages on boards and rip you on talk radio. And then there are the silent assassins who navigate behind closed doors and sign big checks. They're just as offended by the "Get a life" statement, but they possess something the bigmouths don't: power.
Get a life?
In the Big House, football is life.
If Richie Rich didn't know it before he got to Ann Arbor, you can be damn sure he knows it now.
LZ Granderson is a senior writer for ESPN The Magazine and a regular contributor to Page 2. He can be reached at l_granderson@yahoo.com.