Last year I had the pleasure of watching the Super Bowl in a suite at University of Phoenix Stadium in Glendale, Ariz. I had already told the two friends I came with, Neil and Patrick, my prediction before we arrived. But, as I was standing near the buffet table, someone else I knew asked who I liked in the game.
"The Giants," I said.
"Really?" he responded, in a tone I had grown used to hearing at that point.
We all know the story: the "Greatest Team Ever" gets thwarted by a team of destiny. To this day I couldn't tell you why I felt the Giants would win that game, other than the fact that I'd spent time with players on both teams and I just felt the Giants wanted it more. It was as if they sensed it was their one and only shot, while the Patriots had an air of entitlement, like another championship was their birthright given the incredible regular season they'd had.
"Yep, the Giants," I reiterated.
"Wow. … Well, I guess we'll see," the other person said, and then we went about the business of stuffing our faces.
When I'm at a game, I tend to focus on the action on the field, so I didn't say much more to Larry Fitzgerald after that exchange. In between certain plays I would glance over and give him a raised eyebrow. He would just smile, and then we would direct our eyes back to the field.
And then came "The Catch."
Like all the fans in the rest of the stadium, everyone in the suite began hooting and hollering about what may have been the greatest play in Super Bowl history.
Once the dust settled, I looked at Larry and said, "I told you the Giants were going to win." He looked back at me, smiled, and replied, "Yeah, I think you're right."
For the rest of 2008, I looked at "The Catch" as the turning point of Super Bowl XLII.
This week, I realized "The Catch" may very well have been the turning point of Super Bowl XLIII as well.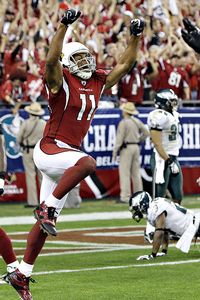 AP Photo/Matt York
From this point forward, one thing's for sure, Larry Fitzgerald will be a household name.
If you look carefully through the biographies of some of the greatest champions in the history of sports, you'll often find a moment in each champion's life which detonated a chain reaction, leading them on their path to incredible achievement; a tipping point, to borrow a phrase from Malcolm Gladwell.
For Michael Jordan, getting cut from his high school basketball team his sophomore year taught him to work harder than everyone else. Roger Federer talks about the tragic death of his longtime coach, Peter Carter, as the event that taught him to live in the moment.
I have no doubt in my mind that seeing the Giants stare down the highly lauded Patriots and take the trophy in his own backyard has helped Larry Fitzgerald elevate his play to historic proportions in this year's playoffs. Without catching another ball, Fitzgerald has already had the greatest postseason run by a wide receiver in NFL history. But what really convinces me that watching the Giants' win inspired Fitzgerald is what he's been doing after the catch, running with such determination that it takes two, three, sometimes four men to drag him down. It's as if he will not be denied the chance at glory he saw play out on his home field not quite a year ago.
Some commentators -- in awe of his brute strength and athleticism -- refer to Fitzgerald as a "beast" or "animal" or "monster." Having had the pleasure of playing chess and talking politics with him, I can assure you he is none of those things. But what he is is a man inspired. A football player who sat in his home stadium one Sunday and witnessed firsthand David slaying Goliath, and a packed Arizona stadium showering the underdog with love.
That is what Larry wants.
That is what Larry is playing for.
And Steelers fans should brace themselves. Because, from the looks of it, this is what Larry will have.
LZ Granderson is a senior writer for ESPN The Magazine and a regular contributor to Page 2. He can be reached at l_granderson@yahoo.com.