There's a cold wind sweeping through the state of Michigan, and it has nothing to do with the weather. It's the chilling reality that the Detroit Pistons are not very good anymore.
Don't get me wrong, they're not horrible. But after being outplayed at home against the once-lowly Atlanta Hawks on Wednesday night -- the 12th loss in their past 17 games -- it's clear that the only way the Pistons are getting back to the Eastern Conference finals this season is by buying tickets.
At 27-24, the Pistons have their worst record at the All-Star break since 2002. And if there's an argument why someone other than LeBron James is the MVP this season, it's this: Detroit is 23-24 since swapping Chauncey Billups for Allen Iverson, and the Denver Nuggets -- who started the season 1-3 -- are 35-14 since Billups arrived. The latter includes a 10-game stretch when Carmelo Anthony was out with a broken hand.
For Detroit fans, it's like being trapped in a Tim Burton movie, called "The Nightmare before Valentine's Day." A Billups-led Nuggets squad is in a dogfight with the San Antonio Spurs for the second-best record in the West, while the Iverson-led Pistons are looking like first-round fodder.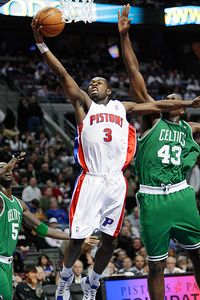 AP Photo/Paul Sancya
Stuckey has displayed a lot of talent, but he still has to grow into it.
But it's not really supposed to be Iverson's team in the first place, is it? True, he's an All-Star and a future Hall of Famer. But Billups wasn't shipped West because A.I. was the answer. He was shipped because Rodney Stuckey made Billups expendable. And while it's far too early to second-guess Pistons president Joe Dumars' decision, that hasn't stopped fans from doing it. Especially after Billups was named to the All-Star team, while Stuckey has on occasion found himself glued to the bench in crunch time.
When you're running a franchise, misses are as much a part of the game as hits. But when you're tinkering with a winning squad, the differences between the two are a lot more pronounced.
A year ago, the 13-3 Green Bay Packers went a field goal away from the Super Bowl. This past season, they fell to 6-10 after shipping Brett Favre to the Jets. And it wasn't easy for the Cheeseheads to see the Jets at 8-3 and sitting atop the AFC East while the future, Aaron Rogers, was fighting to keep the Packers above .500. As it turns out, Favre really was done, and the Pack made the right decision. But when you're used to winning, it's hard to accept the growing pains without placing blame.
Thus, moans of "Rodney Suckey" can be heard in the stands at The Palace of Auburn Hills.
"Would the record be different if Chauncey was here?" I asked Stuckey recently.
He sat there for several beats, trying to find the right words to say.
"That's a good question," he replied.
"Do you have a good answer?"
After another long pause, he said, "I think it would be different."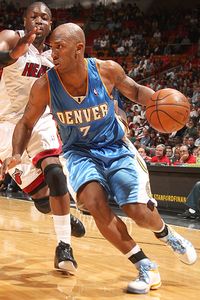 Victor Baldizon/NBAE/Getty Images
Billups has flourished since being traded to the Nuggets.
It's a lot of pressure, trying to replace the leader of a franchise -- especially one as beloved in the locker room and accomplished on the court as Billups. Stuckey's ability to handle the pressure and win over the fans has less to do with his talent -- having watched him play often the past two seasons, the comparisons to Dwyane Wade are not an exaggeration -- and more to do with his ability to weather the fallout from what is fast becoming a mediocre season.
It's particularly complicated because the soft-spoken Stuckey -- by his own admission -- is not a vocal leader, and he still often defers to the veterans. Perhaps when Iverson, Rasheed Wallace and others are off the books next season, Stuckey will feel more comfortable in his role as a team leader. Or, maybe that simply isn't who he is, and Dumars will have to go back to the drawing board.
We'll see.
It's not as if rookie coach Michael Curry hasn't already had to deal with his own rumors, or Iverson hasn't skipped practice, or Rip Hamilton didn't complain about coming off the bench. This team has made a lot of changes in a short period of time, and these things take time to work themselves out.
Except in Denver, where Billups won his first game as a Nugget and hasn't looked back.
"I'll be all right," Stuckey said over and over again when I asked him about the pressure.
Around the third time he said it, I couldn't help but wonder who he was trying to convince -- me or himself.
LZ Granderson is a senior writer for ESPN The Magazine and a regular contributor to Page 2. He can be reached at l_granderson@yahoo.com.