At least twice a week my 12-year-old son will send me a text message around 5 p.m. that reads something like this: whts 4 dnr?
I typically don't start cooking until 6, so he likes to get a heads up on what's on the menu in hopes of vetoing anything that doesn't taste better with ketchup. The kicker is I usually get this text while he is in the house. Sometimes we're in the same room. He's not mad at me, he's just part of the generation that is more likely to get carpal tunnel than a scab.
There was a time when the phrase "go outside and play" could be taken literally. But with the increased presence of technology in the home, the phrase is a bit outdated.
It's not much better at school -- a recent study in Pediatrics journal found more than a third of the elementary school kids surveyed had little or no daily recess. Chances are if your preteen is not participating in an organized sport, he or she is not getting what the old people once referred to as "exercise."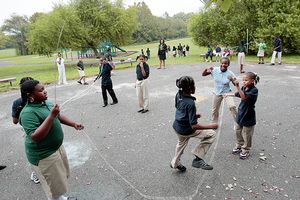 AP Photo/Mel Evans
Whoa, what is this? Kids actually playing outside?
It's that concern for the nation's kids that prompted Dwyane Wade and Anna Kournikova to get involved with National Recess Week, part of the Cartoon Network's year-long GET ANIMATED promotion. To those of us who didn't come in the house until the streetlights were on, it sounds a little silly to have a program designed to promote physical activity for kids. But in today's climate, where studies have found a third of the nation's children are overweight and cup stacking is considered a P.E. activity, clearly a greater focus on benefits of playtime is in order.
"I think video games are good for young kids," said Wade, the event's national spokesperson. "I was a kid once and I used to love playing video games. I think it's just about monitoring. Nowadays, some video games can be a learning experience for kids. My son knows the whole NBA because of video games and he knows a lot of things because of playing video games. Their knowledge can get there faster because of video games, but you just have to monitor it and that they don't just concentrate on the video game and not do anything else."
But ...
"Growing up in Chicago we played outside in the parks," Wade said. "I played all sports -- basketball, football, baseball and ran track. I did a lot."
So did Kournikova, who visited schools in Miami this week to promote wellness. She said it's important to remember that you should participate in sports even if you don't want to be a professional athlete.
"There are so many more benefits to being physically active than wanting to be a professional basketball or tennis player," said Kournikova, who is preparing for another season of World Team Tennis this spring. "You learn the importance of teamwork, and discipline and what it means to work toward a specific goal. And obviously you get plenty of exercise, which we have forgotten about."
And because we have not made physical activity a priority for our children, studies have shown our kids have increasing rates of diabetes, high blood pressure and other health issues related to obesity.
National Recess Week, which concludes Friday, features programs in nearly 7,000 public and private elementary schools as well as an allocation of $100,000 in school health and wellness grants. This spring the GET ANIMATED campaign will hold events at Boys and Girls Clubs around the country and conclude with a 40-city tour this summer. For more information on upcoming events, or how to get your child's school involved, visit the Cartoon Network site.
"It's just a balance of what kind of kid you have," Wade said. "If you have a kid that loves to play video games all day, you have to let them know that they have to put it down sometimes and do other things."
And by "other things," I don't think he means stacking plastic cups. Sorry.
LZ Granderson is a senior writer for ESPN The Magazine and a regular contributor to Page 2. He can be reached at l_granderson@yahoo.com.