Commentary
Don't blame Federer for Rafa's success
Fifteen years from now, Roger Federer will walk past the Grand Slam trophy case on the way to his study and glance at the voodoo doll of Tommy Haas propped up next to his 2009 French Open trophy.
Just a little extra reminder of the one he almost shanked away in a fourth-round match Monday.
For as well as Haas served, moved around the court and used a high kick on his returns -- which always has given Federer trouble on clay -- the real reason Federer nearly blew his chance to play someone other than Rafael Nadal on Sunday was the uncharacteristically high number of unforced mishits he sprayed around the court during the first two sets. Maybe it was the wind. Maybe he wasn't feeling himself. Or maybe the pressure of once again being considered the favorite at the tournament he wants to win most got to him. Whatever the reason, there could be no escaping the fact that, with his nemesis sitting poolside in Mallorca, this would be Federer's best shot in five years to complete a career Grand Slam.
[+] Enlarge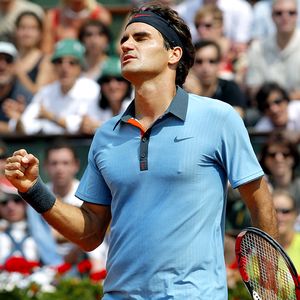 Patrick Kovarik/AFP/Getty ImagesRoger Federer undoubtedly should be considered one of the finest clay-court players. Period.
At age 27, he hasn't run out of opportunities. But at 27, the opportunities aren't nearly as plentiful as they used to be.
However, even if Federer never wins at Roland Garros, he has done enough already to be considered one of the all-time greats on clay. Here's why.
When looking at players within the parameter of all-time greats, we should ask two simple questions: What did they win? Whom did they lose to?
With Federer, the latter obviously is key.
Since 2004, the only men to have beaten Federer at the French are four-time champion Nadal and three-time champion Gustavo Kuerten. Together, they have a 67-9 record in Paris, including Nadal's first loss at Roland Garros this week. If Federer makes it to the final for a fourth consecutive year, he will join Nadal, Ivan Lendl (three French titles) and Bjorn Borg (six) as the only players to do so. In a conversation about consistency on clay, to be mentioned in a group that owns 12 French Open titles among its players suggests you're more than just good on clay. Sure, he was bounced out of the first round in Paris three times early in his career. But the same thing happened at Wimbledon, and no one questions his place in history there.
Obviously, Federer has won Wimbledon. He hasn't won the French. But as he demonstrated against Haas -- down two sets to none, then 3-3 in the third -- Federer is every bit as resilient a champion on clay as he is on any other surface. To compare him to Sampras because neither has won the French is like comparing Rex Grossman to Dan Marino because neither won a Super Bowl. Sampras, who failed to win a tournament on clay in the last seven years of his career, was routinely beaten on the surface by myriad unseeded players. But Federer -- who beat Nadal to win the Madrid Open on clay last month, ending Rafa's 33-match clay winning streak -- isn't nearly as vulnerable. He was pushed by Haas, but he didn't break, and that's the mark of a champion.
If the French is the bar that defines clay greatness, consider Federer's 27-4 record since 2005, with all four losses coming at the hands of a man many consider to be the greatest clay player. It's not a stretch to say Federer would've eclipsed Sampras' record 14 major titles by now -- perhaps we would be wondering whether Roger could reach 20 -- had it not been for Nadal.
The cruel part of it all is that Nadal's early exit sort of places Federer in a no-win situation.
If he doesn't claim the French this year, not only his place in clay history but also his stake as the greatest player ever will be questioned. If he does win, it won't be against Nadal, so it will feel as if something is missing. As we saw in the five-setter against Haas, other players won't just hand over the title to Federer. But without defeating Rafa, there's a psychological asterisk stuck next to the eventual champion's name, as if he's only borrowing the title until next year. Kind of like when Richard Krajicek won Wimbledon in 1996, ending Sampras' streak at three. Sampras came back to win four more in a row from 1997 to 2000, relegating Krajicek to more of a hiccup than a Wimbledon champ. Or when Michael Jordan "retired" the first time, and then the Rockets grabbed a couple of championships. Sure, Hakeem Olajuwon was a great player, but when MJ captured a second three-peat, we saw Houston's success was more about who wasn't playing than who was.
But just as Olajuwon, Charles Barkley and Karl Malone are still considered all-time greats despite not beating MJ in the NBA Finals, Federer already has established himself as one of the greatest clay players -- and ironically, he has the long history of getting his butt kicked by Nadal to thank for it.
Generally, players shouldn't be rewarded for coming in second. … But sometimes it's difficult to fault them when you see the guy in first.
LZ Granderson is a senior writer for ESPN The Magazine and a regular contributor to Page 2. He can be reached at l_granderson@yahoo.com.
Senior Writer, ESPN The Magazine
Edited NBA and tennis for ESPN The Magazine
Columnist at The Atlanta Journal Constitution
Fellow at Hechinger Institute, Columbia University
2009 FRENCH OPEN

2009 championsWomen's singles:
Svetlana Kuznetsova, Russia
Men's singles:

Roger Federer, Switzerland
Men's doubles:
Lukas Dlouhy, Czech Republic and Leander Paes, India
Women's doubles:
Anabel Medina Garrigues and Virginia Ruano Pascual, Spain
Mixed doubles:
Liezel Huber and Bob Bryan, United States
Scoreboard
Follow us on Twitter
ESPN360.com
Slam Central
---
Day 15
Day 14
Day 13
Week 1
MOST SENT STORIES ON ESPN.COM