Commentary
A golf critic has a change of heart
About a year ago, I, like many of you, watched in amazement as Tiger Woods -- playing in his first tournament since arthroscopic knee surgery in April -- birdied the 18th in his 18-hole playoff versus Rocco Mediate, forcing a sudden-death playoff, and then went on to claim his third U.S. Open title. Making his 14th major victory even more spectacular, we learned a short time later that Woods did all this with a double stress fracture in his left leg.
[+] Enlarge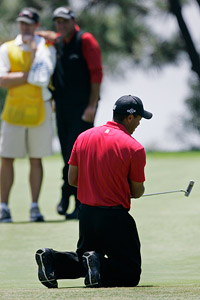 AP Photo/Lenny IgnelziTiger's victory at the U.S. Open last year was impressive for him. But was it impressive for the sport?
It was the kind of stuff legends are made of.
It was a story that basically wrote itself.
It was also one more reason why I wasn't interested in playing golf.
Any sport in which a dude with a broken leg out can come out on top in a world-class field simply cannot be that challenging a sport. Any sport in which that "world-class" field is mostly made up of guys with beer guts who can't bench-press their own body weight or need 30-plus minutes to run a 5K cannot be that challenging a sport. Any sport the average Joe can play while chugging beer after beer cannot be that challenging a sport.
I'm the kind of guy whose idea of a great vacation includes being within walking distance of a gym. My best friend and I take our basketball shoes on road trips in case we can squeeze in a couple of games at the local Y. I'm far from an Adonis, but I think if a 45-year-old has a shot at becoming the oldest champ in U.S. Open history -- as Mediate did a year ago -- he should look like Laird Hamilton or Chris Chelios.
He should not look like Rocco Mediate.
But I was forced to reevaluate my thinking recently when I ran into a buddy of mine, Greg, doing squats at the gym one day. Actually, it wasn't just any day; it was the day of the Fifth Third River Bank Run. Greg had just run a 25K, and was working out his legs a short time later because "Saturday is my legs day."
Yeah, he's that hardcore.
Surprisingly, to me, Greg is also an avid golfer. I assumed he played golf so much because he likes drinking beer with his friends, but it turns out Greg doesn't drink. Instead, he approaches golf the same way he does his weight training.
I was suddenly intrigued, so last weekend I bought a plaid shirt and met up with Greg at the golf course.
Suffice it to say I'm hooked.
I triple-bogeyed my first hole of the day. Then I spent the next 17 holes competing against an opponent I had overlooked for most of my adult life: me.
Head down, arm straight, shoulders leveled, feet together, feet apart … at times I didn't know if I was playing golf or auditioning for Broadway.
I never thought golf was an easy sport per se. But I have tended to snicker at the thought of Woods or Phil Mickelson ever being in a "male athlete of the year" conversation that included the likes of Dwight Howard or Rafael Nadal. I guess I was so caught up in what was lacking physiologically in golf that I overlooked the psychology.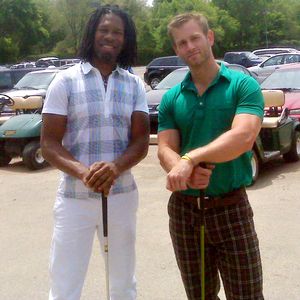 LZ GrandersonLZ (left) feels a little differently about golf after playing with his friend Greg (right).
Now obviously, the more a person plays, the more instinctual their swing becomes. But as a newbie, not reacting to my surroundings -- i.e., a pitch or a serve -- as in other sports, I discovered there was a whole lot of time to second-, third- and even fourth-guess myself. I picked a college faster than I took some of those swings.
Sometimes I could quiet my nerves long enough to properly read the break and make a good putt. Sometimes I'd hit a solid shot off the tee and get to see the ball sail straight for a little bit, which was pretty satisfying. What I was not able to do, however, is to get these wonderful things to happen on the same hole.
That's why I shot a 70.
On the front nine.
After a while, Greg mercifully "forgot" to keep score and instead enjoyed watching me experience every human emotion possible in five-minute intervals while hacking up the course as if I were tilling a corn field. Now I understand why the "Welcome Back Golfers" sign hanging outside the clubhouse was brought to us by the letter "B," as in Budweiser.
But at the end of the day, I didn't want to dull the sting.
I wanted revenge.
I had found a new rival to battle against … and his name is LZ.
LZ Granderson is a senior writer for ESPN The Magazine and a regular contributor to Page 2. He can be reached at l_granderson@yahoo.com.
Senior Writer, ESPN The Magazine
Edited NBA and tennis for ESPN The Magazine
Columnist at The Atlanta Journal Constitution
Fellow at Hechinger Institute, Columbia University