Commentary
Good-bye, Big Ben; hello, Ben Wallace
I have to keep reminding myself, this is a business.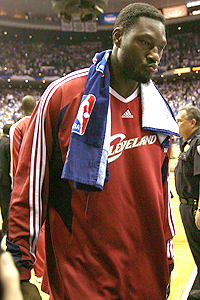 Elsa/Getty ImagesBen Wallace is no longer a Cavalier, he's heading back to Detroit. How will he be received?
No matter how attached I may become to a team, regardless of my emotional investment in a rivalry, and despite the invisible bond with a particular player, at the end of the day the world of professional sports is a business, and thus the primary goal is to make money.
With that said, I must reach deep within my soul and find a way to re-embrace Ben Wallace.
I know it's been a week now since he signed a one-year deal with the Pistons, and I've been trying to get over it, but it's hard. Three years ago he turned his back on Detroit. And only now, after he was rejected by Chicago, Cleveland and finally Phoenix does the prodigal son come home, beaten, battered and about $60 million richer.
"We feel like there are intangibles that he can bring that can really help this new group of Pistons," Pistons president Joe Dumars said. "We're happy."
I want to get there. Happy, that is. But first I have to finish mourning. No mo' 'fro. The bell tone has been silenced. Big Ben is officially dead. The guy spelling Kwame Brown, of all people, is going to be Ben Wallace … and, well, a boa constrictor would have a hard time swallowing that pill.
It just wasn't supposed to be this way. Of all the players to suit up for Detroit this decade, Wallace was the one who epitomized the heart of the city the most. When he arrived in Detroit he was pretty much a nobody in the league: an unheralded basketball player who started off at a junior college, played D-II ball, wasn't drafted, spent time overseas and was considered expendable by a pair of NBA bottom-feeders before Dumars plucked him from the rubble. For a city that has long served as punch-line fodder for comedians, we all knew what it meant to come up the rough side of the mountain. But the mantra in the D is "We do come up," and we helped elevate Wallace into a perennial All-NBA center.
We helped make Big Ben.
The way Yankees fans helped make Donnie Baseball.
The way Packers fans helped make you-know-who.
I understand tough decisions need to be made, and that athletes might be celebrated like gods but are only human and thus prone to the same temptations as anyone else. Alex Rodriguez wasn't supposed to have taken anything. Marion Jones should have run a clean race. Brett Favre could have been a Packer for life. It seems that every day, human frailty in the sports world reminds us there is no Santa Claus, and while intellectually that is stating the obvious, it does little in terms of easing the sting of disappointment. Especially when the letdown is over money, and it seems like pro athletes already have plenty.
Certain likable athletes, such as Shaquille O'Neal, I can accept being a gun for hire. Others, like Wallace … well, I just thought he was one of us. But I have to remember this is a business. And Wallace, like most professional athletes, is really one of him. That's not an indictment of Wallace as much as it is a thorny reminder that you shouldn't put your faith in people you don't know.
Ben Wallace arrived in Detroit in 2000.
Big Ben left in 2006.
And both those cats are strangers to me.
So by training camp, I'm sure I'll get over myself and learn to cheer Wallace again. He brings a lot of heart and experience to a team that, thanks to a busy offseason, is in need of both.
Will he be the force he once was? Of course not. Can he help? Sure. Will he play his way back into our hearts? Probably not. But then again, he really had no business being there in the first place.
LZ Granderson is a senior writer for ESPN The Magazine and a regular contributor to Page 2. He can be reached at lzgranderson@yahoo.com.
Senior Writer, ESPN The Magazine
Edited NBA and tennis for ESPN The Magazine
Columnist at The Atlanta Journal Constitution
Fellow at Hechinger Institute, Columbia University