Commentary
Can't blame Q-Rich for being dizzy
When I was scrolling through the latest NBA news recently, one headline in particular caught my eye: "Clippers waive veteran forward Mark Madsen." At first glance the details seemed simple enough: Madsen was acquired from the Timberwolves in July along with Sebastian Telfair and Craig Smith in exchange for Quentin Richardson.
But that last part -- "in exchange for Quentin Richardson" -- kept bugging me. Where have I heard that before?
[+] Enlarge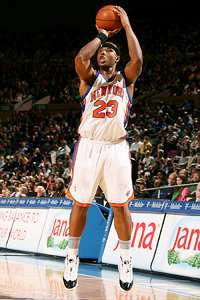 Nathaniel S. Butler/NBAE/Getty ImagesQ-Rich will be lining up 3-pointers for the Miami Heat this fall ... probably.
Then, after a second, I realized the real question was: When haven't I heard that?
To bring you up to speed: Q-Rich was dealt by the Knicks to the Grizzlies on draft night, June 25, for Darko Milicic. He was then traded to the Clippers on July 17 for Zach Randolph. Three days later, he was dealt by the Clippers to the Timberwolves. And then the T-wolves shipped him to Miami for Mark Blount on Aug. 13.
Four teams in one summer; that's somewhere between "everybody loves me" and "nobody wants me."
Richardson is getting ready to move into his new apartment in Miami this week. But with the start of training camp still more than a month away, maybe he shouldn't call the cable guy just yet?
"Yeah, it was a little crazy," Richardson said of this offseason. "I found out each time [he was traded] from watching TV … before my agent even knew what was going on.
"After the second time, my agent just told me to sit tight as he tried to figure out what was going to happen next. So I've just been working out here in Chicago."
Richardson, a Chicago native, has been working out there with his buddy Dwyane Wade (another Chicago native) since they were kids. Turns out the two of them have talked about playing on the same team for a long time, and after this crazy summer, it looks like it might finally happen.
"I'm an optimist," Richardson said. "I don't look at things negatively. I just said to myself, 'OK, this team wants me and so this team acquired me.' I understand expiring contracts, the economy and the business aspect of all the trades, too. But I also know every move was made by a team trying to improve. So that's my goal, doing what I can to try to improve the Heat.
"It was crazy, but I can't say I was shocked. I've been in the league long enough, and so I'm not surprised by anything anymore."
Well, when one of your former teammates has eaten Vaseline for the masses, I can see your point. But I don't care how the math works out; any time you're traded straight up for Darko Milicic, you have to wonder "What the hell?" at least a little bit.
"I'm from Chicago, and so we're used to not getting praised nationally in high school the way high school players from other cities are," Richardson said. "A lot of Chicago guys take offense to that, and so we play with a chip on our shoulders a little bit. We have a lot of guys in the NBA who are doing well and we're well-represented, so we come up a confident bunch."
OK, fine. But you've bounced from New York to Memphis to L.A. to Minnesota to Miami in one offseason. How do you deal with this wardrobe-wise?
"When I moved from Phoenix to New York, I hardly had any winter clothes, so I had to go out and get some," he said. "But I don't have a problem with the cold weather. What most people think is really cold is really nothing for Chicago. A lot of times when we go on the road, I don't always take a coat with me. Guys would be all wrapped up and I'll just bring a hoodie or something, 'cause we're hardly outside anyway."
Richardson said he's just going to put his winter things in storage, buy some flip-flops and get ready for South Beach -- for as long, or as short, as he's around. And after a four-year stint with the Knicks that was part "Days of Our Lives" (Isiah Thomas, Larry Brown, Stephon Marbury … you get the picture) and part "ER" (injury woes), a finally healthy and drama-free Richardson said he is looking forward to suiting up for his fourth team in 10 seasons.
"I've heard all the jokes from guys because I've been traded so much," Richardson said. "But at the end of the day we all make a lot of money to play basketball, so you learn to deal with all that comes with it."
LZ Granderson is a senior writer for ESPN The Magazine and a regular contributor to Page 2. He can be reached at lzgranderson@yahoo.com.
Senior Writer, ESPN The Magazine
Edited NBA and tennis for ESPN The Magazine
Columnist at The Atlanta Journal Constitution
Fellow at Hechinger Institute, Columbia University