Commentary
The Aaron Rodgers conundrum
Why isn't this guy a shoo-in for the Pro Bowl? Maybe, after all, the problem is us.
Originally Published:
November 13, 2009
By
LZ Granderson
| Page 2
When you log on to vote for the players you'd like to see in the 2010 Pro Bowl, you'll notice the NFL alphabetizes the candidates by their first names instead of their last.
So, for example, Denver's Andre' Goodman tops the list of eligible AFC cornerbacks instead of Oakland's Nnamdi Asomugha. Or in the case of NFC quarterbacks, your choices begin with Green Bay's Aaron Rodgers rather than Drew Brees -- a good thing in my book, because Rodgers needs the help.
Through the midway point of the season, a number of NFL analysts agree that the top four quarterbacks in the NFC have been Brees, Rodgers, Tony Romo and, of course, No. 4. And though all four have comparable stats, Rodgers appears to be the one with the longest, hardest road to Miami, where the Pro Bowl will be played this season. His Packers are 4-4, while the other three are leading winning teams; he's been around as an established star and starter for less time than the others; and, because he has a habit of holding on to the ball too long, he's already been sacked 37 times this season, three more than all of last year. At that rate, he might not stay healthy enough to play in the Pro Bowl.
But while those factors certainly influence voting, I can't shake the nagging feeling that Rodgers' Pro Bowl chances have more to do with us than him.
[+] Enlarge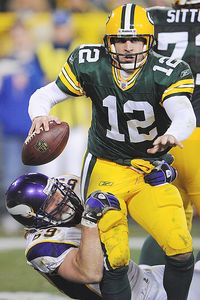 Tom Dahlin/Getty ImagesHis numbers don't lie, but are they convincing enough to get Aaron Rodgers to the Pro Bowl?
As long as Brett Favre is playing, probably even after he retires (if he ever does and then stays retired), we're going to compare Rodgers with him, and not favorably. We do it, even if it's subconsciously. It can't be helped, given the level of drama that surrounded Favre's departure from Green Bay and the way he is playing in Minnesota this season. The second-guessing many of us do with Rodgers is something the other three Pro Bowl contenders don't have to deal with.
Rodgers ranks in the top three of every major QB stat in the NFC, so he clearly hasn't had a problem taking over for Favre. The real question is: Do we, the fans, see that?
"Generally, I think Packer fans are behind him and understand he's a very good QB," said Len Nelson of 105.7 WAPL in the heart of Packer Nation. Nelson and his radio partner, Rick McNeal, held a mock "Funeral 4 Favre" earlier this season to help hundreds of fans get over their loss. "But there is still a decent percentage of people that think that they should've kept Favre at least another year, and that impacts the way they view Aaron. They're not booing him, but I don't think they see him as being a better QB -- which is crazy; because at this point of both of their careers, he is."
Former NFL QB and ESPN analyst Tim Hasselbeck said he'd "be blown away if he doesn't make [the Pro Bowl]."
"He's on a popular football team and guys around the league respect his game," said Hasselbeck, who played four seasons for Philadelphia, Washington, the Giants and Arizona. "But at the same time, you'll be able to find flaws in his game. He takes a lot of sacks because he holds on to the ball too long. And he's thrown some costly interceptions.
"Some people were frustrated with the way the Packers handled the situation with Favre and probably wish he was still their QB. But they're Packers fans first, and I really think they've embraced Aaron Rodgers. To think if he doesn't make the Pro Bowl he somehow got jobbed may not be accurate. I do believe there's been enough that he's done that can get you frustrated."
But Romo, Jay Cutler and Eli Manning do some frustrating things, too, and they've already played in the Pro Bowl.
Last season, Rodgers' 4,038 passing yards were the second-most ever by a first-year starter (Kurt Warner's 4,353 in 1999 tops that list), and his 28 TDs were fourth-best in the league. Yet in comparison to the hullabaloo over every pass Favre completed as a New York Jet, Rodgers seemed like a forgotten man. That's no knock on Favre -- he's not in control of what we in the media choose to focus on -- but it does make getting out of Favre's shadow more difficult for Rodgers. Adding insult to injury, Rodgers had a much better year than Favre and Manning statistically, and both of them were voted in.
[+] Enlarge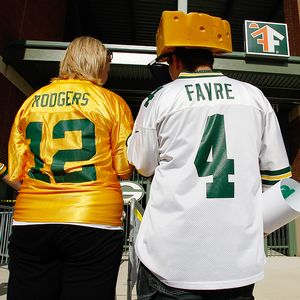 Scott Boehm/Getty ImagesPacker Nation is still conflicted, to say the least.
So he might be listed at the top of the Pro Bowl ballot, but it still feels as if he's far from the top of our minds. And if Manning turns the Giants around or Donovan McNabb fires up the Eagles in the second half, well, another strong season from Rodgers could go relatively unnoticed.
"I think Packer fans know how good he is, but I don't think a lot of football fans do," Nelson said. "Maybe if we get in the playoffs this year, folks outside of Green Bay will see how good he is."
Maybe. But predicting Pro Bowl appearances based on team performance is hardly an exact science. Texans wideout Andre Johnson made the Pro Bowl last season and Houston was nowhere near the playoffs. Heck, Tony Gonzalez made the Pro Bowl in 10 straight years with the Chiefs, but played in the postseason only twice in that span.
"Just because you're in the Pro Bowl doesn't mean you're the best player," said ESPN analyst Trent Dilfer, a Pro Bowler himself in 1997. "But it is very important from the perception aspect of things. If you are in the Pro Bowl, then you are perceived to be one of the best players in the league, and that's pretty important, especially for young guys trying to establish themselves like Aaron."
It's possible -- maybe probable -- that even if Favre is voted in and Rodgers isn't, Favre won't play. He's pulled out of the past five, which has allowed an alternate into the game. But when you're trying to make a Pro Bowl name for yourself, you'd rather not do it via handouts like that. Especially in this situation, when the handout comes from the player you've been trying to overshadow.
The other wrinkle is the inconsistent -- and shady -- way some in the league vote, according to Dilfer and Hasselbeck. They say some in management let PR types fill out the ballot on behalf of the coaching staff, and some players -- who aren't allowed to vote for teammates -- purposefully vote for somebody who has no chance of making the team to cripple the real competition. So for example, members of the Cowboys who want Romo in the Pro Bowl theoretically could vote for, say, Marc Bulger to keep Rodgers from bumping their guy.
"I would still think Aaron is a darling for the media because they feel sorry for him, and because of his offensive line," said Dilfer, who believes Rodgers needs to guide the Pack to five more wins to have a legitimate chance of making the Pro Bowl. "A lot of people who saw those games against the Vikings know that he was really fighting an uphill battle. But still I believe most people think Aaron is a better player than Brett right now."
But will they feel that way when it's time to vote?
LZ Granderson is a senior writer for ESPN The Magazine and a regular contributor to Page 2. He can be reached at lzgranderson@yahoo.com.
Senior Writer, ESPN The Magazine
Edited NBA and tennis for ESPN The Magazine
Columnist at The Atlanta Journal Constitution
Fellow at Hechinger Institute, Columbia University
Nike Women's Home Limited Jersey New Orleans Saints Drew Brees #9 Shop »
MOST SENT STORIES ON ESPN.COM