Single page view
By Alan Grant
Page 2
I'm not one for awards. A bunch of folks standing around casting votes on something rarely captures the essence of who and what is being voted upon. Take, for example, this year's MLB Most Valuable Player race between Alex Rodriguez and David Ortiz. That's laughable. Yeah, Big Papi's towering shots are impressive and all, but come on -- A-Rod does it all, and he does it all every day. That award isn't even worth discussing.
But the latest Comeback Player of the Year honors given to Ken Griffey Jr. and Jason Giambi are well-deserved, and the backstory for each offers credibility to the whole business of awards.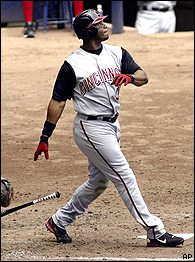 AP
We missed that sweet stroke ... and the pose.
You may ask, from whence are Giambi and Griffey returning? All the while they were injured and languishing in a place that required returning from, they were still commanding a princely sum and living the life of wealthy people. So where's the comeback? I'll tell you.
An athlete comes back from being human. There is no more difficult journey. It's a quick and easy jaunt from superhuman to human. All you have to do is get hurt. Or old. Or do something like cry in public, and you've got a seat on the express train headed straight to Regular Guysville. You're like everyone else, which, at least in the physical sense, seems to be the opposite of being an athlete.
An athlete, right or wrong, real or perceived, often shoulders the burden of (super) manhood. He isn't bound by fear, or misery, or in the case of people named Erving or Jordan, not even by the laws of gravity. But after an injury, he becomes just another Joe Schmo in a company softball game who can't run to first base without the inherent threat of pulling something.
Ken Griffey Jr. didn't just pull something. He was besieged by that most nagging of all ailments -- the hamstring. In 2002, he tore his hamstring and also tore his patellar tendon. Then, in 2003, he separated his shoulder. But any athlete knows that any injury that occurs downstairs, below the waist, is the stuff of nightmares. And the hamstring is the worst of the lot.
The long, three-headed muscle that makes it possible to run, and run fast, is the heart of supreme athletic grace. So in 2004, when Griffey's hamstring ripped free from his femur, he effectively lost his heart. It's easier for a man to grow another heart than to successfully heal a bad hamstring and become the player he was. Especially if he was among the most talented players in all the land.
But Griffey did both. And I got to see him this past spring at SBC Park. The Reds were in town for a series against the Giants, and I got to see, in person for the first time, that swing -- that smooth, elegant parabola of athletic expression. He popped a couple of hits and flied out once. But I got to see him make a couple of plays in center. Though I didn't see him go yard, he did hit 35 home runs on the season, to go along with 92 RBI and a .301 average.
Junior was almost back. And that made me recall the last time he was at his very best. It was during that magical summer of '98. People forget that when McGwire and Sosa were chasing Maris, Griffey was in the thick of it until about July. Perspective is a funny thing, ain't it? I mean, back then both Sosa and McGwire were sort of suspected "juicers." But now, seven years later, they are the most notoriously suspected juicers in all the land. Yet even while he hit 56 homers that year, those rumors never made it into Griffey's personal space. His feats mirrored his talent -- raw and pure.