By Alan Grant
Special to Page 2
Things change.
On their way to the 1969 national championship, the Texas Longhorns were unbeaten, untied, and nearly unchallenged. A few days before the 1970 Cotton Bowl, one reporter noticed that they were also un-integrated. So this intrepid scribe, according to Steve Delsohn's "Talking Irish: The Oral History of Notre Dame Football," asked coach Darrell Royal why he had no black players on his team. In the midst of a turbulent period in this nation's history, a defiant Royal quipped: "I've won without 'em and I'll continue to win without 'em."
AP
Vince Young hopes to lead the Longhorns to their first national title since 1969.
And he did. Texas beat Notre Dame 21-17 in the Cotton Bowl to claim the '69 title. But it was the last all-white team ever to win it all -- and the last Texas team.
Despite the quote, Royal (who had coached black players at Washington and in the Canadian Football League) was actually already changing the program. In 1969, Julius Whittier was on the freshman team, and he would become the first black letterman at Texas the following season. Soon, star players like Roosevelt Leaks were playing for the Longhorns.
Like I said, things change.
This past October, Air Force coach Fisher DeBerry got into all kinds of trouble for bemoaning the lack of black players on his team. He wasn't necessarily wrong, or even racist, for this particular observation. Truth is, his bemoaning the dearth of brown legs at the skill positions was DeBerry's way of, for lack of a better word, keeping things very real in today's sports landscape.
But DeBerry's frustrations were ironic at best, historic at least. See, DeBerry's teams, just as Royal's teams ran the wishbone, have always run the option -- an offense that utilizes the skills of an athletic quarterback. In most cases, the term "athletic," when used in relation to quarterbacking, has been code for black. But DeBerry's quarterbacks have been white guys. In fact, I was a teammate with one of those guys at the Hula Bowl. His name was Dee Dowis and he weighed maybe 155 pounds. And after watching practice that week, I would have bet anything that there were some envious butterflies and humming birds, who upon seeing Dowis turn the corner, said, "That white boy has some serious quicks."
The current Texas quarterback, Vince Young, has quicks too. He also has coffee-brown skin, a big ol' arm, and the cool head of one who feeds on insurmountable obstacles. In last year's Rose Bowl against Michigan, with the game tied at 14, Young broke two tackles and bounded into the end zone. Well, he didn't so much break the tackles, he sort of laughingly disregarded the Michigan defenders trying to tackle him.
ROSE BOWL COVERAGE
Click here for complete coverage of USC vs. Texas in the Rose Bowl.
In October, trailing Oklahoma State 28-12, an impassioned Young employed all of his skills to rally the troops. In the third quarter, he retreated into the pocket, but finding no one, he took off down the sideline and rolled 80 yards for the score. A few minutes later, an 8-yard run gave his team the lead. And a few minutes after that, Young tossed one neatly down the pike to ice the game.
With a national title on the line against the vaunted USC Trojans, Young and the Longhorns will have the chance to make history. While the Trojans' offense is a bona fide juggernaut, the Trojans' defense is human, especially on the periphery. The running quarterback makes his living attacking the edges, and the Trojans are suspect at defensive end. Mark my words. At some point, during this year's Rose Bowl, Young will make at least two plays, one with his legs and one with his arm, that will make you reconsider your definition of good quarterbacking.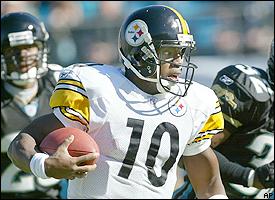 In 1997, Kordell Stewart threw for 21 TDs and 3020 yards and rushed for 11 TDs and 476 yards.
He's not the first to do this. Young reminds me of someone you may remember: A big, strong cat named Kordell Stewart. You might recall Stewart's first two seasons in the NFL with the Steelers. He lined up at quarterback and receiver, earning the name "Slash." But Stewart found this less than flattering. Unlike Darrell Royal, the old-school white coach, Kordell Stewart, the new-school black quarterback, felt compelled to "conform." He desperately wanted to prove himself as a quarterback and the only way to do that was to become a proficient, one-dimensional, drop-back passer. So he tried. He had some success too. In fact, he led the Steelers to two AFC title games. But after the Steelers lost the second one, at home to the Patriots, Kordell was pretty much done.
Young could be a Slash. I hope he's a Slash. I am quite certain he'll cause some offensive coordinators serious decision-making angst on a number of levels. Say you don't want him under center, but you'd still like him to have the ball in his hands. You can line him up at wideout, or at slot back. But if he is lined up under center and your team has the dream scenario -- second-and-1 or second-and-2, the throwaway down, when you're free to run about anything in your playbook -- how tempted would you be to dial up that quarterback draw?
Young has confessed to "being born to play quarterback." But I hope he plans to play the position his own way. I mean, why try to be like everyone else when you're not like anyone else?
Of course, the definition of quarterback is the dilemma faced by Young's current predecessor, Michael Vick.
I went to a Falcons-Saints game back in October. After the game, I ran into Falcons secondary coach Emmitt Thomas. "You came to see Michael Vick, didn't you?" he asked.
Guilty as charged, I confessed. See, Vick is the football player's football player. He does things we've never seen before.
Thomas looked at me and shook his head. "Man, you haven't seen him really throw the ball yet."
While stories of Vick's demise have been greatly exaggerated, fact is Vick struggled this season. Frequent injury relegated him to part-time thriller. Now, when he's healthy and is reinstated to full transcending status, he shall rewrite the rules of quarterbacking. OK, maybe I hope he will. With all due respect to Manning and Brady, the drop-back, seven-step thing has been done to death. I think the 3,000-yard passer/1,000-yard rusher would be a welcome change. And should Vick succeed, he'll be a pioneer. The pioneer's blessing is that he's remembered and regaled for his accomplishments. But this normally happens after he's dead, or at least not playing anymore. This is his curse. Those who reap the real benefits are those who follow the leader.
In 2006 (or 2007, if he doesn't leave school early), Young will follow Vick. But it's how Young will follow that has yet to be determined.
I hope he picks up what Stewart abandoned. Young isn't a pure passer, at least not yet. But he doesn't have to be just that to succeed (just for clarity, success means one who makes his team better). While Stewart wanted to stay in the pocket, Young will have the option of venturing outside the box to find his own special, deadly niche. And that's not a bad thing.
It really is OK to do things a little differently.
Alan Grant is a regular contributor to ESPN.com and ESPN The Magazine. He is a former NFL defensive back who played college football at Stanford.