By Mike Greenberg
ESPN Radio
Like you, I'll never forget the Miracle of Lake Placid. But my reasons may be a little different from yours.
I was 12 years old in February of 1980. I was an eighth-grader in New York City; and like everyone else, I was completely swept up in the celebration when the Americans stunned the Soviets in the Winter Olympics. I still remember where I was when I watched the U.S. finish the Finnish for the gold medal two days later.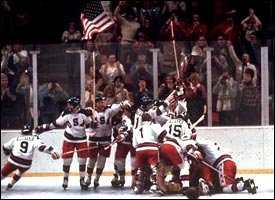 Team USA celebrates after its shocking 4-3 victory over the Soviets in 1980.
Then came Feb. 25th, the Monday after the games. I was in the locker room at school, changing for gym class, when the chant started up.
U-S-A! U-S-A! U-S-A!
From every corner of the room, we shouted and pounded on lockers, all of us, just like thousands of American kids did that day. Only in our case, it was different. Most of us weren't American.
I was a student at the United Nations International School, where more than half of the student body is made up of children of U.N. diplomats. My classmates came from all over the world. Luyen was from China. Justin was from France. Jean-Francis was from Canada. Henry was from Madagascar. I was from New York.
But together, we chanted that day, and celebrated a win that belonged not to a nation but to everyone who believes in the American Dream.
The Miracle on Ice is, inarguably, the greatest moment in sports history. We had never seen anything like it before, and we will definitely never see anything like it again.
Nike has seen to that. Reebok, too. And the NBA, and the NHL, and McDonald's. The list of co-conspirators includes everyone who approaches the Olympics with an open palm, which means pretty much everybody.
In 1992, America sent the Dream Team to Barcelona to play basketball: Michael Jordan, Magic Johnson, Larry Bird, Charles Barkley, Patrick Ewing. The reason given? The embarrassment of John Thompson's flawed collection of collegians failing to take home gold in Seoul in 1988.
Baloney.
That was an excuse, at best. The impetus behind the NBA invasion was purely financial. It was David Stern's dream of globalization and Nike's plan of planetary domination that led to the greatest collection of basketball talent ever assembled traveling across the Atlantic to humiliate Angola. They played eight games, the closest of which was decided by 32 points.
Jordan, who begged to be allowed out of the Barcelona Games after his Bulls had won back-to-back NBA titles, draped himself in the American flag when it was over. Not because he'd been overcome by nationalistic fever suddenly, mind you. Michael is a Nike guy, and he needed something to cover the Reebok logo on his sweat suit.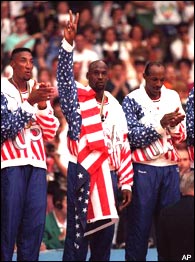 MJ had another motive for draping himself in the American flag.
How proud did you feel to be an American that day? I wonder how many gym locker rooms across the country broke into a spontaneous chant of "U-S-A."
That was the day I decided I could no longer root for the Americans in Olympic basketball. In fact, I look forward to the day they lose -- and they will, eventually. Maybe this year in Athens; maybe some other time. But it is inevitable. They will lose and I will smile, because that team won't be about nationalism. It will only be about greed.
There are many who call me unpatriotic for rooting against an American team in the Olympics. To them, I say that I judge my nations on criteria a little more significant than the way they play basketball. If you think a person's patriotism is proved by his passion for a bunch of millionaires doing their corporate partners' bidding in a pointless exercise that means nothing to any of them, then I think that says more about you than it does about me.
Which brings us back to Lake Placid. I recommend that anyone under the age of 30 go see the movie "Miracle" -- which, I'm told, does a sensational job of recreating the emotion of that night 24 years ago. I don't plan to see it. I don't need to; I remember it just fine.
But I would go under one circumstance: If Luyen, Justin, Jean-Francis and Henry came with me.
I sure would like to chant with my fellow Americans one more time.
Mike Greenberg co-hosts ESPN Radio's Morning Show with Mike Golic and frequently anchors SportsCenter.
Mike
Greenberg
THE LAST MIRACLE