Commentary
Laughs over Sunday brunch -- hopefully
Originally Published:
January 24, 2010
By
Jerry Greene
| Special to Page 2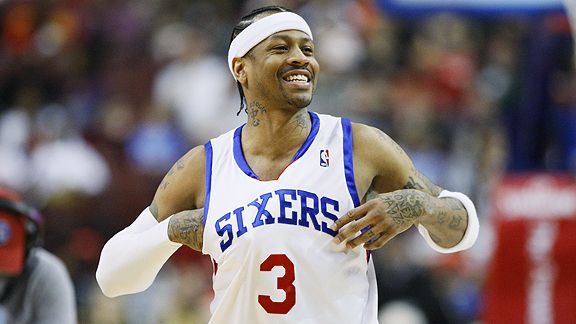 AP Photo/Matt SlocumIt's no surprise that Allen Iverson is in the All-Star Game. Check out the Eastern guards.
Welcome back to Sunday Brunch, where you can get your fill of sporting irrelevance. We'll start with trying to figure out how in the NBA can Allen Iverson be starting in another All-Star Game?
We blame the players in the Eastern Conference. There's co-starter Dwyane Wade. No problem with him. But name another East guard capable of keeping Iverson out of the starting lineup. You know who was third in the voting? Vince "I can hit one out of every five shots whenever I want to" Carter. He finished third in the voting! Right now he wouldn't be the third best guard in Orlando.
And it's not just the guards. Pity whomever has to coach the East 'cause he'll have to come up with a 12-man roster. Forget Iverson, who has played in only 16 games this season because of an arthritic knee. The real news will be when the East brings Larry Bird off the bench.
And while we're doing our best to entertain Commish David Stern, the exciting Most Popular Jersey list has been released for the first half of the season. Yes, Kobe, LeBron and Dwight are the top three but what sticks out is No. 13 -- David Lee of your New York Knickerbockers. David Lee? If you are standing in Times Square, wondering when the ball is going to drop because your timing sucks, will you see David Lee Knickerbockers jerseys all around you? And wouldn't that be frightening?
The Knickerbockers, incidentally, are No. 4 in jersey sales behind the Lakers, Celtics and the LeBrons. If LeBron does become a Knickerbocker, you'll see New York businessmen wearing his jersey beneath their suits.
• If you missed it, Google "All-American Basketball Alliance" to read about the proposed league that issued this statement: "Only players that are natural born United States citizens with both parents of Caucasian race are eligible to play in the league." Dang. They stole my thunder. I was planning on announcing the "All-Northwest Airline Pilot League." Hey, if they can't find Minneapolis, imagine the fun of trying to find the basket.
• Sadly, Saturday was "National Pie Day," so we missed it. But if you are going to South Beach this next month, check out the new Burger King Whopper bar, where $7.99 gets a sandwich, fries and -- wait for it -- a beer. Warning to parents: If your kid needs $7.99 daily for lunch, chances are he's not drinking a big orange frosty.
Let's get to the rest of the Brunch, where we do the heavy lifting for you by providing links to some of the best sports humorists in the business. And if you have a fav writer that you want to share, mention their name in the comments section and we promise to take a look.
• Charlie Pierce from the Boston Globe apologizes to the Mayans for stealing their date with the apocalypse. The sports connection is vague but probably has something to do with the Knicks getting LeBron James.
•Mike Bianchi from the Orlando Sentinel talks of many things, including this warning to Rex Ryan about defending Peyton Manning today: "If you red dog, you a dead dog."
•Speaking of that Jets-vs.-Manning football game, Steve Serby from the New York Post mentions that it is 41 years and 12 days since Joe Namath fulfilled his guaranteed Super Bowl victory for the Jets. He mentions it five times. And while visualizing Ryan, he cleverly predicts "The weight is over."
• Rick Rockwell writing out of Sacramento for examiner.com tells us what famed martial arts fighter Don "The Predator" Frye wants to do to guys like former boxer James "Lights Out" Toney or former football player Herschel Walker if they attempt to step into the squared circle. Here's our favorite quote: "I'd break both their [expletive] arms so they'd have to hire somebody to wipe their [expletive] for the next six-to-eight weeks. It should be a requirement."
• And Ray Ratto from the San Francisco Chronicle provides our Brunch dessert with his look at the week ahead, including how unhappy the 35-member crew from TMZ will be when Tiger doesn't show up at the San Diego Open. (Yes, we almost went the entire Brunch without mentioning Tiger Woods. Maybe next week.)
Jerry Greene can be reached at osogreene@aol.com.