Commentary
No Tiger, no bite in 'Sunday Brunch'
Originally Published:
January 31, 2010
By
Jerry Greene
| Special to Page 2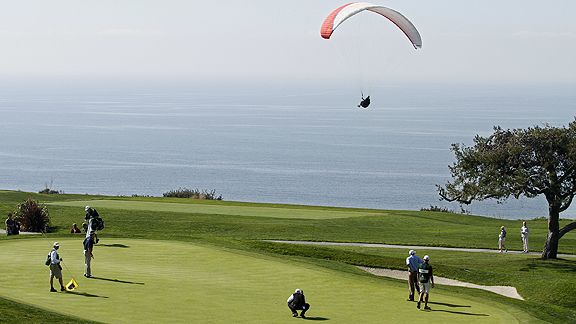 AP Photo/Denis PoroyWhat's exciting at the Farmers Insurance Open? Probably the hang gliding.
Who needs him?
The PGA Tour doesn't need Tiger Woods. Just check out Sunday's leaderboard for the Tournament Formerly Known As The Buick Invitational. You got your superstars leading in Ryuji Imada, Ben Crane and, uh, Michael Sim.
OK, maybe the Tour does need Woods. Or maybe what these guys need are nicknames. "On the first tee, let's hear it for Ryuji "Widowmaker" Imada, Ben "The Predator" Crane and Michael "The Undertaker" Sim!
And just a few shots back, Phil "The Grandfather Clause" Mickelson! (See, that's kind of a topical joke because some folks are calling Mickelson a cheat for using an improper club because it's allowed due to some kind of grandfather clause … oh, never mind.)
You been following the court battle between Jennifer Lopez and her ex? J-Lo got a restraining order a while back to prevent him from releasing a sex video involving the pair. Using this as a precedent, NBA fans are seeking a restraining order against showing the Nets. (I'm here all week.)
And then there's Venus Williams, who recently wore flesh-colored underpants that caused a stir at the Australian Open each time she bent over. She explained: "It gives the slits in my dress the full effect." … You know what? Let's just move on.
They're creating a statue of Nick Saban in Alabama, but there is some controversy. It hasn't been settled whether the football coach will be shown with or without his horns.
Our Bad Timing of the Week Award to Nike for an ad in the latest ESPN The Magazine that includes this blurb from Kobe Bryant: "I'll do whatever it takes to win games. I don't leave anything in the chamber."
For the Super Bowl, Carrie Underwood will sing the national anthem and Queen Latifah will sing "America the Beautiful." The usual NFL restraining order on Justin Timberlake is in effect.
And Patriots nose tackle Vince Wilfork said playing for the Bucs would be "a dream come true." Another one of his dreams is dating Phyllis Diller.
Enough of me. Let's get to the rest of the Brunch Bunch:
• Mike Bianchi of the Orlando Sentinel learned that Magic superstar Dwight Howard is a gun owner, although presumably he doesn't pack heat to the games, not even when playing at Miami. But Bianchi wonders why he bothers to be armed "when his free throws are a much deadlier deterrent."
• Tony Massarotti of the Boston Globe has a list of "Tony's Top Five Worst Events in Sports." We won't spoil it for you, but No. 1 is being played Sunday.
• David Murphy of the Philadelphia Daily News write a Phillies notes column with the delightful name of "High Cheese." He leads with: "The biggest thing I miss about report cards? The little comment footnotes that teachers could add to your grade -- (1) Works well with others; (2) Speaks in clear sentences; (3) Eats too much play-dough."
• Scott Ostler of the San Francisco Chronicle suspects that "If Tiger Woods really is enrolled in that Mississippi sex-rehab clinic, it's going to hurt his chances of breaking Wilt Chamberlain's all-time scoring record."
• And Chris Erskine of the Los Angeles Times writes on such varied topics as "Thin mints and fungo bats," including this work report: "In order to remodel the basement -- a longtime plan -- we'd first have to add storage to the garage for all the crapola we keep in the basement. There are 22 boxes of Christmas ornaments down there, three crummy stereo systems and a scrum of old record albums (about 7,000, all a little warped). No word yet on what we'd do with the crapola that's already in the garage. Probably bury it."
Brunch is over. Now get your rest, because the Pro Bowl is Sunday. There will be a test Monday.
Jerry Greene is a retired columnist for the Orlando Sentinel. He can be reached at osogreene@aol.com.