Commentary
Crystal ball at 'Brunch' reveals winner
Originally Published:
February 7, 2010
By
Jerry Greene
| Special to Page 2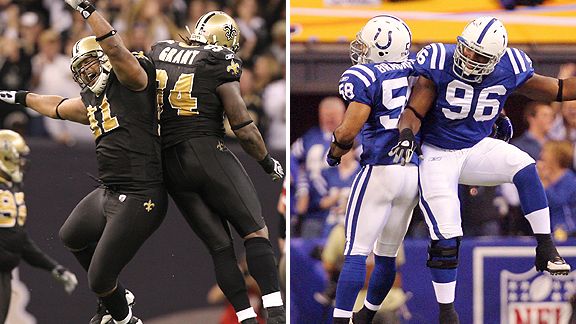 US PresswireIt's game day, and Sunday Brunch has the winner of today's game.
Spoiler alert! If you want to be surprised by the outcome of the Super Bowl, skip this opening Sunday Brunch appetizer and go directly to the meat and potatoes below. That's because Page 2 has seen the future and will spoil it for you right here.
The New Orleans Saints will be screaming "Who dat!" as they take a 21-14 lead into the locker room at halftime. And it will be a silent and grim scene for the Indianapolis Colts when Tony Dungy walks in and says, "Men, I have someone with me that wants to speak to you."
Enter Tim Tebow.
"Guys, even if the Colts draft me," Tebow would say, "I won't be able to help you until next season -- and no offense to you, Peyton Manning."
"None taken, Tim!"
"But that's why the rest of you must unite behind Peyton and pledge to each other that the world will never see a team play as hard as you will in the rest of this game, etc. -- and God bless."
And that's why the Colts went back out there and shut out the Saints 28-zip in the second half to win 42-21. And that's why after the game, Peyton Manning shouted, "Tim Tebow and I are going to Disney World!" And that's why Tim Tebow got the game ball.
It's in the book.
Other tidbits before we get to brunch:
• Looking for that perfect Valentine's Day gift? Go to the Milwaukee Brewers' Web site and bid on having the Racing Sausages serenade your sweetie. Granted, you want to make sure your sweetie isn't the overly sensitive type that might freak out when a bunch of giant sausages start stalking her, but if she's that picky you probably want to find someone else anyway. Opening bid is $300 and, for some reason, when we looked there hadn't been an opening bid.
• Coolest Thing We Missed This Week: According to five-star prep RB Marcus Lattimore, what sealed the deal for him to commit to South Carolina is when Gamecocks coach Steve Spurrier "did the cha-cha slide for my mama." No word on whether Spurrier made the "cha-cha slide" his own by tossing his visor at the end. We always knew he was one funky dude.
• The image of Kim Kardashian will be painted on Tommy Baldwin Racing's No. 36 Chevy. We're guessing that part of the image will cover the car's entire trunk, if you get our drift.
And now to the Brunch's meat and potatoes:
• T.J. Simers of the Los Angeles Times reveals the Lakers' dirty little secret: that it's an 82-game exhibition season. Of course, that's actually the dirty little secret of the entire NBA (not counting the New Jersey Nets).
• Sticking with the NBA on this Super Sunday, Charles P. Pierce of the Boston Globe considers the cosmic awfulness of the Clippers getting together with Isiah Thomas. And this must be the only time somebody has said of the Clippers that "once, a long time ago, somebody associated with the franchise groped Zeus's daughter on a subway train."
• Scott Ostler of the San Francisco Chronicle talks of many things, including why he thinks Phil Mickelson should be known as "Spongebob Squaregrooves."
• Getting back to the Super Bowl, Mike Bianchi of the Orlando Sentinel makes sure you will never want to hear anyone say "Who dat?" ever again
•And Dan Le Batard of The Miami Herald ends our brunch by visiting South Beach with Pro Bowl mystery man Bryant McKinnie and Lil' Kim, whom he calls a "rapper in a wrapper, must have taken 10 people 10 hours to wrap her." No word on how long it would take to wrap McKinnie.
Jerry Greene is a retired columnist for the Orlando Sentinel. He can be reached at osogreene@aol.com.