Commentary
Spring's fields of dreams open again
Originally Published:
February 18, 2010
By
Jerry Greene
| Special to Page 2
"Ray, people will come, Ray. … They'll watch the game and it'll be as if they dipped themselves in magic waters. The memories will be so thick they'll have to brush them away from their faces. People will come, Ray. The one constant through all the years, Ray, has been baseball. America has rolled by like an army of steamrollers. It has been erased like a blackboard, rebuilt and erased again. But baseball has marked the time."
Despite Iowa being the location of "Field of Dreams," those words from the movie are equally appropriate for the annual reality that is spring training in Florida and Arizona. Baseball not only marks time but resets the clock each spring, as baseball lovers flock south or west to feel the temperature and expectations rise for a better year for their team and themselves.
Rogers Hornsby got it a long time ago when he said: "People ask me what I do in the winter when there's no baseball. I'll tell you what I do. I stare out the window and wait for spring."
[+] Enlarge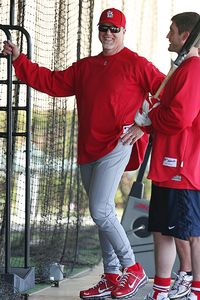 Doug Benc/Getty ImagesMark McGwire is starting his first spring training as a coach.
Once again, the wait is over.
Pitchers and catchers always lead the way. They started officially reporting to camp Wednesday, while the last club to get started will be the Cleveland Indians on Monday, in the optimistically named Goodyear, Ariz. (Perhaps they delayed their arrival in order to watch LeBron James one more time before getting on the plane.)
Spring games begin on March 2, and for one gloriously inconsequential month, the final scores won't matter, so that kids can run with abandon while grandfathers doze in the sun. Autographs will be sought and often granted. Ball caps will be purchased and perhaps even worn to bed. And arguments will float on the heated wind.
Do the Yankees have a No. 5 starter -- and don't you tell me that Joba Chamberlain can get it done! Manny Acta says he wants the Indians to win every game, so what are their chances of going 162-0? Who will close for the Phillies until Brad Lidge gets back? Can Mark McGwire, you know, actually coach?
Endless, the questions. Debatable, the answers. Invigorating, the possibilities.
Not that it isn't still a business -- although the cutting edge is hidden from sight. But if you want the coldness of decay to disrupt the illusion of timeliness, take a trip to Vero Beach and Dodgertown -- the home abandoned by the Dodgers for their Camelback Ranch digs shared with the White Sox in Arizona. Or check the news items out of Mesa, Ariz.: The Cubbies are threatening to move to Florida unless someone builds them an $84 million facility.
The kids and the granddads don't want to hear it. The chalk lines have been drawn, the infield dirt has been smoothed, the grass has been mowed. And baseball's unique shorthand and secret language can be heard -- "Annie Oakley," "around the horn," "quality start," "dead arm -- dead ball -- Dead Ball era," "salad -- salami -- snow cone," and the harsh-sounding but really quite harmless "shoot the cripple."
So make your choice -- Grapefruit in Florida or Cactus in Arizona. But in either state, spring training is always in a state of grace and always remains essentially timeless. In the spring, anything is possible. And the same can be said of baseball. Each time that hard ball leaves the pitcher's fingertips, anything can happen. Hope rises, hope falls, but hope always rises again.
It's that simple, Ray, and it's that complex.
It's also that beautiful.
Jerry Greene is a retired columnist for the Orlando Sentinel. He can be reached at osogreene@aol.com.