Commentary
Imagining an all-Charlie Sheen network
Originally Published:
March 4, 2011
By
Greg Hardy
| Special to Page 2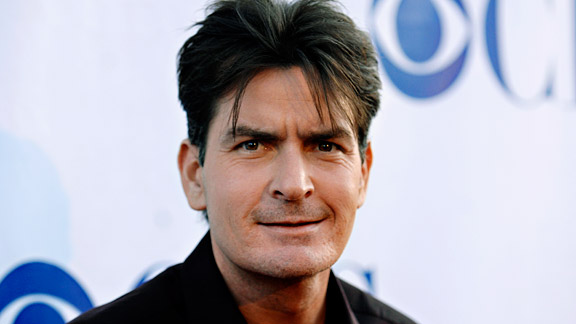 AP Photo/Phil McCartenCan the Charlie Sheen experience be contained in a mere 24 hours? Page 2 examines the possibilities.
It seems there's always room on your TV service's sports/entertainment programming tier for them to squeeze in a dozen channels you wouldn't watch it the NFL were on strike for 20 years.
So that got us thinking ... There's got to be bandwith room available for the ultimate sports/entertainment/trainwreck spectacle of our time, right?
Hence, here are Page 2's ideas for a 24-hour-a-day channel devoted to all things Charlie Sheen. Face it, there's so much footage of him already out there, this channel's content and success will be equally high whether he participates or not.
We're willing to scrap our development of the ESPNBugEating channel to make room for this 24-hour block of programming:
8 a.m.-8:30 a.m.: "Sheen Time Players." Start your day with an espresso shot of inspiration as we compile the best footage of Charlie Sheen giving pep talks to college baseball teams, pro baseball teams, and anyone foolish enough to invite him into a closed practice. His biggest challenge: Trying to talk his way into giving pep talks at cheerleader tryouts.
8:30 a.m.-10 a.m.: "Winning Fitness". Half-hour blocks of fitness programming featuring routines hosted by Sheen's personal trainers, past and present. Caution! Consult a physician before engaging in any Charlie Sheen-approved workout to avoid "fire-breathing fists" syndrome.
10:00 a.m.-11 a.m.: "Sheen for Sale." A "Home Shopping Network"-style programming block, where viewers can bid and order items from Sheen's expansive sports memorabilia collection. Popular items include baseball cards throughout the decades, championship rings, rare books and newspaper clippings and vintage greenies.
11 a.m.-noon: "Project Sheenlight": Film students and/or aspiring filmmakers pitch their ideas for new movies Charlie Sheen should star in. We follow various rounds where winners advance and develop their ideas with script re-writes, storyboards, casting, location scouting, hotel room demolition, etc.
Noon-1 p.m: "Man vs. Charlie." A physical reality-type competition show where contestants have to re-enact physical challenges that mirror scenes from Sheen action movies (jungle survival, Wild West shootouts, car chases, pitching to Clu Haywood, fighter pilot slapstick, Three Musketeer sword fights, etc.)
1 p.m.- 3 p.m.: "After School Sheen Specials": Children's after-school programming, such as his work in "All Dogs Go to Heaven 2." Commercial breaks include any public service announcements Sheen has been ordered to tape as part of community service plea agreements.
3 p.m.-4 p.m.: "Sheen of the Crime": tru!TV-style explorations of Sheen's police run-ins. Your host: David Caruso doing a Charlie Sheen impression. Or Charlie Sheen doing a David Caruso impression. Or are they both doing Dirty Harry?
4 p.m.-7 p.m.: "Sheen Sports Theater." A rotation of the "Major League" movies and "Eight Men Out," etc. During baseball season, we might sprinkle in actual live Cleveland Indian games to see if anyone can tell the difference.
7 p.m.-10 p.m.: "Project Sheenlight Theater." The actual made-for-TV results of the best films pitched by "Project Sheenlight" winners. Amateur filmmakers gain valuable experience, but the rights to all films are reserved by Sheen's "Bi-Winning Productions" company.
10 p.m.-11 p.m.: "Charlie Sheen Scenes." A rotation of his movie scenes, interspersed at the commercial breaks by commentary and criticisms from his collaborators or Sheen openly challenging them to meet in the octagon.
11 p.m.-midnight: "SheenCenter." A roundup of the day's baseball action that affected Sheen's rotisserie baseball teams. Because for Charlie Sheen, nothing is more important than the line between fantasy and reality.
Midnight-1 a.m.: "To Catch a Tigers Blood Predator." A hidden camera reality-crime show where host Chris Hansen lures Charlie Sheen into an illicit prostitution ring. So far, there is only one episode to air in reruns, until Hansen heals from injuries inflicted upon him during the sting.
1 a.m.-4 a.m.: "Charlie Sheen's Goddesses of the Night." Your host: Heidi Fleiss.
4 a.m.-8 a.m.: Paid programming and/or rebroadcasts of "Men At Work."
Greg Hardy is a Page 2 contributor. It's all pop culture all the time at Twitter.com/HardyVision.