Gird your loins: It's campaign season across this great land of ours.
No, not that campaign. We're still months away from the conventions.
We're talking about the campaign to be Teacher of the Year.
Believe it or not, Jim Harrick, Jr., has thrown his hat into the ring. After the news broke last week about Harrick Jr.'s optional-attendance, no-brainer class called Principles and Strategies of Basketball during his days at the University of Georgia (take Page 2's special Jim Harrick Jr. exams), the Atlanta Journal Constitition quoted testimony to the NCAA by the Bulldogs' former assistant coach. Allegedly, Harrick Jr. said, "I took great pride in that class ... Teacher of the Year award, I thought I was going to get."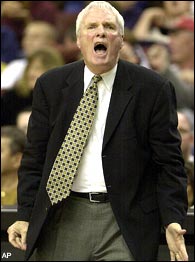 Hubie Brown has worked a minor miracle in Memphis.
Now, some folks argue that -- like high school elections -- many awards are little more than over-hyped popularity contests. Or, as Harrick Jr. might put it, democracy in action. At any rate, Harrick Jr. must feel like he's a lock if the election is up to the student population. "I got great reviews," he said in the AJC. Forget extensive office hours, brilliant lectures and personal attention; it's tough to beat optional attendance, joke finals and guaranteed As. The only problem could be getting students used to skipping his class to show up to vote.
But he has competition. The Memphis Grizzlies have launched a campaign to help earn coach Hubie Brown NBA Coach of the Year honors, distributing propaganda with a "Teacher of the Year" slogan to describe the septuagenarian's steadying influence on the run-and-young Grizz.
Gentlemen, start your public-relations blitzes.
And don't let them stop until everyone has a Mother Theresa bobblehead.
While the late soon-to-be-saint might not have mounted much of a publicity campaign prior to her big win in the Nobel Peace Prize Tournament, other notable celebrities take full advantage of their media-spin opportunities in their quests for season-end awards.
Especially in sports.
If it isn't Joe Theismann altering the pronunciation of his last name, it's Joey Harrington's larger-than-life mug gazing out over Times Square. Sports figures often deluge voters and the general public with reminders of their obvious qualifications.
Teacher of the Year: That catchy little slogan got us wondering what a resourceful public relations firm could do to help some other sports figures gain the public acclaim they so richly deserve.
Damon Stoudamire: Employee of the Year
The Portland guard has a legitimate case for winning Comeback Player of the Year honors, averaging six assists and nearly 13 points just one season after racking up more DNP-CDs than a Scrabble junkie. But voters might not fall in love with the guy if they remember what it is he's coming back from. So, how to point out Stoudamire's refocused game without harping on the herbal habit that had him taking more hits than a Don King patsy? This understated slogan emphasizes Stoudamire's newfound willingness to do anything for his teammates -- or, apparently, anyone with a plastic cup.
Maurice Clarett: Litigant of the Year
Clarett lost out on the Heisman as a freshman, and it looks like he won't get a chance to make another run at the coveted statue. But the former Ohio State back will have a chance to chase NFL Rookie of the Year honors ... assuming he sticks with a team for the regular season. Naysayers argue that underclassmen are bad for the NFL because they won't be physically ready to contribute in the rough-and-tumble professional ranks. But even if that's true in Clarett's case, this slogan helps emphasize the diversity of his contributions as a rookie. He might not lead rookies in rushing and receiving, but he's already ahead of the pack in legal judgments.
Pete Rose: Salesman of the Year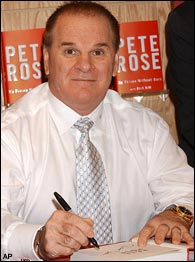 He may not win a popularity contest, but Pete's one heckuva salesman.
Willy Loman tells his sons in "Death of a Salesman" that, "The man who makes an appearance in the business world, the man who creates personal interest, is the man who gets ahead. Be liked and you will never want." Well, two out of three ain't bad. Rose suffered some publicity backlash for the timing of the book in which he admits to betting on baseball, but what's done is done. This slogan reminds Hall of Fame voters that whatever Rose does, he does with all the timidity of a shark near blood. Be it collecting hits or writing self-serving tomes, nobody out-hustles Charlie Hustle.
Antoine Walker: Student of the Year
Winston Churchill once said, "Personally I'm always ready to learn, although I do not always like being taught." Then again, he never squared off against Don Nelson in Parliament. But the spirit of Churchill's never-ending quest for knowledge should infuse any campaign on behalf of the embattled Dallas forward. Improvement comes from knowledge. And knowledge comes from asking questions. So instead of being vilified for selfish play, Walker should be lauded for seeking to increase his knowledge with answers to questions like, "Why am I not playing 40 minutes a game?" and "What's wrong with shooting 3-for-11 from behind the arc?"
And what about slogans for some other candidates vying for major awards?
NBA MVP
Shaquille O'Neal: You've seen the movies, so you know he's not acting.
Kevin Garnett: Hey, not all of those rebounds are off Sprewell misses.
Peja Stojakovic: Unlike sparkling water, a European innovation better than the original.
Tim Duncan: Like an independent film, he's boring. But smart people enjoy him.
Jermaine O'Neal: No longer the Jermaine Jackson of the NBA's O'Neals.
NBA Rookie of the Year
LeBron James: The bobblehead is in the mail.
Carmelo Anthony: You realize these are the Nuggets we're talking about, right?
Dwyane Wade: We'll also accept votes for Dwyane Wade and D. Wayne Lucas.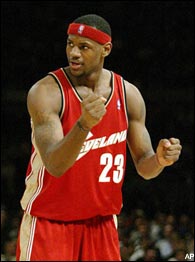 It's tough to argue against LeBron for Rookie of the Year.
Kirk Hinrich: You wouldn't believe the bonus clause he has for this.
Chris Bosh: Already a better pro than Dennis Scott, Matt Geiger or Brian Oliver.
NBA Coach of the Year
Jeff Bzdelik: Don't worry, he's not a write-in candidate.
Rick Carlisle: He'd probably even have a winning record in the Western Conference.
Terry Porter: For the last time, George Karl isn't here anymore.
Flip Saunders: Get those votes in before Tax Day ... and the NBA Playoffs.
Stan Van Gundy: Coach of the winningest NBA team in Florida!
NCAA Player of the Year
Emeka Okafor: Even if Diana Taurasi is more popular in Connecticut.
Jameer Nelson: Because you can't vote for Sebastian Telfair.
Luke Jackson: The only candidate who knows his way around a Phish show.
Hakim Warrick: Like Carmelo, only with a shorter tournament run.
Ryan Gomes: It's about time the state of Rhode Island benefits from an East Coast bias.
NCAA Coach of the Year
Bobby Knight: Incident free since January February ... Headed to the Tournament.
Phil Martelli: Help him win something besides Bald Guy of the Year.
Eddie Sutton: Please return any cash mistakenly included in the envelope with this material.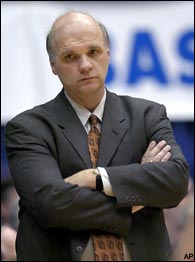 He may still win Coach of the Year, but Phil Martelli didn't look too happy after his team lost to Xavier.
Mark Few: Vote for him or we send you pictures of him dressed as Cinderella.
Jamie Dixon: He didn't need a fish to save Pittsburgh.
NFL Draft's top pick
Eli Manning: A Manning that won't cost you $98 million.
Larry Fitzgerald: They can't all be Irving Fryar and Keyshawn Johnson.
Ben Roethlisberger: Look, I've never even met Ryan Leaf.
Mike Williams: He's not old enough to get into bar fights.
NHL MVP
Joe Sakic: The best player you wouldn't recognize in an airport.
Markus Naslund: No, no, that was the other guy.
Martin Brodeur: Bringing joy to dozens of loyal Devils fans.
David Aebischer: Don't be neutral on Switzerland's favorite son.
Graham Hays writes "Out of the Box" five days a week in--between moonlighting for Page 2. He can be reached at graham.hays@espn3.com.
Also See
ESPN Top Headlines