By Graham Hays
Page 2
It turns out Smarty Jones wasn't the only one going for the Triple Crown on Saturday.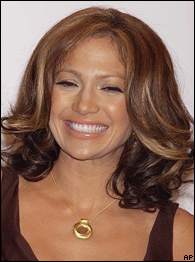 Don't worry men of America -- J-Lo won't be taken for long.
While the Philadelphia thoroughbred failed in his bid to win the Belmont Stakes and complete horse racing's holy trinity, Jennifer Lopez completed her own run to glory -- or at least fame -- by secretly marrying singer Marc Anthony in a backyard ceremony. It's Lopez's third marriage and comes just five months after the end of her engagement to Ben Affleck. Even more noteworthy, it came just five days after Anthony's divorce from Dayanara Torres was finalized.
While even Page 2 couldn't gain access to the secret ceremony, we tracked down some other celebrities to get their thoughts.
Elizabeth Taylor
She plays a game with which I am not familiar. Hey, could you drive me to KFC?
Ben Affleck
Of course I don't have any hard feelings, and I wish them nothing but the best. I even gave them the rights to any "Gigli" sequels as a wedding gift. I wanted to congratulate Marc in person, but apparently Jennifer wasn't too thrilled with the idea of me putting together his bachelor party.
Mark Cuban
Yeah, Marc Anthony. I put money on that guy! Nice work with Smarty Jones! What? Come on! What do you mean he isn't a jockey! Of course he is! Look at him!
Ojani Noa (J-Lo's first husband)
Does this mean I'm back on the clock for my 15 minutes? It's about time; even Entertainment Tonight had stopped returning my phone calls.
Puffy Combs
I still think things would have worked out between us if I hadn't told her I was going to write my own wedding vows. Man, I can't believe she figured out I was going to use the speech from "Jerry Maguire." Oh, and I don't know if this might affect Marc's safety, but I did hear that he killed Biggie and Tupac.
Julia Roberts
Hello! America's Sweetheart over here having twins! I can't believe that b---- upstaged me! I just hope it lasts more than nine months so she won't steal my thunder again. Who am I kidding?
Chris Judd
Dang it, now I'm only the second-most successful of her husbands. The good news is I hear Britney Spears needs a choreographer for her next video.
Tiger Woods
Some people worry that my engagement to Elin has taken away from legendary focus and desire to be the best golfer who ever lived. But after seeing the way J-Lo is so doggedly pursuing Elizabeth Taylor's record of celebrity weddings, I'm reminded of how much I want to beat Jack Nicklaus' record for major titles. It's awe-inspiring, really.
Hugh Hefner
Really, I'm so happy for both of them -- and for me. If J-Lo keeps this up her Playboy shoot should be right around the corner. We'll book some studio time right after Britney.
Ricky Martin
It was a beautiful ceremony, and I was proud to attend. I'm also proud to know that if this doesn't work out and Enrique is off the market, Jennifer says I'm next on the short list.
Resigning CIA Director George Tenet
Jennifer Lopez and Marc Anthony got married over the weekend? I had no idea. This comes as a complete surprise to me.
Graham Hays writes "Out of the Box" five days a week in-between moonlighting for Page 2. He can be reached at graham.hays@espn3.com.