By Graham Hays
Page 2
"Good afternoon. I'm Graham Hays, co-chairman of the Page 2 Bowl Selection Committee. On behalf of the city of Bristol and the good people who bring you Page 2 presented by ESPN.com, I'd like to announce the participants in this year's Page 2 Bowl."
Hey, everyone else gets to hand out bowl invitations these days. Why not us?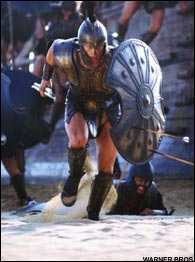 They should let Brad play in the Silicon Valley Bowl.
Sunday's announcement of the Bowl Championship Series pairings kick-started a chain reaction of bowl invitations, many carried live on ESPN, to postseason games from Memphis to Honolulu.
But with apologies to Lee Corso, there aren't many good reasons to watch Alabama duel Minnesota for the right to finish the season with more wins than losses. And unless the only alternative is watching Brad Pitt in "Troy," there is a scarcity of anticipation for Troy against Northern Illinois in the Silicon Valley Bowl.
It's so bad now that VH1 is rounding up some extras from "One Tree Hill" to offer commentary on The 20 Most Awesomely Bad Bowl Games of all time.
But forget the potential BCS embarrassment of waking up to four undefeated teams (Auburn, Utah, Boise State and either Oklahoma or USC) on Jan. 5, with no additional games scheduled until August. The powers-that-be nearly ended up with eggnog on their face before the first bowl even begins.
There are 56 Division I teams heading to 28 bowl games this year. That's convenient, as there are 57 bowl-eligible teams in Division I this year. Save for the Akron Zips, everyone who is eligible is headed to a bowl. But that number could have been 55 bowl-eligible teams had the players at Notre Dame opted to skip the Insight Bowl after the school's administration fired head coach Tyrone Willingham. And it took until the wee wee hours of Sunday morning on the east coast for Hawaii to nail down its 41-38 victory over Michigan State for the win that qualified it for its next home game ... er, bowl game. (It's the Hawaii Bowl, played in Hawaii, featuring Hawaii!)
What would have happened if the Rainbow Warriors had lost? Or if Notre Dame had sulked? A team without a winning record in a bowl game, that's what. What is this, the NFC wild-card race?
But the bowl folks need not have feared. We here at the Page 2 Bowl Selection Committee were ready to offer up some alternative candidates, had they come up short on eligible teams.
The Mike Williams and Maurice Clarett All-Stars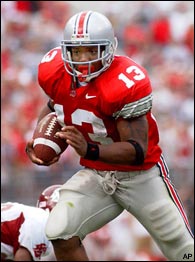 Wouldn't it be fun to see Maurice Clarett play in one more college game?
It might take a visit from Jacob Marley, but surely even the NCAA is subject to some holiday spirit. The lords of college football and the game's most recent prodigal sons haven't been on the best of terms this year, but what better way to let bygones be bygones then to put them on the field one last time to fill out the bowl field? Besides, the sooner they impress NFL scouts, the sooner they're out of the house.
Utah
Sure, the Utes are already booked for a date against Pittsburgh in the Fiesta Bowl. But let's face it: The bowl season drones on longer than a C-Span "subcommittee hearings" marathon. It's not like a team couldn't play an early game, and then bounce back a week or two later. And since the BCS did Utah a favor by ignoring their unbeaten record and slating them against the weakest automatic conference champion in recent memory, they should be up to a second game. Then let's talk strength of schedule.
San Francisco 49ers
If they're going to have the first pick in the draft, they might as well get started on scouting some of the available talent. And since the 49ers won't have much to do after Week 17, we'd have them take Texas Tech's place against Cal in the Holiday Bowl and settle Bay Area bragging rights. (But we'd let the 49ers keep Texas Tech quarterback Sonny Cumbie. They need him, and we want the bowl to be competitive.)
Harvard
See, even playoff systems aren't perfect. The Division I-AA playoffs have reached the semifinals, and most of the top seeds have already been victims of upsets. But one unbeaten team never got the chance to play for a championship. Harvard cruised through the regular season with an unblemished record. An Ivy League rule, however, prohibits its teams from postseason play. Surely one of those "smaht" kids from Boston can figure out a way to accept a bowl bid.
Pollsters
The guys at the New York Times can put together a computer poll, but how are they at picking up the weak-side blitz and checking off to a hot route? If the championship can't be decided on the field, how about at least putting the folks who decide the championship on a field somewhere? Throw together the media voters and computer programmers and let Ty Willingham take out some frustration on them in practice. Then see how they fare against Cal.
*****
But the madness doesn't just stop with this year's near-miss on bowl-eligible teams. There has actually been talk of adding bowl games to the mix in future seasons. Crazy? Sure. But if it's going to happen, we have some suggestions:
ESPN Classic Bowl
Bowl season already makes for a logjam of programming on ESPN and ESPN2, so maybe it's time to get another one of our networks in on the action. Take two programs facing lean times and let them duke it out in retro uniforms. ESPN Classic can even show the game in black and white. This year's ESPN Classic Bowl: Nebraska vs. Penn State.
Dicky V Bowl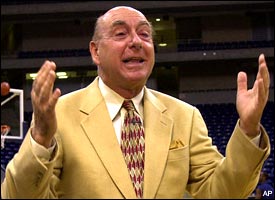 "Oh what a bowl game we're about to enjoy, ba-by. The Wildcats and the Dookies, both with a couple of diaper dandies. It's gonna be sen-sational!"
Unless a bowl game has title implications -- or at least two teams with winning records -- it's going to need some kind of hook to differentiate it from every other "Presented by ... " and "Sponsored by ... " game. So why not infuse a little Dick Vitale and snag the crossover audience? Grab a couple of hoops-crazy schools, play the game indoors, hand Dick the microphone and follow it up with a basketball game. This year's Dicky V Bowl: Duke vs. Kentucky.
Directional Bowl
Aside from serving as early-season fodder for every powerhouse program looking to catch a breather, what do players at the nation's various directional schools have to look forward to each season? Sure, an occasional Northern Illinois or North Texas makes it to a bowl, but no such rewards exist for the bulk -- the East Carolinas and Central Michigans. Our solution? Set up a BCS-style ranking system and let the top two teams, who don't otherwise qualify for a bowl, play it out in East St. Louis. This year's Directional Bowl: Eastern Michigan vs. South Florida.
Band Bowl
Which would you rather see: Memphis against Bowling Green in the GMAC Bowl? Or Southern University's funk and flare against Stanford University's wit and fun in a battle of the bands? Throw some football in the mix if you must, but put the spotlight on the real entertainment at many college games. We'll get Simon Cowell to judge.
Relegation Bowl
Since it worked so well with Keira Knightley, we're looking to England for a spot of inspiration. Famed teams like Manchester United, Arsenal and Chelsea annually slug it out for top honors in the English Premier League, but the action is almost as exciting on the other end of the table, where less illustrious clubs like West Bromwich Albion and Crystal Palace compete furiously through the end of the season to avoid demotion. Brilliant. So how about having the worst team in Division I play the I-AA champion for a spot in the big time? You wouldn't set your TiVo for a battle pitting Central Florida against Montana?
And we could get Paul McCartney to play at halftime.
Graham Hays is an editor for ESPN.com SportsNation when he isn't moonlighting for Page 2. He can be reached at graham.hays@espn3.com.