But slowly, drafting the likes of Rik Smits, Dale and Antonio Davis, adding veterans like Byron Scott and Haywoode Workman, and simply surviving the likes of Scott Haskin, the Pacers introduced something new and wonderful to all of us in Indianapolis: traffic jams caused by home playoff games during the weekend of the Indianapolis 500. And even as I was discovering the joys of driving, dating and college-application essays, Reggie was leading the Pacers to unimaginable heights of national ambivalence, interrupted by brief periods of mild national interest. People were finally looking down at us and not just wondering where they could stop for gas between Cincinnati and Chicago.
I haven't lived in Indianapolis for an NBA season since 1995, when the Pacers fell to Shaq's Orlando Magic in Game 7 of the Eastern Conference finals and I graduated from high school (which is pretty much the order in which I remember those two things). All in all, I've lived there less than half my life, but it's still where I'm from. And that likely has a lot more to do with Reggie and the Pacers than pride in a state whose legislature supposedly once pondered rounding pi down to a more manageable 3.0. I remember watching from a bar in Ithaca as the Pacers crashed out in the first round against the Hawks in 1996 (although that one might not count, since technically my license said I was 30 years old and from Framingham, Mass.). And I remember yelling incoherently to myself in a Seattle apartment when Reggie drained the 3-pointer against Michael Jordan and the Bulls in 1998, and sitting with other Indiana refugees in a cottage on Bainbridge Island, Wash., when the Pacers finally made it to the NBA Finals in 2000.
But wherever I was watching from, there was Reggie in a familiar setting. The same Reggie I watched battle Steve Alford's Mavericks (all right, they were only Steve Alford's Mavericks if you lived in Indiana) in the first NBA game I attended. The same Reggie we used to gawk at when the Pacers occasionally practiced at our high school, and the same Reggie I watched when first given the freedom to take off on my own on a school night in the wilds of downtown Indianapolis.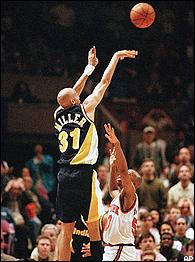 If you grew up with Reggie, you loved the Pacers, hated the Knicks.
And the same Reggie who came flailing off about three screens, one of which might even have been stationary, to hit a 3-pointer with 1:31 left in Thursday's game, cutting Detroit's lead to three points and making all of us believe there was one more miracle left. It was a shot you knew he'd hit, even though you knew he couldn't. Just like he did for 18 seasons.
It's the stuff of WB drama to say I learned about life from Reggie Miller. He was a basketball player. But it's no stretch to say I learned a little about life during Reggie Miller.
I don't often feel burdened with the weight of excessive wisdom after 27 years on this planet. I know just enough to know I don't know squat yet. And at times that makes me worry I'm more the Stuart Gray or Greg Dreiling of life than the Reggie Miller. But mostly it leaves me free to believe life is still full of all the possibilities that ever existed.