Editor's note: ESPN.com's Graham Hays is in China covering the 2007 Women's World Cup. He will file occasional diary entries for Page 2 during his trip.
Sept. 10

CHENGDU, China -- Strange things can happen when you deposit large numbers of foreigners in one place for a sporting event. Things like listening to a roomful of people speaking English at a press conference held in China by the Swedish team while realizing I may be the only person in the crowd of 30 or 40 for whom it's a first language.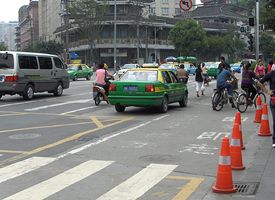 Graham Hays/ESPN.com
A Chengdu taxi driver pauses, probably torn between turning left or running down the pedestrian.
No wonder so many Americans, present company included, are so comparatively dense when it comes to picking up other languages. When it comes to the spoken word, we're the rich kids who have nannies to fold their clothes and gardeners to cut their lawns.
I found myself once again feeling linguistically guilty while amidst the impressively sizable (and that's true both numerically and vertically) Swedish press corps at the swank JinJiang Hotel in Chengdu. Fewer than 10 American media outlets are sending someone to China for the World Cup, at least for the opening round, but there were at least 20 Swedish journalists, plus another dozen photographers, gathered in this hotel meeting room, snacking on the leftovers from what appeared to be Sweden's team meal.
Not a bad turnout for a nation whose population is smaller, by at least a million people, than that of the city in which its soccer writers are currently working.
There were also a number of Chinese journalists in the room gathering material, hence veteran Swedish press officer Jonas Nystedt gamely emceeing the proceedings in an efficient and occasionally endearing English (the day before, in response to an e-mail query, Nystedt had responded that I was "wormly welcome" to attend the team's "Sunday morgon" practice … yet another example of why Scandinavians are my favorite people on the planet).
But if you think coaches like Bill Belichick and Charlie Weis loathe saying anything remotely interesting in their press conferences, wait until you hear someone offer their best round of clichés in a second language. Games in this tournament will produce goals at a higher rate than these answers produced syllables.
At least Sweden brought its team doctor to answer questions; I'd like to see someone tell Belichick he has to do that.
Having been left to my own devices on this day while my television colleagues chased down more panda material, I made my way across town to the press conference in a cab. Granted, the means of transportation might normally seem like a detail as unnecessary and uninteresting as describing the color of the wallpaper in the hotel room (light beige) or the floor number pushed in an elevator (12).
At which point I would guess you've never been in a cab in China.
Racing through the city, an automated voice repeatedly bleating "Welcome you my cab" from the dashboard, has become both an adventure and an adrenaline rush. All things considered, it ought to be terrifying, but the drivers are so scarily good at breaking every traffic law known to humankind that they lull you into a false sense of security. After a few white-knuckle moments, it starts to feel like you're on an amusement-park ride on which every stomach-churning move is scripted and your safety is assured.
Or at least that's what I keep trying to tell myself.
Drivers here treat right-hand turns like they're Tony Stewart at Watkins Glen, driving to the inside of the car turning ahead of them to try and make a pass. They cut off anyone and everyone, including the police, who seem concerned with little other than avoiding getting hit and seat-belt violations -- I can understand how the latter might be a commendable priority. Drivers merge at will … at full speed … across several lanes of traffic. And other drivers don't seem to mind, perhaps because they're too busy finding a path through the crowd to pass the cab that just cut them off.
Over the course of the first three days in Chengdu, I had two cabs pull onto the sidewalk to get around a traffic jam and another drive two full blocks going the wrong way on a busy street (not even counting the stretch of road by our hotel that seems to require wading into oncoming traffic). Traffic lights are apparently mostly for decoration, the flow of pedestrians (the bravest people in China) and cyclists usually deciding when crossing traffic has the right of way. It seems impossible that dozens of people a year aren't maimed or killed by cabs alone, but I have yet to see even a hint of a fender-bender.
But at about $1.25 for a 15-minute ride, what are you going to do? Walk?
It's better to ride with the hunter than scramble for safety among the hunted.