Waiting for batting practice to begin before last Wednesday's National Pro Fastpitch game, Mackenzie Vandergeest stood chatting by the Chicago Bandits dugout with Jennie Finch and Cat Osterman, Finch's arms draped over her shoulders in a moment of casual camaraderie, as if Vandergeest was the piano tuner catching up on old times with Beethoven and Haydn before a concert.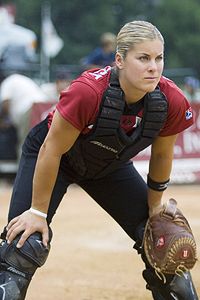 Ross Dettman for ESPN.com
Mackenzie Vandergeest is going through the process to become a Los Angeles firefighter.
Working with pitchers, even two of the best pitchers the game has ever seen, demands a certain amount of ego management from those who don the tools of ignorance, and Vandergeest is as skilled at it as anyone, having caught Finch at the University of Arizona and as a member of the Bandits for her first two pro seasons before an offseason trade sent her to the Rockford Thunder and new battery partner Osterman this year.
"Every pitcher is different," Vandergeest said. "There is not one pitcher I've come in contact with that's the same. Being a catcher, you have to have multiple personalities. You do, because one player needs to be treated differently than the next player."
You might say a good catcher has to be skilled at putting out fires on the field, which works out well for Vandergeest, who soon hopes to complete her training as an actual firefighter.
Ever since she was a kid, Vandergeest wanted to be a firefighter, something that doesn't seem out of place given her confident demeanor. Having passed written and physical tests and gone through an oral interview with the Los Angeles City Fire Department, the California native is waiting on a background check and medical tests that would lead to a conditional job offer and a spot in an 18-week training academy.
Such an opportunity would likely necessitate her taking next season off from the NPF to complete her training and make a start in her new career (Vandergeest was also among a select group of 32 players invited to the Olympic selection camp in September, although she's considered a long shot to make the final roster even though she's having her best offensive season as a professional for the Thunder). But she insists she'll be back on the softball diamond eventually, something she hopes will register with fans just as much as the artistic brilliance of the pitchers she works with.
"It's getting better from what I've seen, so it's growing," Vandergeest said of the league's health. "I think [players] having other jobs pulls that crowd, too. It's, 'Hey, these women are not only ballplayers; they're doing this on the side -- they're firefighters on the side, like real people.'"