Vicky Galindo could pass for just about anyone who has graduated from college in the last five years and now lives and works in the Bay Area.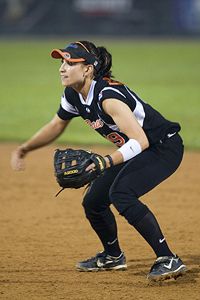 Ross Dettman for ESPN.com
Vicky Galindo lives paycheck to paycheck for the love of softball.
"I was living outside of Berkeley, in this little town called Alameda," Galindo explained. "And it worked out great; I got a roommate and all that good stuff. The only thing was the commute to San Jose was really tough. But I think if I make the Olympic team, I may have to move back in with my family, just so I can pay bills."
Living in a rent-friendly locale instead of downtown? Check. Long commute to work? Check. Pondering moving back in with the folks to save money? Check.
Making the Olympic team? All right, perhaps most of us haven't been there.
Chicago's starting second baseman, Galindo is easily one of the 20 or 30 best position players in the world. Fast and possessing the footwork and bat control needed to perfect softball's distinctive slap-hitting technique (think: Ichiro on fast forward), Galindo also has far more power when she swings away than her diminutive frame suggests. A key part of the U.S. national team this year, she's a good bet to go to Beijing for next year's Olympics, the last in which softball will be contested.
But despite her softball skills, cheery personality and good looks, sponsors don't line up at her door quite the way they do for pitchers like Finch and Osterman.
To keep her softball career in motion, and prepare for her post-playing career, Galindo serves as an assistant coach at San Jose State. More than half the combined rosters of last Wednesday's game between Chicago and Rockford were composed of players who coach at some level, jobs that allows them summers off and easy access to training.
"I still definitely live paycheck to paycheck," Galindo admitted. "I love playing softball, but at the same time, it doesn't pay my bills. You have to do so much work -- like clinics and camps, and for me, I had to get a job at San Jose State because otherwise I wouldn't be able to keep playing; it would be too hard."
It's in that spirit that the likely future Olympian stepped forward as one of Chicago's first eligible guinea pigs in a promotion that allows fans to win a "date" with a player (chaperoned by a team owner at a sponsoring restaurant). Most of the candidates, as in Galindo's case, are single in real life, but it's more an exercise in promoting community connections than producing love connections.
"And it keeps me young, too," Galindo laughed.