Cassidy Scoggins could do little but watch as the drama unfolded last Wednesday night, shifting around the dugout as the innings piled up and the clock ticked toward midnight.
As a pitcher for the Rockford Thunder, Scoggins shares a job description with Cat Osterman, but that's where the similarities end between the rookie and the star. Like a sizable minority of players in the league, Scoggins is just trying to find her place on and off the field.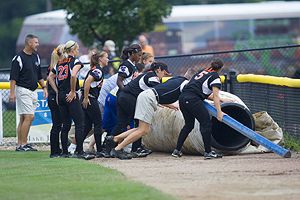 Ross Dettman for ESPN.com
National Pro Fastpitch players have to do things that most pro athletes don't, such as rolling out the tarp during a rain delay.
An Oklahoma kid from the small Tulsa suburb of Owasso, Scoggins wasn't even sure she could play at the college level before embarking on a career at Southern Illinois University that concluded this spring with three first-team all-conference selections. The second pick of the fourth and final round of this year's National Pro Fastpitch draft -- she didn't even know she was in the mix until her coach alerted her the day before the draft -- she's now one of nine rookies on a roster of 17 players for Rockford.
Going from the hectic schedule of a student-athlete balancing classes, practices, road trips and a social life to the mundane reality of paying bills has taken a little getting used to.
"We eat breakfast, work out, come to practice, eat and then go to bed; it's the same thing every day," Scoggins laughed of her newfound freedom. "I feel like I should be doing something. I feel like I should be studying or doing something with class or school; I feel like I'm missing something. But it's the life, and just to play softball and get paid for it is awesome."
Like many rookies, the chance to spend the summer playing for a paycheck has only delayed an inevitable decision over what to do next. A dietetics major in college who has an internship lined up for the fall and winter, Scoggins would like to return to the Thunder next season if she can find a way to keep those three months free. But for now, she's savoring the opportunity to fill out official paperwork with a new job title.
"Usually I'd put student, but I guess I would be a professional athlete," Scoggins said. "It's weird for me to put that, because it just doesn't feel real, I guess, that I'm considered professional. … I had no idea I was going to be here."