Let me disclose my first and only personal Alex Rodriguez story. I met him briefly at a Super Bowl party in Miami, where the perennial All-Star exposed himself as one of the corniest human beings on Planet Earth.
His streaks gleamed. He couldn't dance. If A-Rod weren't extraordinarily rich and famous, if he were anywhere else other than a Super Bowl party, he would have perfectly fit the stereotype of Lame Miami Club Guy.
I'll be the first to admit I am a typical A-Rod detractor, meaning there is little he can do to make me believe he's not self-serving. Some see A-Rod as a once-in-a-generation player. I see Lame Miami Club Guy -- and that was before witnessing his lameness up close.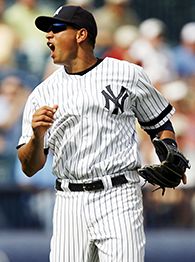 Eliot Schlecter/Getty Images
Alex Rodriguez will get no credit if the Yankees win the World Series, but he will take the blame if they fail.
But for the first time ever, I'm going to do what I never thought I would do: I'm going to stick up for the guy that will never be Derek Jeter.
News broke on Friday that A-Rod subtly ripped manager Joe Torre on HBO's "Real Sports with Bryant Gumbel." Admittedly, my initial response was of a typical A-Rod detractor. With a $25 million opt-out on the table, A-Rod all of a sudden wants to be honest. Figures.
During an interview with Real Sports' Frank Deford -- which airs on Monday -- A-Rod gives former manager Lou Piniella an enthusiastic endorsement. In fact, he was so complimentary of Piniella, it is difficult not to interpret A-Rod's warm words as not only a slap at Torre, but a silent plea for the Cubs to come rescue him.
"He's been just like a father to me," A-Rod said of Piniella, the focus of HBO's report.
Now it's certainly possible that A-Rod was just being earnest. However, it's A-Rod. Is he even capable of being earnest?
But A-Rod's interview and the news it generated has created an intriguing question about the All-Star, one that's even more intriguing than whether he'll remain a Yankee or win a championship.
Will we ever be able to accept A-Rod for who he truly is?
It's not like A-Rod is evil. He's not a bad guy. It's not his fault that someone else determined his worth at $252 million. It's not his fault he's more Lame Miami Club Guy than Maximus from "Gladiator."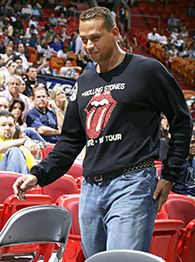 Victor Baldizon/Getty Images
If you earn $25 million annually,
it's hip to be square.
A-Rod has the most impossible situation of any superstar in sports. LeBron James can always blame his subpar teammates if Cleveland never does anything significant in the Eastern Conference. Should Tiger Woods go on a historic losing streak, he has his father's death, a relatively new wife and a kid on the way -- all ready-made (and understandable) reasons for failure.
Who or what can A-Rod blame?
If the Yankees win it all this season, Jeter gets the credit. If the Yankees lose early in the playoffs again, A-Rod shoulders the blame (again).
A-Rod is often criticized for being disingenuous, and the first time he says something halfway original, he's crucified. He admitted he was lying when he said he and Jeter were the "Laverne & Shirley" of Major League Baseball, and was expectantly killed for telling us something we already knew.
Rosie O'Donnell has a better chance of finding a co-worker that likes her than A-Rod does of becoming a hero in New York this season.
A-Rod could hit .400 during a Yankees playoff run, save a small child and subvert an intricate terrorist plot and that would do little to change the opinion that he's polished, fake and overpaid.
But you know what else makes A-Rod so fascinating? He signed the biggest contract in American sports history, but that same deal keeps him from the one thing he craves the most: constant adulation.
Ironic, isn't it?
What A-Rod said about Torre will make all the headlines for the next few days, but that wasn't the most telling part of his HBO interview.
A-Rod talked about how Piniella had the ability to give him tough love one minute and fatherly love the next. Piniella nurtured A-Rod. But the truth is, no one believes a player of his caliber and with his money should have to be nurtured by anyone. But that's just who A-Rod is. Hate it or love it.
Jemele Hill, a Page 2 columnist and writer for ESPN The Magazine, can be reached at jemeleespn@gmail.com.