Home, as most of us know, usually owns your heart. Bob Huggins is returning home to coach at West Virginia -- where he was born, played basketball, went to college and started his coaching career as a graduate assistant. Any other time, that would be a heartwarming story. Today, though, it's one more reminder that loyalty in sports is as outdated as doing the right thing.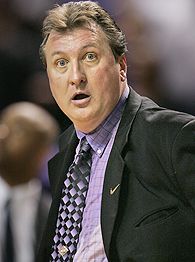 AP Photo/Orlin Wagner
Kansas State took a chance on Huggins, and the school got burned.
Huggins is leaving Kansas State after just one season. But this isn't the typical case of upward mobility. Huggins is leaving a school that took a helluva chance on him and chose to believe in him despite an embarrassing graduation rate at Cincinnati and an even more embarrassing drunk-driving incident.
What's ironic is, just as the Huggins-to-WVU rumors were heating up, Kevin Garnett reiterated to ESPN.com's Marc Stein that, however painful, he is committed to staying in Minnesota.
If anyone has the green light to leave, it's KG, who has spent 12 seasons with the Timberwolves and seems resigned to the fact his prime will be spent with a franchise on the fast route to nowhere.
Everyone from Bill Simmons to Charles Barkley has pleaded with KG to demand a trade. But he is determined to make it work. This demonstrates a level of character that is so foreign in today's sports world. Like Jerry Maguire, KG sticks.
WHAT'S YOUR VOTE?
Should Bob Huggins be criticized for leaving Kansas State so soon for his alma mater? Cast your vote.

Makes you look at Huggins' decision a lot differently. KG remains loyal to Minnesota because the Wolves took an enormous risk drafting him straight out of high school, and then an even bigger risk giving him enough money to fund covert military operations around the globe. You don't turn your back on people who risk themselves for you. KG understands that. So why doesn't Huggins?
Huggins' heart may be in West Virginia, but his credibility was restored in Manhattan, Kan. As reclamation projects go, Huggins' career wasn't, say, on the level of Tim Hardaway's. But his 2004 drunk-driving conviction certainly didn't push Huggins' résumé to the top of anybody's wish list.
Kansas State willingly shouldered that baggage, rescuing Huggins after he hadn't coached in a year. And it seemed like a good decision. Huggins coached K-State to a 23-12 record this season and the school's best Big 12 record in 11 years. And with one of the best recruiting classes in the nation slated to hit campus this fall, the Wildcats undoubtedly would have been a legitimate player in the conference next season. Now, who knows?
Recruits like Michael Beasley, who might be next year's Kevin Durant, placed their trust in Huggins too. And while it's never a good idea for kids to pick schools because of coaches, who can blame them if they do?
"I asked him, 'Bob, do you think leaving now is the right thing to do?' And he said, 'No,'" Kansas State athletic director Tim Weiser told reporters on Thursday. "Then I said, 'How many times in your life have you known what the right thing is to do and not done it?' And he said, 'Never.'"
It's funny. Too many people lambaste and vilify college basketball players for leaving early for the NBA because we are put off by their "selfish" decision to try to set up their families for life financially. But coaches, who already have financial security, are given a free pass regarding their quest for bigger money and bigger stages.
Look, this is not about denying anyone his or her right to do what they want. And within reason, it's OK to live by the rule that if they can fire you at any time, then you should be able to leave at any time. And yes, Kansas State deserves some blame because they had to know that, given his track record, Huggins was capable of this.
But there is always going to be a better job, more money and, yes, even a hometown available. And when you allow the pursuit of those things to supersede everything else, your character will inevitably be compromised.
Jemele Hill, a Page 2 columnist and writer for ESPN The Magazine, can be reached at jemeleespn@gmail.com.