These NBA playoffs are the softest I've seen in a long time.
We're seeing solid NBA action in the semifinals, but look at what we were put through in the first round. The soon-to-be named MVP is an unreliable basket case (Dirk NO-WIN-SKI is what one astute e-mailer on ESPN's "First Take" nicknamed him). The arguable second-half MVP, Tracy McGrady, was too choked up over his latest first-round exit to complete his postgame news conference. Andrei Kirilenko, the impenetrable Mr. AK-47, got weepy because he played only 16 minutes in the Jazz's Game 1 loss to Houston.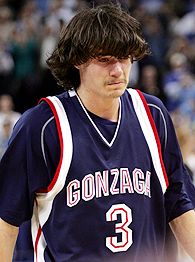 Paul Sakuma/AP photo
Adam Morrison was nearly inconsolable after Gonzaga was eliminated from the 2006 NCAA Tournament.
These heavy NBA hearts only show there is a need to go over the ground rules again when it comes to crying in sports. Let's call them The Adam Morrison Rules.
You Just Can't Do It

The never-evers in The Crying Game:
• Don't cry at a news conference where you're announcing to the world you've cheated on your wife. Back up. First, don't even call a news conference to admit you're cheating. And if for some reason, the good judgment fairies come and rob you of yours, don't go out like a weeping ninny. (Sec. II, Paragraph A, The Kobe Bryant Clause)
• Don't cry when you get traded. This is professional sports, people. Getting traded or cut is part of the deal. As an addendum, you can't well up when one of your boys gets traded, either. (Sec III, Paragraph 2A, The Ryan Smyth and Steve Francis Article)
• I'm not sure what Kevin Garnett thought he would accomplish when he broke down in an interview with former Georgetown coach and TNT analyst John Thompson. All it did was show why KG has yet to do anything beyond getting the Timberwolves out of the first round once. Rule of thumb: You can't cry when you've made your own bed, which happens to be full of obscene cash. Or in Barry Bonds' case, steroids. (Oops, forgot the word "allegedly.")
• You can't cry at practice. I don't care if the coach makes you do 400 up-downs after a fifth of Stoli, three Cuban cigars and a whiff of some jockstraps that haven't been washed in three weeks. Suck it up. (Sec. IV, Manny Wright Addendum)
• Don't cry about playing time. Literally, I mean. (The Kirilenko Section)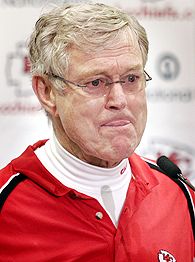 Ed Zurga/AP photo
When it comes to crying and sports, Dick Vermeil is the godfather.
• Squash your inner Susan Lucci. Don't cry so much that we can't take you seriously. (The Roy Williams, Dick Vermeil and Brett Favre Articles, Sec 3C, Paragraph V)
• Thanks to Morrison, this has to be spelled out: You can't cry before the game is over, and if it's still technically in doubt. Four years ago, Derek Fisher sat crying on the bench while the Spurs eliminated the Lakers. Very iffy.
Injury Crying

This is a tough one. We've seen some horrendous injuries. Joe Theismann. Willis McGahee. Those guys more than earned the right to cry. But Dwyane Wade? Seriously, when Wade dislocated his shoulder, he boo-hooed like a teenage girl that was stood up at the prom. He set manhood back 130 years. Meanwhile, Shaun Livingston's kneecap was somewhere in Row 30 at Staples, and the kid, for the most part, kept it together as well as could be expected. So here's the official ruling: You can cry if you've been hurt, but preferably in the trainer's room.
Victory Tears

From Michael Jordan's tearfall after winning his first NBA championship to Mateen Cleaves' wailing during "One Shining Moment," after he delivered Michigan State's second national title, sports is littered with amazing victory cries. My top 10:
10. Thomas Hill bawling after Christian Laettner's miracle shot lifted Duke past Kentucky in 1992. Next to Cleaves, Hill might possess the ugliest cry face in sports. It was absolutely beautiful.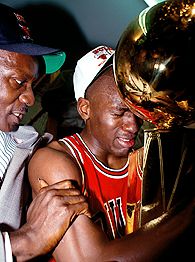 Andrew Bernstein/Getty Images
Michael Jordan cries tears of joy as he savors his first NBA championship with his father, James, in 1991.
9. Speaking of Cleaves, I put him in my top 10 because I love any athlete who cries during "One Shining Moment." A lot of them have done this, but what made Cleaves stand out is that he and coach Tom Izzo stood side-by-side bawling like a couple of unmarried women who've been bridesmaids 11 times.
8. The 1979 NCAA title game between Michigan State and Indiana State still stands out as the signature game of the NCAA Tournament, and one of the defining moments was seeing Larry Bird's tears following the game. Crying after a loss of that magnitude isn't surprising, but you got the feeling Bird also understood he was part of a game that would stand out as one of the best in collegiate history. It's also the only time I've ever felt empathy when a Celtic cried.
7. Tiger Woods surprisingly has had two moments in my top 10. (Don't cheat and scroll down to see the other one). But the emotional embrace he and his father, Earl, shared after he won the Masters 10 years ago was something only the heartless couldn't feel.
6. I reluctantly put Brett Favre on this list because, like Roger Clemens, I'm beyond tired of him playing the retirement tango. But his performance on "Monday Night Football" a day after his father died was legendary. He threw for 399 yards and four touchdowns in a 41-7 victory over Oakland. Even Raider Nation applauded him.
5. Michael Jordan has been fairly emotional after NBA title wins, but nothing beats his first championship in 1991. With his then-wife, Juanita, and father, James, now deceased, Jordan was sobbing uncontrollably.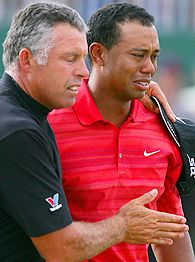 Alastair Grant/AP photo
With his deceased father very much
on his mind, Tiger Woods can't hold back the tears after winning the
2006 British Open.
4. Granted, my mother wasn't even a twinkle in my grandmother's eye when Lou Gehrig said he considered himself "the luckiest man in the world," but the original Iron Man made an entire stadium bawl.
3. Tiger Woods' emotional British Open win last summer following his father's death. The world discovered golf's most diabolical player had a heart, and those streaming tears permanently changed how we viewed Tiger.
2. Tears on the Olympic stage just seem to resonate. In 1996, on an ankle with two torn ligaments, Kerri Strug helped deliver the gold for the U.S. women's gymnastics team after a ferocious battle with Russia. Following a perfect vault, Strug collapsed to the ground in tears.
Hold on … gonna need a moment here. 1. Hearts all over the world swelled when Muhammad Ali lit the Olympic torch at the 1996 Summer Games in Atlanta.
I need some Kleenex.
Page 2 columnist Jemele Hill can be reached at jemeleespn@gmail.com.

Also See
ESPN Top Headlines