The Detroit Lions must go 0-16.
Not 1-15.
Not 2-14.
They need to show their oh-fer face.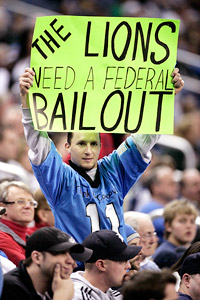 AP Photo/Duane Burleson
What the Lions might actually need is to go 0-16 so that ownership will finally have to face reality.
That's not an easy thing for me to write, nor is it an easy conclusion to come to. Things aren't good in my hometown right now. Unemployment is high, and confidence is low. Just this week, both Detroit newspapers announced that, because of the economic downturn, they will be delivering to homes only three days a week beginning in March -- making each of them a thricely instead of a daily.
Congress is stalling regarding the Big Three automakers, having forgotten it just wrote a blank check to Wall Street without even asking for so much as a Christmas card in return.
Given that, I don't blame you for thinking the last thing Detroit needs is to clinch such an infamous spot in sports history.
But that's exactly what needs to happen.
I firmly believe you don't get better until you've been at your worst. And because the Lions have spent so much time perfecting being the worst, they need an 0-16 record to finally push them toward being better.
Sadly, it has taken 50 years for the Lions to get this close to their rock bottom. They have won just one playoff game since 1957, the year my mother was born. Still, despite that astonishingly bad statistic, it wasn't until former Lions president Matt Millen came aboard in 2000 that the Lions plunged into the worst depths the franchise has ever experienced.
More on lousy Lions
•
Merrill: Lions, city struggle
•
Seifert: How to fix them
•
Jemele Hill: Go for 0-16!
•
Page 2: Worst pro teams ever
•
Scouts: 10 Lions to keep
•
Wickersham: Crystal ball
•
Watch: Fantasy vs. reality
•
Watch: Ex-Lion Lomas Brown
•
Watch: Countdown Daily
•
Football Today: Lions talk

This team's recent history is so brutal, I'm wincing as I type it. The Lions have had two winning seasons in 13 years. They are 40-101 this decade, which amounts to a depressing winning percentage of .284. Only this sorry franchise could consider Wayne Fontes the best coach in the organization's history.
Nothing has worked in a half-century. You name it, they've failed at it. They've done the run 'n' shoot and the West Coast offense. They've drafted cornerbacks, Heisman Trophy winners, offensive linemen, defensive backs and, of course, wide receivers. They've hired inexperienced coaches and veteran ones. Barry Sanders is the best decision the Lions ever made. As for the worst, take your pick.
The one commonality through all these dreadful years is William Clay Ford Sr., who has owned the Lions since 1964. He is well-intentioned, and his family's business gave life to the city of Detroit, but when it comes to football, he's as clueless as the college presidents who are still fighting against a college football playoff.
Because Lions fans are likely never to see an ownership change, their only remaining option is to hope the Lions suffer the monumental embarrassment of 0-16.
I certainly don't relish the idea of the city of Detroit's being kicked when it's already crawling, but if the Lions win either of these next two games, that might be enough to derail the massive overhaul that is needed.
Ford's loyalty served him well as an industry leader, but it ruined him in football. He has a bad habit of sticking with people too long, as evidenced by the seven-plus years he stood by Millen. If the Lions beat either New Orleans or Green Bay, Ford may be suckered into thinking he doesn't need to change as much as he thought. Already, some people have suggested that coach Rod Marinelli deserves to keep his job because the Lions have played hard despite losing their first 14 games. I don't care if they look like last year's Patriots the next two weeks, you can't justify bringing back a coach with a 10-36 record. A winless record not only would make retaining Marinelli impossible, but Ford also would have no choice but to do widespread housecleaning.
Plenty of other franchises have reinvented themselves into winners after hitting rock bottom. The 1976 Tampa Bay team that went 0-14 arguably was worse than the 2008 Lions, but the Bucs reached the NFC Championship Game in 1979 and ultimately won the Super Bowl after the 2002 season. The Arizona Cardinals -- Detroit's longtime rival for worst NFL franchise -- just won the NFC West and are in the playoffs for the first time in 10 years.
So success can happen, but first comes the shame. Ford may be oblivious, but he always has responded strongly to shame. He finally fired Millen because his son, Bill Jr., broke ranks and said he would have fired Millen a long time ago. It made the old man look like a dope.
I have to believe a man who has been a titan in the business world as long as Ford doesn't particularly like looking stupid. So although Lions fans have the right to fear the thought of Ford's making even more decisions, here's another good reason to root for 0-16: Ford can't do worse than winless.
Jemele Hill can be reached at jemeleespn@gmail.com.